The Best Cave Hotels in Cappadocia, Turkey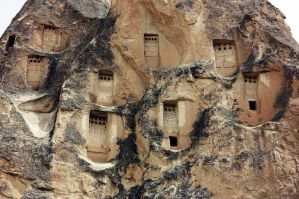 Cappadocia is one of the most popular destinations in Turkey. It's famous for its natural landscapes and unique geological features. The area's "fairy chimneys" are striking rock formations that shoot up vertically from the ground in a dramatic fashion. There are many impressive hikes in the area and there are also interesting underground cities that tourists can explore.
One unique Cappadocia experience is to stay in a cave hotel. These hotels make use of the area's landscape and allow guests to stay in a cave-like room. Cave hotels vary in style and cost and you can find anything from a hostel style cave accommodation to a luxuorius resort. Don't pass up the opportunity to experience this aspect of the Cappadocia culture. Below are some of the most impressive and interesting cave hotels in the area, although there are many more you can choose from as well.
Contents: Kayakapi Premium Caves | Aydinli Cave House | Cappadocia Cave Suites | Hezen Cave Hotel | Hotel Taskonaklar Cappadocia | Cappadocia Cave Resort and Spa
Aydinli Mah No:12
,
Goreme
,
Nevsehir
50180
Turkey
The Aydinli Cave House is a boutique style cave hotel that has one of the best locations in Cappadocia. It sits in the quaint old town of Goreme that is centrally located to all of the area's main attractions. It's a family run guesthouse that has 14 different rooms, each with its own distinct style. The furnishings are comfortable and well designed. The rooms themselves are in cave dwellings and offer the traditional character that Cappadocia is known for. There are also terraces that provide views of the town of Goreme, the fairy chimneys, and Rose Valley. You can even see as far as the Aragus Mountain.
This hotel is particularly appealing because of it's proximity to the bus station, the town center, and many different cafes and restaurants. You will find many different activities accessible and easy to reach within a short walk.
Aydinli Mah No:12
,
Goreme
,
Nevsehir
50180
Turkey
This cave hotel offers rooms that are either cave dwellings or simple houses. There are 36 rooms in all to choose from, many of which have excellent views of Goreme Valley. Each room is hand carved in a unique style that works with the architecture of the area. No two rooms are alike. The hotel is also ideally located in the central town of Goreme. It's within walking distance to the town center as well as the famous Goreme Open Air Museum.
Despite their historic feel, the rooms still offer modern comforts including a mini fridge, coffee maker, wi-fi, and a large restaurant. An impressive, traditional breakfast is included in the price of the room.
Esentepe Mah. Tahir Bey sok. No 87
,
Ortahisar
,
Nevsehir
50400
Turkey
This popular cave hotel looks out over the Ortahisar Castle. It is surrounded by old cave houses and truly embraces the traditional architecture and impressive natural setting of the area. The rooms have been designed with a nod to the local style and the hotel itself is built into an old house of cave bedrooms. Despite this ancient character, each room has been fully renovated and refurbished to a modern standard. The famous Halide Didem has designed the hotels interior with a fun, eclectic style.
There are 14 rooms in all. Each has a large and comfortable bed, private shower, and unique furnishings. There are several room types to choose from including standard double rooms, suites with a separate living area, and a superior suite cave room, with more room and plenty of lounging space.
Gedik Sok. No: 8
,
Uchisar
,
Nevsehir
Turkey
Located in the town of Nevsehir, this hotel is conveniently close to Cross Golf, Uchisar Castle, and Pigeon Valley. There are 20 rooms available that have been uniquely carved into the volcanic formations. Each room is unique and has been decorated in its own style and personality. Rooms are furnished with antique furniture and traditional carpets. Despite keeping touch with their history, each room still has modern amenities including flat screen TVs, wireless internet, a minibar, and more. Guests can choose between standard rooms, luxury rooms, and deluxe rooms.
The hotel also offers several dining options including 2 bars, a restaurant, and a coffee shop with a cafe. Breakfast is included in the price of the room. Other amenities available to guests include a rooftop terrace, a library and guest parking.
Tekelli Mah. Goreme Cad. Divanli Sk.
,
Uchisar
,
Nevsehir
50240
Turkey
Also located in Nevsehir, this Resort is a family friendly facility. It has many amenities that appeal to all members of the family, including an indoor pool as well as an outdoor pool. There is wireless internet available, a business center, several dining options, and complimentary breakfast.
In total there are 79 air conditioned rooms that have balconies or patios, fireplaces, and safes. The beds are comfortable and the bathrooms are luxurious. This is a wonderful place to stay if you're looking for comfort and fun.
Share This Article