Kampala On a Budget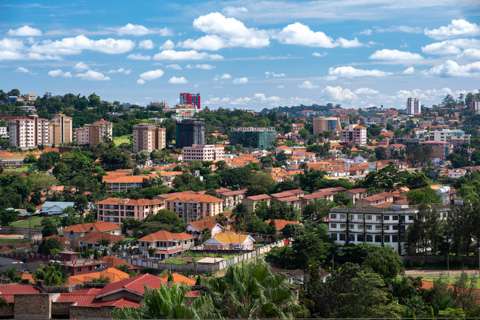 Kampala is the capital of Uganda in the South part of the country near Lake Victoria. It is the largest city in Uganda, with a population of over two million people. This city is very safe and the locals are known to be very kind and approachable.
Sights
Visit the Uganda Museum, which depicts the traditional life of the Ugandans with ethnological and cultural heritage exhibitions as well. This museum was founded in 1908 when the governor at the time requested that all articles of interest on Uganda be procured. In the museum, you can also play traditional Ugandan instruments and see hunting equipment and weapons.
Be sure to see the Kasubi Tombs, which is where the Kings of Buganda are buried. The tombs were deemed a UNESCO World Heritage Site in 2001, and unfortunately, many of the buildings burnt down in a fire in 2010. The reconstruction began in 2014 and many of the original buildings and artifacts survived the fire. For a great view of the entire city of Kampala, head to the top of either the Rubaga or Namirembe Cathedral.
Neighborhoods
The city is divided into five separate boroughs, which are Kampala Central Division, Kawempe Division, Makindye Division, Nakawa Division, and Lubaga Division. These divisions oversee local planning for the city. The city is surrounded by the Wakiso District, which has a population of over two million. The cities of Jinja and Entebbe are close by, which are also popular tourist destinations.
Activities
To spend the day seeing the whole city, sign up for Walter's Boda Boda Tours Kampala. A boda boda is a popular form of transportation in Uganda. It is basically a motorcycle that can hold passengers. You can see all the major sites on this trip and can even pay a little extra for a trip to Jinja, a nearby town.
Most of the adventure activities can be found in
Jinja
, which is a town nearby. There, you can white water raft, bungee jump, jet boat, do an ATV safari, or just explore the Nile River. You can do a gorilla safari in Bwindi National Park, in the town of Kololo, at the Ugandan Wildlife Authority. Another place to go see African wildlife is at
Lake Mburo National Park
, which is about four hours away from Kampala. There are hippos, zebras, gazelles, crocodiles, warthogs, and birds.
Explore the
Owino Market
, which is the largest market in the entire region. This market has everything you can imagine, from food to clothes to traditional crafts. This market is located near in the city center of Kampala.
Food and Dining
There are tons of restaurants to choose from in Kampala and they range from "hole in the wall" to five-star gourmet restaurants. At many of the hole in the wall places (some are called "pork joints") there aren't menus, so you will just have to ask what they offer.
Traditional food items in Kampala usually include some type of meat, beans, rice, and Matoke, which are mashed and steamed green bananas. Another traditional meal you can find from street vendors is fish and chips. Another classic street food snack is a "rolex", which is a chapatti (sort of like a tortilla) stuffed with eggs, tomatoes, and cabbage.
Transportation
The closest airport to Kampala is in the city of Entebbe, which is about thirty-five kilometers away. Upon arrival, you will need to pay one hundred US Dollars in order to obtain your visa. To get from the airport in Entebbe to the city of Kampala, you can take the Airport Express, which drops you off at the Garden City Shopping Mall (a very central point in Kampala). You could also take a taxi from the airport, though it is much more expensive. It is worth asking your accommodation if they offer a shuttle service to and from the airport as well.
Once in the city of Kampala, you will mainly be getting around on boda bodas, matatus, or taxi. Boda Boda's are all over and are very easy to flag down if you need a ride. These can be slightly dangerous, as the drivers will try to get you to your destination as fast as possible. Matatus are minibusses with routes that go all over town; however, they can be pretty infrequent and unreliable. Taxis are also available all over the city; in Kampala they call them "special hires". Of course, walking is always an option, however, it is a very large city so for going far distances you'll want to consider one of the above options.
Related:
Looking for a
hostel in Marrakesh
,
Cape Town
,
Nairobi
, or
Zanzibar
?