Abu Dhabi On a Budget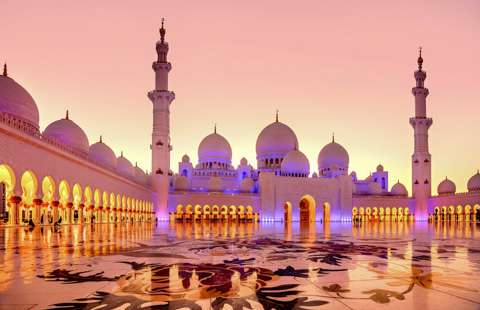 It doesn't get more "lifestyles of the rich and famous" than a vacation to Abu Dhabi. The federal capital and center of government for the United Arab Emirates is arguably the most modern city in the world.
Abu Dhabi has a population of 1.5 million and provides a home to several oil companies and embassies, but this place is definitely a playground for the world's fanciest tourists. This city has several large projects underway including Yas Island's Formula 1 track and Ferrari theme park.
Note: homosexuality is still outlawed in the UAE with harsh punishments including deportation, fines, jail time or even a death sentence.
Sights
There isn't exactly much in the way of history or tradition in Abu Dhabi, but that doesn't mean there isn't anything to see outside of boutiques and traffic jams.
The 6th largest mosque in the world is the
Sheikh Zayed Mosque
that offers guided tours several times each day. This stunning marble mosque is a sight to behold, and can hold more than 40,000 worshipers. Walk around and admire the stunning crystal chandelier of the main prayer hall. Take a few steps on what is said to be the world's largest handmade Persian carpet. Admire the structure's 82 domes and 1,000 columns in the Moorish/Ottoman and Mughal styles. This decadent place of worship will take your breath away, but remember that dress codes are really strict - especially for women.
Visiting the Corniche is another of
the best things to do in Abu Dhabi
. It's the perfect spot to see the Abu Dhabi skyline while you browse beaches and boutiques. This waterfront area stretches 6 kilometers from the Marina up to the Mina Zayed port, and is home to the still expanding Corniche Beach. This free spot to swim started in 2008, and is perfect if you're looking to wiggle your toes in powdery sand, take a dip in the clearest blue waters and maybe give parasailing a try.
There are several parks and green spaces in this city including Khalifa Park and the
Abu Dhabi Cultural Center
. Often there are play areas, fountains and sculptures to admire.
Of course, no trip to Abu Dhabi would be complete without a trek to Yas Island. This is the ultimate man-cave experience. With a world-class, Formula-1 motorsports racetrack, a Ferrari theme park, a water park and a mall, a trip to this pleasure island is a must for your luxurious getaway.
Many of these sights can be enjoyed even if you only have a day or two in the city. In fact, many people experience Abu Dhabi (and nearby Dubai) as an extended layover or stopover while flying through the region between Europe and Asia. Check out this amazing
guide for how to do an Abu Dhabi stopover
.
Activities
Abu Dhabi is full of luxurious resorts complete with all the amenities - swimming pools, spas and many even have their own private beaches.
While one doesn't consider Abu Dhabi when they think of outdoor adventures, you'd be surprised. Just outside of the city, in the southwest, are crystal waterfalls, cliffs and freshwater lakes.
If you're interested in the more unusual attractions in the UAE, visit the camel races or take a desert safari. Hop in an SUV with specialist desert drivers for an intense ride over sand dunes with some spectacular scenery.
Food and Dining
As an international travel destination, Abu Dhabi can cater to any taste you may be interested in, however, keep in mind you'll need to check the calendar before making your travel plans. If you're
visiting during the month of Ramadan
you should know that restaurants are, by law, closed during the day due to Muslim fasts during the daylight hours. It is also against the law to eat or drink anything in public, during the daytime in that month. Many tourists have been given fines or even arrested for this. However, when the fast ends at sundown, everyone feasts like they've never eaten before. If you can hold out, those meals are worth the wait.
Transportation
Renting a car and driving around Abu Dhabi is only recommended if you love driving in traffic jams. Many drivers can be reckless so foreign drivers should be extremely careful. Also, the street numbering system is unusual and takes a while to get used to.
Taxis are a better way to get around and are fairly cheap considering where you are. Common taxis in this area are silver and can be flagged down from everywhere. Tipping is not expected but is extremely appreciated.
Buses are also available within the city with several stops at major hot spots. Be sure you have exact fare.
Related
Looking for a
hostel in Delhi
or
Goa
? Heading to
Kathmandu
or want a
party in Tel Aviv
?