The Best Airbnb Cabins & Lake Houses at Lake Lure and Chimney Rock, NC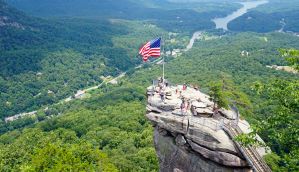 Lake Lure and Chimney Rock are popular destinations in the mountains of Western North Carolina. But you probably already knew that! The lake is a great place to swim, as it has a few nice beaches and plenty of other activities such as boating, kayaking, and water skiing. And if you want more adventure, it's easy to head up to the hiking trails around Chimney Rock State Park. The viewpoint at the top is just the beginning, as plenty of other trails can be found around the park (and in the region as a whole) with amazing views, waterfalls, and secluded spots.
Plenty of shops, restaurants, grocery stores, and other amenities can also be found in the area, which adds to the appeal. It's easy to find an isolated spot on the lake or in the mountains, but also have convenient access to everything you need to be comfortable. Almost all of the shops are just a few minutes away by car.
If you're looking for a place to stay or a vacation rental, a variety of cabins are available on Airbnb. These cabins range in size and price from small romantic places for a couple to larger multi-bedroom mountain houses that are perfect for a family or larger group. Most of the places we've listed here also have laundry, wi-fi, kitchens, and other amenities that you would need to make your stay comfortable, quiet, safe, and relaxing. So, let's get started with the best cabins at Lake Lure!
Where are the best cabins around Lake Lure?
Contents: Enchanting Log Home | Lure of the Mountains | Luxury Glamping Dome | Lake Lure Log Cabin | Lakeside Modern Cabin | Abbot's Ridge | Porch Time
This upscale 3-bedroom, 2-bathroom log cabin has space for up to 12 people. A family or group of friends would be very comfortable here. The gorgeous stone fireplace is the centerpiece of the living room, which then flows into an open concept kitchen and dining space. The kitchen itself is very modern and fully-equipped for all of your mealtime needs.
The bedrooms are spacious and comfortable with nice linens. The master has a king bed, the second bedroom also has a king bed, and the third bedroom has 2 queens.
The lower level has a pool table and game room so that you can relax in the evenings over some games (or just send the kids down there while you unwind upstairs). Outside you'll find a patio with a grill and outdoor seating.
Also included is wi-fi, a washer and dryer, free parking, several TV's, and other amenities such as towels, a hair dryer, and more.
Here's a perfect 4-bedroom cabin overlooking the mountains and the lake. As it has been recently renovated, you will be quite comfortable here. The kitchen is modern and well-equipped, and the bathrooms are top-notch. The spacious living room area and kitchen have a nice open concept layout so that your entire family or group can enjoy each other's company. The 2-level deck has amazing views over the lake. The lower deck has a large hot tub, too. Also downstairs you will find a game room with a ping-pong table and another TV. Board games are also included! The bedrooms are also comfortable. 3 of them have queen beds and the fourth has two twins.
This interesting dome-shaped cabin has a large window on one side looking out into the forest. While it might look basic and futuristic, the inside is laid out very nicely with a full bathroom, luxury king-sized bed, air conditioning and electricity, and a kitchenette. This place is definitely Instagram-worthy. It's one of 2 dome cabins on the property which also has a fire pit, outdoor seating area, and a glamping-style hot tub. This is a great opportunity for an interesting getaway for a couple looking to get out into nature while still staying in modern comforts.
This smaller sized cabin is a great value and has room for up to 5 guests. It's a self described
tiny house
although it's not as tiny as it may seem. With 2 bedrooms and a fully-equipped kitchen, any couple, smaller family, or group of friends would be very comfortable here.
With a screened porch and an outdoor deck with a grill, you can take in the mountain air as well as the great views of the surrounding forest and mountains. The king sized bed in the lower bedroom has plenty of space. The bathroom is modern and comfortable, too. The second bedroom is up in the loft and has a full sized bed along with another twin sized bed.
The kitchen has a stove, oven, and a dishwasher, too. The cabin also has a washer and dryer for laundry. The cabin also has A/C and heat.
Here's a two-bedroom cabin that has been recently renovated and updated. From the modern kitchen to the updated bathrooms and spacious living areas, any couple or smaller family would be very comfortable here. The main bedroom has a queen bed, and the second bedroom has 4 beds arranged in bunks. The kids will love it. The screened porch has a comfortable sofa along with a dining table so you can eat your meals while enjoying the view. And speaking of the view, just admire the lake from the porch.
Just walk down the steps to the lake where you'll find a boathouse with an upper deck with lounge chairs. Kayaks and rafts are also included so you can explore the lake. Or just go for a swim. This is the perfect spot on the lake for sure, and the price is affordable, too.
Here's an affordably priced 3-bedroom, 2-bathroom cabin with plenty of great features within a short drive to everything on the lake and in Chimney Rock. The large deck has a grill and faces out into the surrounding woods. The open kitchen (fully equipped), dining, and living room area centers around a cozy fireplace and is a fantastic place to relax and unwind. The bedrooms have queen or full sized beds. The lower level 3rd bedroom also has its own private deck. Wi-fi, TV's, laundry, A/C and heat, hair dryers, and free parking are also included.
Just a few minutes from the lake sits this great 2-bedroom cabin, and it's all about spending time on the large screened porch. The other side of the house also has an open deck with more seating. The spacious interior has a large living room and kitchen open concept floor plan which is perfect for a group to have a great time. The fully-equipped kitchen has everything you need for all of your meals. A washer and dryer is also included. The bedrooms are comfortable also, and each has its own bathroom. One bedroom has a king, and the other has a queen. This house is a great value with plenty of modern comforts, so add it to your list.
Some photos are courtesy of airbnb.com.
Share This Article