Chimney Rock and Lake Lure On a Budget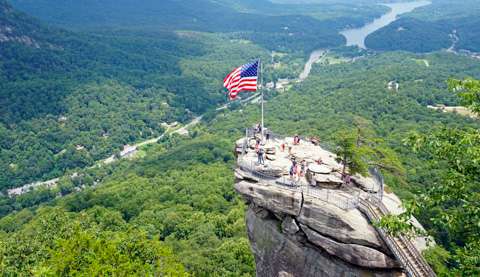 The town of Chimney Rock and the neighboring Lake Lure draws a fairly large number of visitors every year, especially in the warmer summer months. This mountain area can sometimes be an expensive travel destination due to its popularity, but it is often still more affordable than many other destinations in the southeastern U.S. If you're on a tight budget, then it's not hard to find affordable places to stay, cook your own meals, and avoid the more expensive activities while still having fun. If you do wish to splurge and spend more money, it's quite easy and tempting with all of the activities around.
Chimney Rock is a small and scenic mountain town with a main stretch of shops and restaurants. The adjoining state park just to the south of town is a great place to go for a hike, visit the namesake rock with its fantastic views, or participate in some rock climbing, camping, or other activities. Just to the west of the town is the more busy section of Lake Lure, a manmade lake that stretches for several miles to the east. As you travel east along the lake, the crowds get thinner but so do the amenities, as most of the action is on the western end of the lake at the town of Chimney Rock.
Sights
Chimney Rock State Park and Lake Lure are the main attractions here. The state park is home to a large rock outcropping known as Chimney Rock which can be reached by driving up to a parking lot (paying an entrance fee), and then walking up the trail. The precipice has a flag at the top and some amazing views. But this is just one small part of this park, as the surrounding area is full of hiking trails, rock climbing faces, waterfalls, streams, camping areas, and more.
The entire area is so scenic that many movies have been filmed here. Last of the Mohicans took full advantage of the steep cliffs in many of its dramatic scenes. Also, Dirty Dancing was filmed here in a lodge near Lake Lure, and numerous scenes from the movie can be spotted around the lake.
Lake Lure itself is one of the best lakes to visit in the southeastern U.S. You can swim and have fun at the Lake Lure Water Park which is a beach with a few water slides. Or take in the views of the lake with some gorgeous flora from the Flowering Bridge. From here you can also take the Town Center Walkway which also has nice views.
The town of Chimney Rock itself is full of restaurants, antique shops, an ice cream parlor, a few spas, and other amenities.
Activities
The Dirty Dancing Festival brings in plenty of activity every year. With live music, dancing-oriented reenactments from the film, screenings of the film, and more fun activities, adults and kids will love it. It takes place at the Morse Park Meadows on the lake.
Boating is popular on the lake. If you don't have your own, you can rent one. Better yet, take a boat tour which will show you the various highlights around the lake, as well as its history. You can see famous movie scenes, some huge homes of wealthy visitors, and great scenery. And did you know that because the lake was man made, the ruins of a small town lie at the bottom of the lake?
Paddleboarding, kayaking, rafting, and other water sports are also quite popular. Equipment can be rented around town, mostly on the western side of the lake by the town.
Rock climbing in the state park is a popular activity. A few outfitters can take you if you don't want to go on your own. Rumbling Bald Trail is one of the more popular spots for climbers.
Hiking is also extremely popular. Whether you're an expert that wants a challenge or if you just want a casual stroll through the woods, the park has a trail for you. Check out Exclamation Point near the pinnacle at the top as it's the start for some of the more scenic trails near the higher elevations.
Food and Dining
Chimney Rock and Lake Lure are home to some great restaurants. You can experience fine dining, a casual meal, or fast food. A few grocery stores are in the area, too.
Scoop Lake Lure sits near the Water Park and provides a nice ice cream break. The Lake House Diner is next door and is a great casual place to eat. And nearby, La Strada has Italian food, pizza, and some nice views overlooking the lake.
Heading east into the main area of Chimney Rock, you'll find Riverwatch Bar & Grill and Medina's Village Bistro. Both restaurants provide quality food in a casual environment at good prices. Genny's restaurant is a nice homestyle place, and Bayou Billy's brings in a cajun taste to the area. Several Mexican restaurants are also around town which are good if you want something different.
Try Burntshirt Vineyards Bistro for some great wine and food, too. While it's not too fancy, it's one of the nicer places in town.
Transportation
You'll definitely need a car in this area, as public transportation is non-existent. But you probably came here in a car anyway.
From Asheville, Chimney Rock and Lake Lure is about 45 minutes away along highway 74 east. Or take highway 9 south from Black Mountain if you want an even more scenic mountain route.
From Charlotte, Chimney Rock is about 2 hours to the west along I-85 and highway 74 west.
From cities in the east such as Raleigh/Durham or Greensboro, take I-40 west to exit 73 (Old Fort) and then venture south on Bat Cave Rd. to highway 9 south. From Raleigh, the drive takes around 4 hours depending on traffic and road construction.
The nearest airports are in Asheville and Charlotte. Both have plenty of rental car options.
If you stay in the town of Chimney Rock, you can walk to many of the shops and restaurants in town. To go into the state park or venture farther east along the lake, you'll need to drive.