The Best Airbnb Cabins and Ski Condos at Sugarloaf Mountain, Maine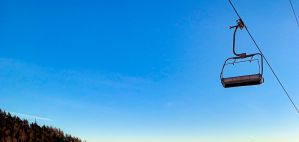 Sugarloaf Mountain is one of the premier ski resorts in Maine, and given the number of activities for visitors of all ages, this is no surprise. Located in Carrabassett Valley, Sugarloaf is a great family-friendly destination as it's only about 2.5 hours from Bangor or Portland, Maine. Many families come to Sugarloaf not just for skiing and snowboarding, but also for snow tubing, ski lessons, indoor skate parks, indoor swimming pools, ice skating, snow shoeing, dog sledding adventures, and more.
During the summer, Sugarloaf offers mountain biking, zip line adventures, hiking, scenic ski lift rides, kayaking and canoeing, and horseback riding. Sugarloaf is definitely a year-round family-friendly destination to say the least. And in the fall, many visitors come to see the foliage in a pristine mountain setting.
Looking for a place to stay at Sugarloaf Mountain? We have researched the best Airbnb cabins and ski condos that are perfect for any size group. So whether you're a couple that doesn't need much space, or a family looking for multiple bedrooms, or a large group of friends, there's a vacation rental here that will fit your needs. They offer plenty of great amenities such as full kitchens, laundry, and more. So, let's get to it!
What are the best places to stay at Sugarloaf Mountain?
Contents: Snowbrook 2BR Condo | Restored Caboose | Sugartree 3BR Condo | Private 3BR Cabin | Gondi Village Trailside | Valley High Riverside Cabin | 2BR Ski-in Ski-out Condo | On-Mountain Studio
Sugarloaf Mountain
,
Maine
Located in the Snowbrook condo complex, this place is perfectly located and has some terrific amenities. First, you're right on the slopes, and you can just ski into your condo after a day on the mountain. Next, you have access to the building's indoor pool, hot tubs, game room, and more. With
2 bedrooms
and enough space for 9 people, this is an ideal spot for a family or group of friends on a ski trip. You can cook all of your meals in the fully-equipped kitchen. Kids will love the bunk bed room, while adults will appreciate the spacious master bedroom with its private bathroom. And all of this is affordably priced, too.
Sugarloaf Mountain
,
Maine
Yes, this is an old train caboose. And yes, you should absolutely stay here! With renovations to turn it into a livable cabin, this caboose has enough room for 2 people, which makes it the perfect romantic spot for a couple looking for a unique place to stay. The cozy interior has a surprisingly luxurious bathroom, a full kitchen, and a cozy queen sized bed (an extension was added to the side for more space). The nice deck is a good spot to hang out during warmer months, or climb up into the cupola and pretend you're on an adventure, because you are! Check out the photos!
Sugarloaf Mountain
,
Maine
This
3-bedroom
condo is located in the Sugartree complex, which is located right next to the ski slopes. You'll be able to ski in and out, and also have access to the pool, game room, sauna, steam room, hot tubs, and other amenities. The condo features a nice, fully-equipped kitchen so you can cook for your whole crew, along with a fireplace in the living room and clean, modern bathrooms. The two upstairs bedrooms have a full sized bed along with a bunk so that you have more space for the kids, but adults can have a normal bed. This is a great spot for a family or group of friends.
Sugarloaf Mountain
,
Maine
If you're looking for a little more space for your family or friends, this
3-bedroom
cabin has room for up to 6 people. Inside you'll find a nice kitchen with everything you need to cook all of your meals, along with a cozy living room space centered around a wood-burning stove fireplace. The spacious deck has a grill, fire pit, and plenty of seating. Nearby are a number of hiking and biking trails that weave their way through the surrounding mountains, so if you're planning a summer adventure, this is the spot. If you want to go skiing in the winter, you're only a few miles from Sugarloaf Ski Resort, too.
Sugarloaf Mountain
,
Maine
Perfectly located on the slopes and just steps from the chairlift, this
affordable 1-bedroom
condo is the ideal spot for a couple or small family looking for a place to stay for a ski trip. It has a full kitchen with a dining area, along with some bunk beds and a sofa-bed. There's also plenty of room to store your ski gear. The bathroom is clean and modern, too.
Sugarloaf Mountain
,
Maine
This beautiful cabin has plenty of nice amenities and a rustic yet modern atmosphere. With
2 bedrooms
it can sleep up to 6 people, making it an ideal spot for just about anyone coming to Sugarloaf for skiing or hiking. On the back deck you'll find a grill and a hot tub where you can relax and listen to the nearby river. Inside is a cozy and warm interior with a fully-equipped kitchen and comfortable bedrooms. Located just a short distance from the ski slopes, you'll also be close to the Maine Huts and Trails system if you want to explore.
Sugarloaf Mountain
,
Maine
Here's a clean and modern
2-bedroom
condo with ski-in/ski-out access right by the slopes. With room for 7 people, it has 2 bathrooms. The second bedroom has several beds, making this a great condo for a family if you need the extra space. The fully-equipped kitchen has everything you need to cook your own meals, too.
Sugarloaf Mountain
,
Maine
This
affordable studio
has room for 4 people, as it has a large bed and a set of bunks (great for kids). In the fairly spacious room is also a kitchenette with a mini-fridge, microwave, coffee machine, and plenty of storage for your ski gear. If you're looking for a step up from a hotel room that is set in a perfect location, this is the spot. You'll have ski-in-ski-out access, so just roll out of bed and onto the slopes! It's also near plenty of restaurants and shops, too.
Some photos are courtesy of airbnb.com.
Share This Article