Maine On a Budget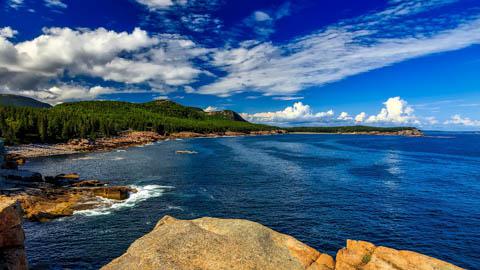 The U.S. state of Maine is situated in the northeastern most region of the country. While it is known for its rugged rocky coastline and maritime history, the state also has a landscape of rolling mountains carpeted in thick pine forests, with many peaceful lakes popular with visitors seeking a close to nature kind of getaway. The capital city is Augusta, though the most populous is Portland, which has much to offer in sightseeing attractions and activities.
While many look to the mainland for their visit, there is also merit in visiting the many islands of Maine located just off the coast. From artist colonies to bits of land overrun with wildlife like puffins and seals, the islands offer another kind of experience with the spray of the ocean always at your back.
The state of Maine is a place thriving with natural wonders, but also with cultural attractions like museums and galleries, shopping, dining, B&B's, historic towns, and lighthouses that are more than enough to occupy an extended visit.
Sights
Being a state with rich maritime history, Maine is known for its many lighthouses. From the scenic Portland Head light to Pemaquid Point light which is featured on the Maine State quarter, the jagged coast of Maine is lined with more than 60 lights, with a few more on the islands just offshore. One could occupy an entire
road trip from Boston to Maine
in pursuit of seeing each picturesque lighthouse, and learn much about the Maine's maritime history on the way. There are even boat tours dedicated to exploring the lights of the surrounding islands.
Beyond lighthouses, some of the best sights of the Maine coastline are all natural.
Acadia National Park
sits just offshore on Mount Desert Island, encompassing more than 47,000 acres woodland, rocky beaches and glacier-scoured granite peaks like Cadillac Mountain, the highest point on the United States' East Coast. The park and the surrounding area are inhabited by wildlife like moose, bear, whales, and seabirds. Whether you wish to hike through and enjoy the scenery, or wish to keep a closer eye out for the critters of the region, Acadia National Park is a wonder draped in natural beauty.
Further inland, the Maine landscape features some of the most scenic lakes in the northeast, Moosehead Lake being the largest. This region of many lakes is popular for camping, fishing, and boating in a peaceful setting surrounded by rolling mountains. Moving on to western Maine, this landscape marks the edge of the Appalachian Mountain Range.
Mount Katahdin
, the largest mountain in Maine, sits as the northern terminus of the Appalachian Trail in Baxter State Park.
Regions
The most populated areas of Maine are located along the shoreline, the inland taken over by smaller towns, mountains, lakes, and pine forests.
Bar Harbor is a historic town up-coast catering to visitors who wish to explore Acadia National Park. The streets are lined with specialty and shops and galleries, featuring handcrafted Maine items from jewelry to maple syrup, as well as the works of local artists. There is a selection of outdoor outfitters to gear people up for adventures in Acadia, as well as antique shops that draw visitors in with their many treasures. Once a thriving millionaire town comparable to that of Newport, Rhode Island, Bar Harbor is also home to many historic buildings that still stand today, giving the town a charm of another time and place.
Portland marks the most populated city of Maine, located further down-coast. It has much to offer with its most visited areas being the historic Old Port and the Arts District. They are a mix of the old and new, with a historic feel of the waterfront port versus the contemporary culture of the local art scene. In addition to these popular locations, the Portland area is marked with historical landmarks and museums, places to shop, award-winning restaurants, and activities in areas just outside the city as well.
Activities
In regards to activities, one cannot miss the opportunities for enjoying the outdoors in Maine. With Acadia National Park, the lakes region, and the Appalachian Trail, Maine consists of a landscape perfect for hiking, camping, fishing, and boating. Whether you want to sail the coastal waters amongst islands and seabirds, kayak on a peaceful lake amidst mountains, or hike through forests enveloped in the scent of pine, the great outdoors of Maine are vast and thriving.
In regards to culture, the state of Maine has been an inspiration to many local artists. In just about any city, you will find museums and galleries dedicated to the arts and Maine's history. If you wish to see local art in action, take a ferry to a place like Monhegan Island, where an artist colony has been situated for over a hundred years. Along the way you might even see wildlife like seals, seabirds, puffins, and whales.
Back to the mainland, the cities dotting the coast are hubs of shopping and sightseeing. Just about every location has a unique history of its own and is thriving with boutiques, specialty stores, great places to eat, landmarks, museums, and beautiful coastline scenery.
Food and Dining
The state of Maine is very well known for three things: wild blueberries, clams, and lobster. This being said, one must not pass of the opportunity to dive into any meal in Maine prepared with these ingredients. Blueberry pies, jams, and jellies, clam chowder, lobster rolls, and whole lobsters enrobed in butter are just a few of the menu items one might come across during a visit. The seafood is as fresh as can be, almost always right off the boat that very day. Coastal cities and towns have many restaurants with breathtaking harbor views, some even al fresco with the breeze of the bay sweeping in. For the beer enthusiasts, Allagash Brewery is a Maine native open for tours and samplings, and as far as dessert goes, Gifford's Ice Cream is a Maine novelty, made the old-fashioned way-always served in generous portions.
Transportation
The two largest airports in Maine are the Portland International Jetport in Portland, and the Bangor International Airport in Bangor, both served daily by many major airlines. A few regional airports include the Augusta State Airport, Hancock County-Bar Harbor Airport, Knox County Regional Airport, and the Northern Maine Regional Airport at Presque Isle, all served by Cape Air and Penair.
By car, Interstate 95 is the major highway running through Maine. U.S. Route 1 also starts in Fort Kent, Maine and runs all the way down to Florida.
By train, The Downeaster passenger train, operated by Amtrak, provides passenger service between Brunswick and Boston's North Station, with stops in Freeport, Portland, Old Orchard Beach, Saco, and Wells. The Downeaster makes five daily trips, two of which continue past Portland to Brunswick.
Related:
Looking for a
party hostel in Hawaii
or
Miami
? Traveling alone to
LA
or
New Orleans
? Want a budget hostel in
NYC
?