The area around Jackson, Wyoming offers many sights, destinations, and activities for couples looking for a romantic and exciting getaway. First, Grand Teton National Park has a beautiful setting with dramatic mountains and wildlife viewing. Then, Teton Village is right at the base of the Jackson Hole, and many properties in this area offer convenient ski-in/ski-out access in the winter. The nearby historical town of Wilson is another nice option for fishing, swimming, and exploring the area's beautiful natural setting. Below is a brief description of each area and some of the best vacation rental properties for couples in the area. So if you're a couple planning a trip to Jackson Hole and Teton, here are the best places to stay on Airbnb for couples.
Downtown Jackson Hole
Downtown Jackson Hole is about 12 miles from Teton Village and it's a nice option for couples who want to be near great restaurants and entertainment options. The Town Square has a lot of character and there are a few good venues where you can hear live music. The town also has nice shopping, art galleries, and nearby rodeo grounds. The area is also closer to Jackson Hole Airport which many couples appreciate.
Properties in the area are diverse and include homes and slope side lodging. Below are few nice options for couples.
Relaxing Couple's Getaway
Studio/1 Bathroom, near the Town Square
This cozy basement apartment is perfect for couples who want an affordable option near the town square. What it may be missing in space, it makes up for in charm. There's a full kitchen (but no dishwasher) and any cooking supplies you might need. Despite being a basement unit, there is a large window, and a smaller window, so it's relatively bright.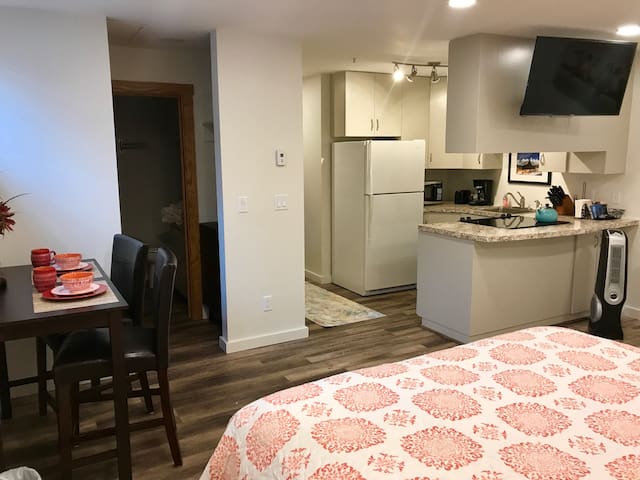 Cozy Apartment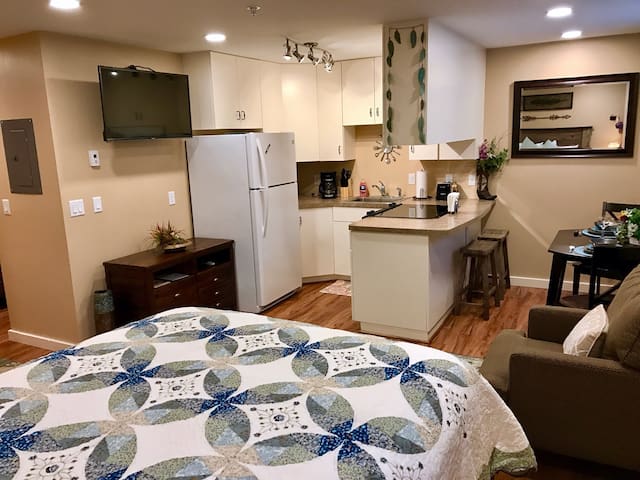 Studio/1 Bathroom, near the Town Square
Another cozy apartment right by the town square, this is another affordable option for couples. It has a full kitchen and great location. It's a basement apartment, but there are two good sized windows that let in a lot of natural light. Despite its smaller size, it's well maintained, thoroughly cleaned, and in an unbeatable location. Couples love this convenience combined with its affordability.
Snow King Mountain Condo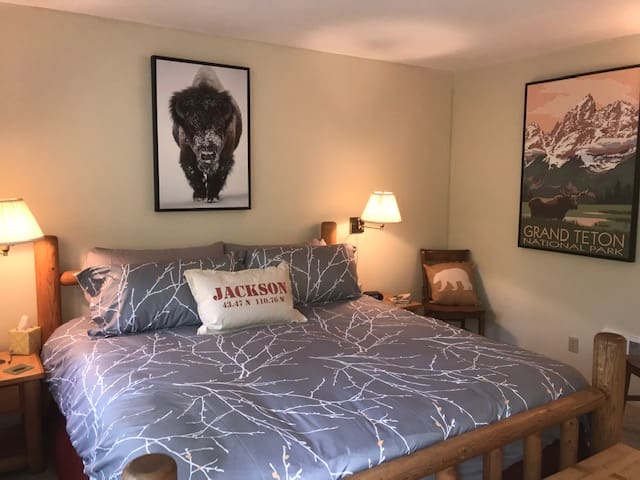 Bedroom/1Bathroom, Kitchenette, Patio
For couple's that want convenient access to Snow King Mountain, this is the condo for you. It's near the Cache Creek trails and is just a 5 minute walk from the chairlifts at Snow King Resort. It's a 1 bedroom unit with a king-sized bed. There's also a small patio. Jackson Town Square is about a 15 minute walk away and you'll find great restaurants and shops to explore. While the unit doesn't have a full kitchen, there is a kitchenette area with a microwave, small refrigerator, coffee maker, and a few supplies.
Log Cabin Studio
For couples looking for a more rustic style, this Log Cabin studio offers a fun style in a comfortable setting. The complex also has a number of amenities as well including a swimming pool, hot tub, fitness center, and ski shuttle. It's located on the edge of town with relatively convenient access to everything.
Teton Village
For couples who want to have a wide range of ski in/ski out options to choose from, Teton Village is a great area to stay in. The village has a number of hotels and condos, and it's the place to stay during the ski season. There are also a number of great restaurants and shops worth exploring. The area feels quieter during the summer months, but many couples enjoy the mountain views and the serene setting during these slower times.
Teton Village offers convenient access to Jackson Hole Mountain Resort and the town is also pedestrian-friendly so you likely won't need your car much in the area. Grand Teton National Park can be accessed by the Granite Canyon entrance about 2 miles away.
Teton Village Mountainside Condo
1 Bedroom/1 Bathroom, Ground Floor, Community Pool & Hot Tub
This 1 bedroom condo is walking distance to Jackson Hole Mountain Resort and offers convenient access to both Grand Teton National Park and Jackson Hole. The property has a fireplace and simple furnishings and the complex has a community pool and hot tub. This property also offers easy walk in access on the ground floor.
Home in Historic District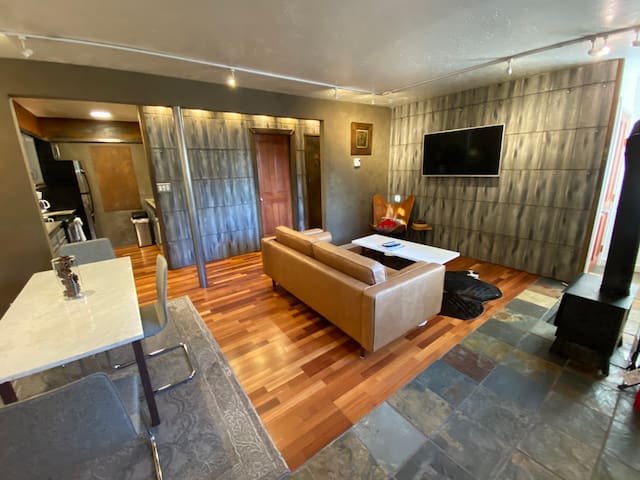 2 Bedrooms/1 Bathroom, Convenient to Skiing, Community Hot Tub
This condo offers convenient access to skiing and the tram. It's close to Moose Creek lift and there's a neighborhood shuttle if you want to travel farther. The unit is well furnished with convenient amenities including hot tub access (shared). For couples that want to enjoy the area's world class skiing, this is the place to stay. Year round, there is hiking and plenty of other outdoor activities that you can enjoy as well.
Teton Village Penthouse
2 Bedrooms, 2 Bathrooms, Community Pool & Hot Tub
This large 2 bedroom condo (1,500 sq ft) is less than a 5 minute walk from Moose Creek lift. It offers mountain charm and plenty of space for a couple to spread out. There's natural light and a private deck with a grill that couples enjoy. The unit also has a wood burning fireplace and washer and dryer. The complex has a seasonal pool, hot tub and tennis courts. The complex is also equipped with extra thick walls so you can sleep soundly in a quiet environment.
Wilson
Wilson is another historic town in the area. It's about 7 miles west of Jackson and it has a local vibe with a few good cafes and restaurants. The town's location near the Snake River makes it a nice summer destination for fishing and swimming, too. For couples that want to be a bit removed from the main tourist areas, but still in a convenient location with a lot of natural beauty, Wilson is a great option.
Quaint Log Cabin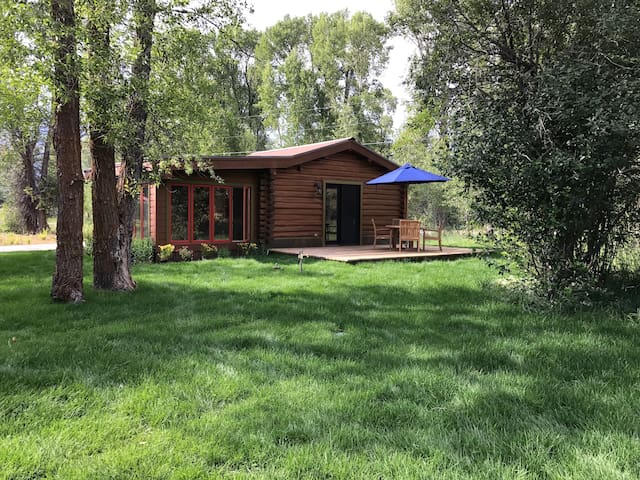 1 Bedroom/1 Bathroom, Near Wildlife and Hiking Trails
This quaint log cabin offers a quintessential mountain retreat for couples who want to enjoy the setting. There's a nice sunroom and it's not uncommon to see elk, deer, or even moose in the area. The peaceful setting is convenient to Grand Teton National Park and other beautiful natural spots. Hiking is great in the area as well.
Beautiful Convenient Condo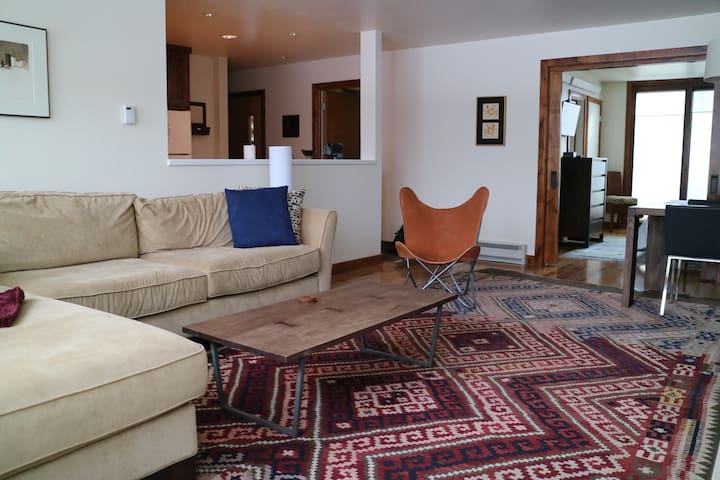 1 Bedroom/1 Bathroom, Patio, King Sized Bed
Located in the Aspens development, this property is great for couples. It's near a wine store, coffee shop, gym, and restaurants. It also offers beautiful views and a private patio. There's a king sized bed in the master bedroom and a nice kitchen for guests who plan to prepare their own meals.
Primrose Condo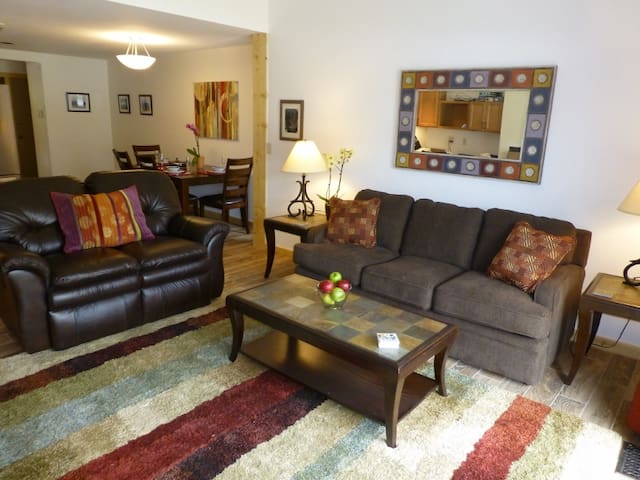 This 1 bedroom condo is conveniently located on the ground floor. It has a cozy wood burning fireplace and nice views of the mountain setting. Keep your eyes peeled for wildlife. There's a convenient grocery store in the complex and you're not far from restaurants for date nights. There is a road nearby, but it's generally quiet and isn't a big problem.
Happy Travels!
For more ideas about places to stay in Jackson, you might also be interested in
The Best Family-Friendly Airbnbs at Jackson Hole and Teton: Cabins & Condos
and
The Best VRBO & Airbnb Cabins for Large Groups at Jackson Hole and Teton
.