The area around Jackson, Wyoming has incredible natural beauty, adrenaline filled activities, and many great opportunities for larger groups to enjoy some fun times together. Nearby Grand Teton National Park offers a beautiful setting with dramatic mountains, hiking, and wildlife. Nearby, Teton Village is right at the base of the ski slopes, and many properties offer convenient ski in/ski out access during the winter season. The nearby historical town of Wilson is another nice option for fishing, swimming, and exploring the area's beautiful natural setting. Below is a brief description of each area and a few properties that are nice options for groups.
If you're headed to Jackson Hole with a larger group of friends or couples, then you probably need more than what a normal hotel room can offer. We have researched the best cabins and condos on Airbnb for your next trip as a group. All of these vacation rentals would be perfect for a bachelor or bachelorette trip, a girls' weekend getaway, a group of guys looking for a fun ski outing, or any group of friends that wants to experience everything that the area has to offer. All of these cabins and condos have extra bedrooms, full kitchens, laundry, parking, and more amenities to make sure everyone has a great time.
Downtown Jackson Hole
Located about 12 miles from Teton Village, Downtown Jackson Hole is a nice option for groups who want to be near great restaurants and entertainment options. Snow King Mountain is also located in town. The Town Square has a lot of character and some great restaurants and shops. For groups who enjoy live music, there are also a few good venues worth checking out. The town also has nice shopping, art galleries, and nearby rodeo grounds.
Properties in the area are diverse and include homes and slope side lodging. Below are a few nice options for groups.
Clark's Knoll Townhouse
3 Bedroom/2.5 Bathrooms, Fireplace, Patio
This condo is owned by Outpost, which owns a number of properties in the area. This townhome has 3 bedrooms and can sleep up to 6 people. It's a nice option for smaller groups who want to be in-town. It's location is convenient and the furnishings are nice. The style is modern and there's a fireplace, outdoor patio, and a great year round setting.
Outpost King Ridge Condo
3 Bedrooms/2 Bathroom, Rooftop Deck, Hot Tub
This 3 bedroom condo can sleep up to 8 people. It offers a modern setting with impressive views of the mountains. Small groups love this condo because it mixes rustic and contemporary styles in a convenient setting. There is lots of natural light, a full kitchen, and a private balcony with a grill. This is the perfect place to relax by the fireplace after a busy day exploring the area's natural beauty. There's also a rooftop deck and a hot tub where everyone can relax and enjoy views.
Teton Village
For groups that want to have a wide range of ski in/ski out options, Teton Village is the place to stay. The area has a number of hotels and condos, and it's at its most lively during the ski season. There are also a number of great restaurants and shops worth exploring. The area feels quieter during the summer months, but this is a great time for groups who want to enjoy nature, wildlife, and a serene setting.
Teton Village offers convenient access to Jackson Hole Mountain Resort and the town is pedestrian-friendly so you likely won't need your car much. Grand Teton National Park can be accessed by the Granite Canyon entrance about 2 miles away.
Granite Ridge Lodge
5 Bedrooms/4.5 Bathrooms, Outdoor Seating, Hot Tub, Stone Fireplace
This large and impressive 5 bedroom lodge is a great option for groups of up to 10 people. It's an over 4,000 sq ft house with luxury furnishings and a mountain house style. There's a stone fireplace, a dining table that can seat all 10 guests, and a gourmet kitchen with high end appliances. There's also a deck with outdoor seating and a gas grill. The entire outdoor space is beautifully done and includes a hot tub.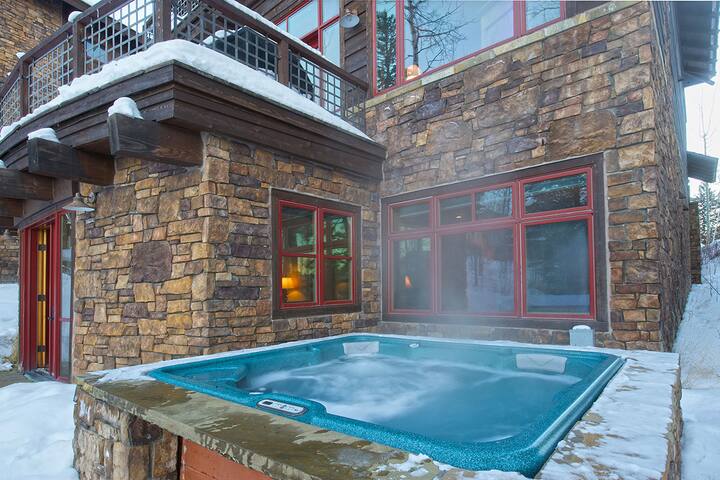 Granite Ridge Cabin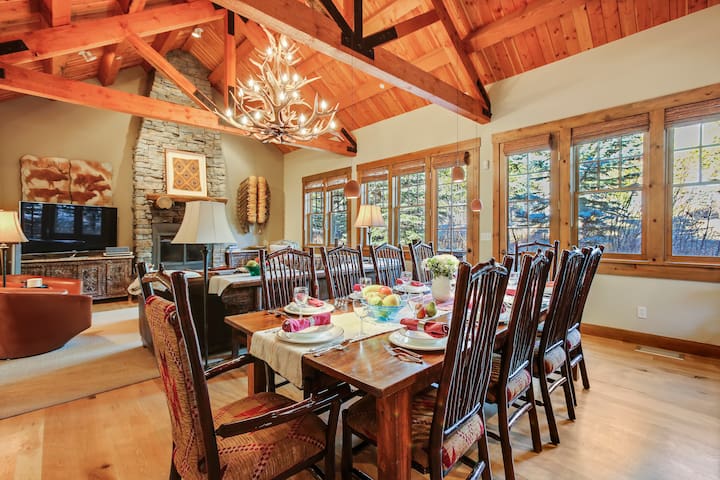 4 Bedrooms/4.5 Bathrooms, Hot Tub, Wood Burning Fireplace
Located near Jackson Hole Ski Resort and Grand Teton National Park, this 4 bedroom property is great for groups of up to 10 people. It has a quintessential mountain vibe with a wood burning fireplace, a hot tub, and classic furnishings. The area is convenient to everything, but also surrounded by scenic, natural beauty.
Cody House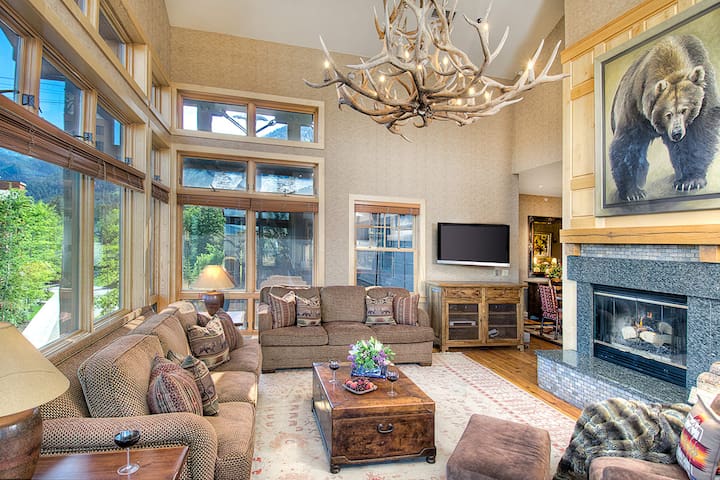 4 Bedrooms/3.5 Bathrooms, Hot Tub, Ski-in/Ski-Out
This ski in/ski out house offers a great setting for groups of up to 8 people. There are 4 bedrooms and plenty of space to spread out. The house has impressive mountain views, a cozy fireplace, a hot tub, grill, and more. There's an elegant but rustic style that combines luxury and mountain charm. For groups that want a larger space with plenty of amenities, this is a great option.
Shooting Star Cabin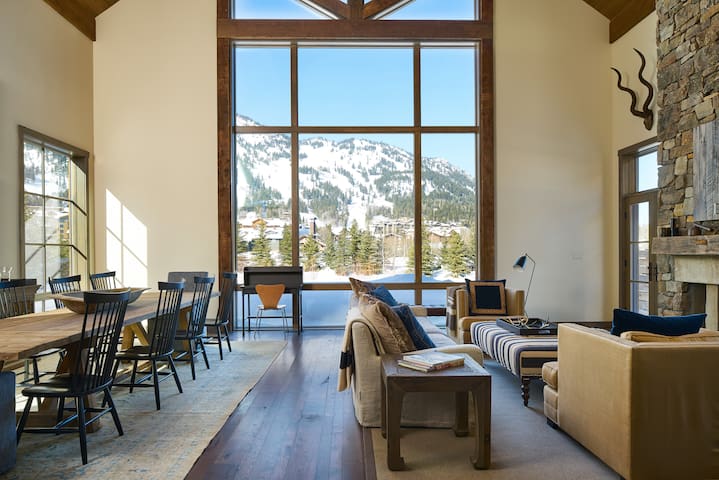 4 Bedrooms/3.5 Bathrooms, Hot Tub, Fireplace
This luxury 4 bedroom chalet is located conveniently in Teton Village and it is a great option for groups of up to 12 people. You can walk to the area's world class skiing and Grand Teton National Park is less than a mile away. The property has grand windows with impressive views of the mountains and a golf course. For groups that want convenience and elegant luxury, this is a wonderful option.
Wilson
Wilson is located about 7 miles from Jackson and it offers a historic, local setting that is a little more removed from the main touristy areas. The town has a nice local vibe and a few good cafes and restaurants. It's also located near The Snake River, which makes it a nice summer destination for fishing and swimming. For groups that want to be a bit removed from the main tourist areas, but still in a convenient location with a lot of natural beauty, Wilson is a great option. Below are several nice properties for groups.
Outpost Dogwood Condo
2 Bedrooms/2 Bathrooms, Modern & Comfortable
This modern mountain condo is owned by Outpost, which owns a large number of properties in the area. It's a large 2 bedroom condo that's a nice option for small groups of up to 5 people. There's a king sized bed in the master bathroom and there's a loft with two twin beds and a trundle. The property is clean and well furnished, making it a perfect choice for small groups that want comfort and convenience.
Beautiful Western Home
4 Bedrooms/3 Bathrooms, Hot Tub, Fireplace
This beautiful home is a great option for larger groups of up to ten people. It has 4 bedrooms and is in a serene and peaceful area. It makes a great spot for a group retreat. The home is also close to skiing, hiking, and more. It's on a bike path and is in a quiet neighborhood. There's also a hot tub, fireplace, and a nicely furnished kitchen.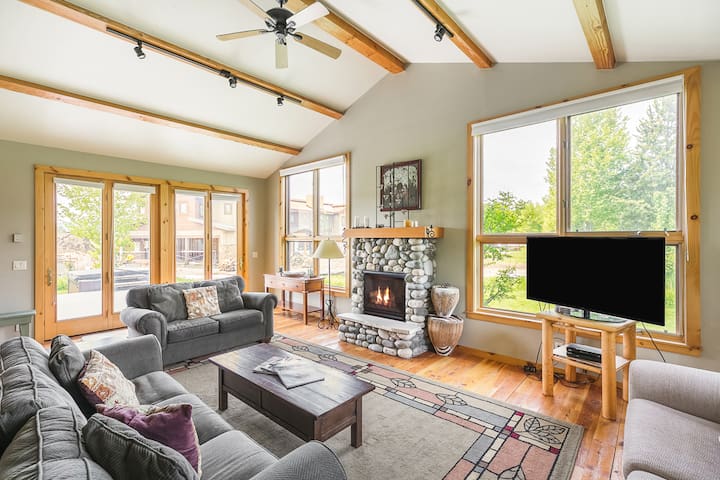 Happy Travels!