The Best Places to Stay in Lake Placid: 7 Affordable Airbnb Cabins and Condos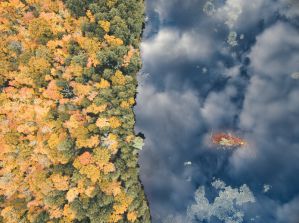 Lake Placid was a popular destination before it was host to the 1980 Winter Olympics, but since then it has gained even more popularity. With winter and summer attractions bringing in crowds year-round, this quaint town in the Adirondack Mountains is a must-visit destination if you're in the area. In the heart of the town of Lake Placid, you can find quaint shops, delicious restaurants, relaxing coffee shops, and lively bars. Or take in a show at the historic Palace Theatre.
Centering on Mirror Lake, and surrounded by impressive peaks, the scenery is fantastic any time of the year. Visitors can hike, ride horses, or mountain bike in the warmer months. From the viewpoints on the hiking trails in the mountains around Lake Placid, visitors will be blown away by the views on a clear day. Another option is to go fly fishing on the Ausable River. Even if you don't catch anything, the views are worth your time. And don't miss a short cruise on namesake Lake Placid, as the views from the water are fantastic, too.
Of course, as a winter destination, Lake Placid has plenty to offer, too. Nearby ski resorts (such as
Whiteface Mountain
) provide downhill entertainment. But it's also possible to find cross country ski areas, dog-sledding tours, snowmobiling, and more. Or visit the Olympic ski jump complex or the bobsled and luge tracks to see where history was made. Herb Brooks arena is the hockey stadium where the U.S. Men's Hockey team won the gold medal, too. The Olympic Museum provides a good overview of everything, so check it out.
If you're looking for a place to stay in the area, we have researched the best cabins, mountain houses, and condos on Airbnb in Lake Placid. Whether you're traveling as a couple or a family or a larger group of friends, we're sure you'll find what you need and more in one of these amazing vacation rentals. They offer more than what a hotel can provide, as you'll have more space and a kitchen. Most of these properties have multiple bedrooms, family-friendly amenities, and amazing locations, too. So, let's get started: here are the best places to stay in Lake Placid, NY.
What are the best cabins and condos in Lake Placid?
Contents: Radiant Apartment | The Crows Nest | Couples Getaway | Lakeside Studio | Modern Mountain Private Apartment | Parkside 2BR Cabin | 1BR, Walk to Downtown
This gorgeous apartment right in the middle of town will let you walk to everything nearby. With room for up to 5 people in
2 bedrooms
you'll have plenty of space, a fully-equipped kitchen, a gorgeous master bathroom, and more. Kids will love the bunk beds, but if you're traveling as adults you're not forced into them, as the extra queen bed is a nice touch. Located on Main Street right by Mirror Lake, you're just minutes from restaurants, shops, bars, and more.
If you're looking for the perfect little cabin just outside of town, this is it. With
2 bedrooms
, 2 bathrooms, and room for 6 people, it's just the right size for a family or smaller group looking for a getaway. A couple looking for a romantic private escape would also be comfortable here, as this cottage has amazing views, a hot tub, a fireplace, and a cozy living room. The huge deck has plenty of seating, and indoors you'll find a modern kitchen with everything you need to cook your own meals. For families, the second bedroom has a set of bunk beds in addition to a queen bed, so kids or adults will be comfortable here. The location is also ideal, as it's just south of town and only a few minutes by car to everything in Lake Placid.
Another romantic option, this appropriately named Couples' Getaway has gorgeous decor, comfortable amenities,
2 bedrooms
, a clean and fully-equipped kitchen, luxurious bathroom, and plenty of space. Located close to everything in town on foot or by car, you can't go wrong here.
If you're interested in more accommodation options in Lake Placid, you should also see The Best Airbnb Cabins and Condos at Whiteface Mountain.
For a couple looking for a romantic place to stay, this studio apartment has everything you need with ample space in one large area. The cozy but large king bed is off to the side from the main living room and kitchen area. The kitchen is fully-equipped with everything you need to cook your own meals, and the living room doesn't compromise any space with its sofa and TV. The bathroom is also modern and clean. And it comes with some outdoor garden space if you want to relax in nature.
This
2-bedroom
apartment has a very modern design and an affordable price. As it has been recently renovated, everything is very clean, modern, and new. The kitchen has everything you would want to cook your meals. The second bedroom is smaller with a twin bed, so this place is ideal for a couple or a small family. Located
within walking distance
to the shops and restaurants on Main Street, this is a great find at a great price.
Located on Teddy Bear Park, within walking distance to everything on Main Street, and with views of Whiteface Mountain, this new cabin is in the perfect location in Lake Placid. Inside you'll find
2 bedrooms
, a brand new kitchen, and some spacious living room areas. The second bedroom has bunk beds, which means this house is great for kids (if the park across the street didn't give it away before). Check out the photos!
This beautiful and affordable
1-bedroom
apartment is within walking distance to downtown, including all of the restaurants, shops, and bars, as well as the nice views overlooking Mirror Lake. The kitchen has everything you need to cook your own meals, while the living room and bedroom are both relaxing, quiet, and comfortable. You really can't go wrong here if you're a couple or a single person looking for a good value in a great location.
Some photos are courtesy of airbnb.com.
Share This Article