The Best Airbnb Cabins and Condos at Whiteface Mountain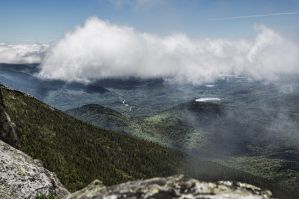 Near Lake Placid and Wilmington lies one of the premier ski resorts in the eastern United States: Whiteface Mountain. With skiing and snowboarding for beginners and experts alike, this resort area offers something for everyone. It's family-friendly with tubing for the kids (and adults - hey, it's fun!), beginner ski lessons, and kids competitions. They also have an awesome terrain park for those that like the air-time, as well as their very fast and steep "slides" which are double-diamond slopes for those expert skiers looking for a thrill. The new ski lodge will surely draw a crowd, too.
If you're looking for a place to stay close to Whiteface Mountain, look no further, as we have researched the best cabins and condos on Airbnb in the area. So, whether you're looking for a smaller vacation rental that is just for a couple, or a larger cabin or house for a group or a family, then you'll find it on this list. All of these places have some nice amenities and great locations. You'll find kitchens, laundry, multiple bedrooms, and more features in these rental properties, so check them out here.
Where are the best places to stay at Whiteface Mountain, NY?
Contents: 4BR House with Hot Tub | 3BR House with Sauna, Hot Tub | Affordable Private 2BR | Juniper Hill Cabin | 5BR Cabin | 6BR Luxury Mountain House | Little Bear | Chalet Whiteface - Mamma Bear 1BR
Whiteface Mountain
,
New York
This modern cabin has plenty of space for up to
12 people
in
4 bedrooms
The ample deck space and outdoor areas make this mountain house a great place to stay. And the indoor areas are equally appealing. Each of the 4 bedrooms has a king-sized bed (with TVs), making this a good spot for a group of friends or multiple couples headed to Whiteface for a ski trip or a summer hiking getaway. A family would be comfortable here, too. The large kitchen, dining, and living room space is new and gorgeous. The modern kitchen is probably nicer than what most people have at home. The large fireplace will keep everyone cozy around the relaxing sofas, too. A
hot tub
, fire pit, sauna, laundry, luxury bathrooms, and ample parking space round out the amenities. This one should be on your short list!
Whiteface Mountain
,
New York
Here's a great cabin with modern amenities. The
3 bedrooms
will provide plenty of space for a group of friends or a family, while the hot tub and sauna will ensure that everyone has a good time, even on those cold nights. The open-concept living room and kitchen space will make sure that everyone stays together and has a great time during meals and relaxing in the evening. The new, updated kitchen has everything you need to cook all of your meals. And with two sets of laundry machines, you'll be able to deal with all of those dirty ski clothes after a full day on the slopes. And speaking of the slopes, it's just a short drive to Whiteface Mountain, Lake Placid, or Wilmington.
Whiteface Mountain
,
New York
Here's a perfectly-priced
2-bedroom
apartment with a private entrance that is part of a larger chalet. It has enough room for a small family or a group of friends. The kitchen and living room area is a nice spot to hang out after a day on the slopes, too. The kitchen has everything you would need to cook all of your meals as well. A hot tub, grill, outdoor fire pit, two sets of laundry machines, and more niceties are included.
For more ideas about places to stay in Lake Placid, you might also be interested in The Best Places to Stay in Lake Placid: 7 Affordable Airbnbs.
Whiteface Mountain
,
New York
This cute
2-bedroom
cabin has enough space for a small family. The second bedroom has a full-sized set of bunk beds, which the kids and adults will love. The fully-equipped kitchen has upgraded appliances and a gas stove, with everything you need to cook your own meals. It also has some great outdoor areas: a fire pit, a nice garden, and room to roam. Laundry, Wi-Fi, and other niceties are also included.
Whiteface Mountain
,
New York
For families and groups that need more space, this
5-bedroom
mountain house has a lot to offer. Starting with the sauna and hot tub, as well as an outdoor fire pit, the views from this house are terrific. Inside you'll find a gorgeous chef's kitchen, ample seating around the old wood-burning stove fireplace in the living room, and spacious bedrooms with luxurious and new bathrooms. The master has windows with amazing views, and a door out onto the deck. Just drop everything and go, right now.
Whiteface Mountain
,
New York
This fairly new and modern
6-bedroom
mountain house is a terrific vacation rental because it offers so much space for everyone. This is perfect for a group of friends or couples, or even a large family. Each of the 6 bedrooms has a king sized bed! Other amenities include a fantastic, gorgeous kitchen with upgraded appliances, a nice fireplace in the living room area, laundry machines, Wi-Fi, a
hot tub
, sauna, fire pit, walk-in showers, and a nice deck. Anyone would be comfortable here.
Whiteface Mountain
,
New York
This gorgeous
2-bedroom
cabin has a rustic decor but modern features. With a fully-equipped kitchen, modern bathrooms, and some nice views, this is a fantastic place for a couple, a small family, or a small group of friends. Upstairs you'll find two queen beds in the two bedrooms, and a new, clean bathroom with a fun rustic vibe. The location is terrific, as it's just a few minutes from the slopes. Check out the photos!
Whiteface Mountain
,
New York
This is a private room with a private bathroom in a B&B style lodge at Whiteface Mountain. While other guests will be at this small lodge, you have your own room, but share the common spaces. This luxurious room has a quaint and romantic atmosphere, making it perfect for a couple looking for a mountain getaway anytime of the year. Breakfast is included, and the lodge also has a game room (ping-pong), lounge with a TV, Wi-Fi, fireplace, and more.
Some photos are courtesy of airbnb.com.
Share This Article