Honeymooners or couples looking for romance have long flocked to California's wine country so they can soak up the ambiance and be pampered in style. The region is cloaked in vineyards and it's a foodie's paradise. With everything from upscale to farm to table restaurants sprinkled throughout, wine country won't disappoint. AirBnBs offer the perfect base for exploring wine country's wineries but for some, the challenge can come in deciding where exactly to stay to make the most of your time away.
"Napa versus Sonoma" is a long disputed debate, but before deciding exactly where to go, it's important to understand exactly what you mean when you say Napa or Sonoma. Both locales are towns, counties, and valleys, and for many visitors the geography can get confusing. Napa and Sonoma are also relatively far apart, and the trip between the two can take upwards of an hour or more to make.
Napa
Napa County
Napa County encompasses nine cities and towns, including the town of Napa. There are 450 wineries with tasting rooms sprinkled throughout the county, each with its own diverse style and character.
Napa Valley
Napa Valley runs through the middle of the county for about 30 miles and it's 5 miles wide at its widest point. The valley is at the heart of Napa's wine region and it's where some of the world's most sought-after wines are produced. Popular wine varieties coming out of Napa Valley include Cabernet Sauvignon and Chardonnay, but there are also Pinot Noir, Merlot, Zinfandel, and Sauvignon Blanc produced here as well.
Napa has an upscale vibe with world class wineries, five star restaurants, and internationally recognized wine brands. The landscape is dotted with vineyards and the castle-like wineries give visitors the feeling they're experiencing something grand. Many of the wineries have tasting fees that are a bit more expensive than Sonoma Valley, but for honeymooners and couples looking for romance, the experience is well worth the price tag.
There are two main routes through Napa Valley.
Highway 29
is a beautiful two lane road that wanders from north to south through the valley, passing through many of the region's most popular towns. This is a popular route that can get quite crowded during busy times. Alternatively,
the Silverado Trail
, often referred to as simply
The Trail
is east of Highway 29 and passes by several popular wineries. There are several smaller roads that connect the Trail to Highway 29.
Along Highway 29 you'll find the towns of Napa, Yountville, St. Helena, and Calistoga.
The City of Napa
The City of Napa was once overlooked as a destination within the valley, but in recent years the riverfront and downtown areas have really come to life. It's the largest town in Napa Valley and it has a downtown that is charming and filled with excellent restaurants, boutique shops, and friendly cafes. The town has a number of tasting rooms that are worth checking out, and the Oxbow Public Market is the place to grab cheese, meats, and other picnic supplies on your way further into the valley. Wander down First Street Napa to experience everything that the downtown has to offer. Or you can rent a kayak and drift down the Napa River. Every Saturday you can check out the town's farmers market and chat with the locals as you sample local specialties.
The City of Napa has a number of small cottages and houses that are quite charming. There are also a number of
vacation rentals and AirBnBs to choose from
. Prices range from $150 to $500 a night and options include rustic cottage homes, swanky apartments, and everything in between.
A few of our favorite romantic cottages include
this one right near the town square
and
this one
which is a little more affordable.
Yountville
Yountville offers visitors small town charm with high end amenities. Swanky award winning restaurants abound in this quaint town, but plan ahead and make reservations. You'll also enjoy the art galleries and boutique shops around town.
For those looking to splurge, there are high end villas near Yountville, where you can have the honeymoon of your dreams. But don't worry, this town has a number of very affordable options, too (
AirBnB's here
). You'll find private property rentals and beautiful inns.
Blackbird Vineyard Farmhouse
We love the
Blackbird Vineyard Farmhouse
with amazing views overlooking the vineyards, as well as
this barn style suite
with plenty of charm.
St. Helena
St. Helena is one of the more popular towns in Napa Valley. It's an enjoyable place to explore with its many art galleries, boutique shops, and cafes. For something a little different, you can sample some olive oil at Olivier or try chocolate at Woodhouse Chocolate. There are a number of tasting rooms in town as well.
For many couples, this is a nice town to base themselves because they can walk around, sample wine in the tasting rooms, and enjoy some delicious meals, all without hopping in a car. Couples will also appreciate a visit to the garden at Health Spa Napa Valley where they can enjoy a Harvest Signature Mud Wrap & Massage. The day isn't complete without dressing in your finest and enjoying a fine dining experience at one of the town's upscale restaurants.
St Helena has a wide range of accommodation options that appeal to honeymooners.
On AirBnB
, St. Helena offes "farmhouse" style inns, luxurious hotels, and Spanish style villas. Prices typically range from $120 to $350 a night, with a few upscale options costing over $1000.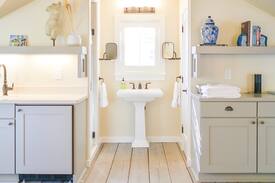 One of our favorites includes
this small romantic cottage
which is very cute. It's right on the vineyard, has a queen sized bed and an elegant bathroom.
And also, check out
this entire house on the edge of a vineyard
with an amazing kitchen and some gorgeous outdoor spaces. The 3 bedrooms and 2 bathrooms are very comfortable, and the modern upgrades would make anyone swoon.
Calistoga
At the northern point of Napa Valley, Calistoga is a less touristy, more laid back town. It's hidden in the shadows of Mount Saint Helena and is famous for its many spas and hot springs. They make a perfect escape for couples after days exploring wine country. Volcanic, mineral filled waters make the hot springs and spas a healing and tranquil experience. Depending on your style and budget, you'll find spas that range from casual to high end. Visitors can choose between hot soaks, saunas, massages, and the not to be missed mud baths. Couples wanting to make the most of their honeymoon experience will want to request "the works."
For early risers,
a morning hot air balloon ride
is the perfect way to see wine country. You'll see the sun rise above the horizon just in time to burn off the morning mist and then enjoy a glass of wine once you're down on solid ground. It's the perfect honeymoon experience that you and your partner will never forget.
Despite it's more authentic and less touristy vibe, Calistoga still has a number of nice places to stay. With luxurious hotels, cottage style bungalows, and impressive farmhouses that are charming and chic, this town has plenty of options for every couple's taste. Prices range from $200 to more than $1000 a night. You can see
our list of favorite places in Calistoga on AirBnB here
.
The Silverado Trail
This two lane road wanders through Napa Valley passing by world class wineries and picturesque landscapes. The route covers about 30 miles and is a slower paced, more relaxed version of Highway 29, which runs parallel. Many visitors enjoy renting a bike to explore the trail. Favorite wineries along the trail include Joseph Phelps, ZD Wines, and Miner Family Winery.
Spanish style villas, farmhouses, and hotels dot the Silverado Trail. Prices are typically about $250 a night for a room.
Sonoma
Sonoma County
Sonoma County, covering 1,768 square miles, is more spread out than Napa. There are over 30 cities and towns in the county and 425 wineries with tasting rooms. The county also borders the Pacific Ocean, and the beautiful 55 mile stretch of coastline is rugged and dramatic.
Sonoma Valley
Sonoma Valley is located in the southeastern part of the county. The valley has a rich history of winemaking and the most popular wine variety in the area is Zinfandel. Sonoma Valley is known for its rustic farm to table restaurants, and smaller, family owned vineyards. Because wineries in Sonoma are usually smaller, you'll find a wide diversity of wines and wineries here. The wineries may not have the recognizable names that you find in Napa Valley, but the local experience, laid back vibe, and slightly more affordable prices make Sonoma the obvious choice for many couples.
The City of Sonoma
The City of Sonoma is found in Sonoma Valley. It's a pleasant town with a beautiful main square, where you'll find many tasting rooms and restaurants. The town holds on to its rich history with the traditional architecture and historical homes that are found throughout. If you're particularly interested in the area's history you'll appreciate a visit to the museum at Bartholomew Memorial Park, which offers information on the area's winemaking history. There are also historical tours of the city which pass by many of the town's landmarks.
Restaurants around town range from Portuguese tapas, to chic gourmet bistros. The culinary scene in Sonoma is second to none, and wherever you dine, you'll find a unique, world class menu.
Sonoma has a number of accommodation options for visitors (
see them here on AirBnB
). You can find farmhouses, cottages, and luxurious hotels that range in price from $100 to over $1000 a night, but most places are under $500.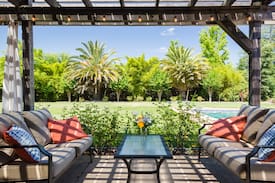 One of our favorites is
this fantastic guesthouse
with a great pool not far from the center of town.
Healdsburg
Healdsburg offers a beautiful town square that is filled with tasting rooms, boutiques, and world class restaurants. If you're looking for a posh experience, then Healdsburg is everything you would expect. The town is famous for it's classy, upscale atmosphere, and the properties nearby won't disappoint.
Honeymooners and couples looking for romance won't regret basing themselves in this unique town (
see AirBnB's here
). This town has award winning restaurants, or you can pick up some locally grown produce at the twice weekly farmers market in town. Grab some artisan cheese from the
Oakville Grocery
and you're set for a perfect, romantic picnic surrounded by Sonoma Valley's famed wine country.
Accommodation in Healdsburg is as luxurious and pampered as the town itself. If you choose to rent a home, you'll likely be impressed with the large porches and well maintained outdoor spaces. Many properties have hot tubs or even pools. There are also villas and luxurious hotels and inns to choose from. Prices are a bit higher than elsewhere in Sonoma Valley, and you can expect to pay at least $300 a night up to almost $1000 a night.
A few of our favorite places include
this rediculously cute cottage
that is full of charm and romance.
Or, how about
this Garden Suite
that has been fully renovated for luxury, or
this 2 bedroom house
with amazing views overlooking the surrounding hills.
Guerneville
Located in what is technically the
Russian River Valley
, Guerneville is located in a natural setting amid the redwoods. Guerneville offers a more rustic vibe than many of the other towns in wine country, as it's surrounded by forested park lands. It's the perfect place to take in the fresh air and listen to the flowing waters of the nearby river. Guerneville is known for its laid back California style. It's also become a popular destination as a gay vacation resort. Accommodation options range from simple cabins to comfortable resorts, as well as campgrounds. Nearby dining options include cafes, food stands, and bohemian style restaurants. More than 50 different wineries can be found within a 20 minute drive.
Visitors to this quaint town not only appreciate the laid back side of California's wine country, but also enjoy the outdoor activities like canoeing, kayaking, or swimming in the river. You can also take a stroll through the beautiful Armstrong Redwoods State Natural Reserve, which is just a couple miles away.
Many properties in Guerneville have the same rustic charm as the surrounding community (
AirBnB's here
). They utilize the outdoor beauty of the area and many boast a riverfront view. Prices are lower than in many parts of wine country and you can expect to pay between $130 and $350 a night.
For a romantic getaway,
check out this cottage
overlooking the beautiful vineyards. It's a huge studio with a spacious covered deck with grill, a nice outdoor patio area, and a luxury kitchen and bathroom (with recent renovations).
Happy Travels!
Make sure you also see
Girls' Weekend Vacation Rentals in Napa or Sonoma Valley
if you're interested in more places to stay in Napa Valley.