Napa Valley On a Budget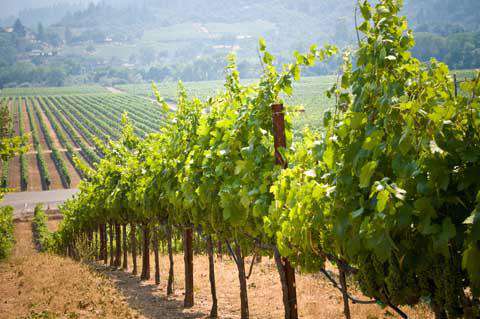 Napa Valley, in the Bay Area of California, is a popular destination for its wineries and beautiful scenery. The area, referred to as Wine Country, is just north of San Francisco and makes for a great day or weekend trip. Many honeymooners visit the area for its romantic setting and popular bed and breakfasts. The best time to visit is during the months of September and October when the grapes are wipe. This time is referred to as the harvest "crush." The summer months are also a popular time but the crowds are often overwhelming.
Napa Valley has a Mediterranean climate. The summers are warm or hot with plenty of sunshine. The nights can be cool and rain is infrequent. Winters are mild and pleasant but rain is more common and there is the occasional frost. Snow is rare.
Sights
Napa Valley is not about the sights, it's about the experience. The beautiful landscape, peaceful setting, and timeless atmosphere make it a destination to soak up, not rush through. There are more than two hundred wineries in Napa Valley. Many offer tours and tastings and you can easily pass the day sipping wine and exploring the vineyards. Some of the more popular vineyards in the area include Beringer Vineyard, Grgich Hills Cellar, Robert Mondavi Winery, V. Sattui Winery, Sterling Vineyards, and Castello di Amorosa.
Neighborhoods
Napa County has 789 square miles of land and water. The main locales in the area include Calistoga, St. Helena, Rutherford, Oakville, Yountville, Napa, and American Canyon. Napa is at the southern end of Napa Valley and has some museums and restaurants. Oakville has the Oakville Grocery and Yountville is where you'll find some of the area's best restaurants and wineries. There is also boutique shopping in the area. St. Helena has a museum and several wineries. Calistoga is famous for its hot springs. It is also a gateway to Sonoma Valley.
Activities
If you're looking for something to do aside from touring the vineyards, then there are about ten different golf courses around the area. There are also some great spas and hot springs in the area where you can relax for a day and simply enjoy your vacation. If you'd like to do a hot air balloon ride over the area look into Bonaventura Balloon Company.
Food and Dining
There are some great restaurants sprinkled throughout Napa Valley and the area has become quite popular with celebrity chefs. In the town of Napa there are some great restaurants. Oakville Grocery is in the town of Oakville and is a great place to pick up breads and cheeses which you can enjoy as part of a picnic. Grab a bottle of wine and you'll have the quintessential Wine Country experience.
French Laundry in Yountville is one of the most famous restaurants in the area. It's very expensive and hard to get a reservation. You must plan your visit months in advance if you hope to dine here. If you're looking for a good lunch option then try Etoile at Domain Chandon. It's only open for lunch between Thursday and Monday, but it has received many awards of excellence. Another option is Bouchon, which is an upscale French bistro. There are many authentic dishes such as pan-roasted trout, French onion soup, and duck foie gras. Reservations are required.
Transportation
Many people choose not to drive around Napa Valley because of the alcohol they plan to consume. There are several options for getting around that will let you avoid driving. These include the famous Napa Valley Wine Train and the popular biking tours of the area (although drinking and biking isn't always advised as well). Platypus Wine Tours offers a six hour tour of the area. It includes four small family owned wineries and there are between eight and twelve people on the tour. The price is roughly $100 a person and water, snack, and a picnic lunch are included. Another tour option is through Vine Limo of Napa.
Bus transportation is available in the area through the Napa County Transportation Planning Agency. However, don't be surprised if you find yourself waiting hours for a bus.
Related:
Looking for a
party hostel in Las Vegas
or
San Diego
? Traveling alone to
NYC
or
LA
? Want a budget hostel in
San Francisco
?