Hostels for Groups in Berlin, Germany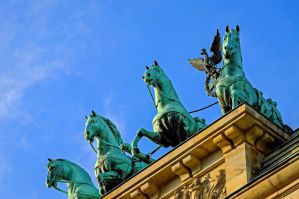 As the capital city of Germany, Berlin has a lot to offer visitors from around the world. It is rich in history and architecture, and attracts school groups and educational programs from elsewhere in Europe and abroad. The city also has a lively nightlife and an excellent music scene. It's a popular destination for young travelers who are looking for a memorable and fun few days. Regardless of whether you're traveling in a group for educational purposes, or simply looking to take advantage of the city's great nightlife, Berlin has a range of accommodation options for you.
How much do hostels in Berlin cost?
| | |
| --- | --- |
| Average Dorm Price | $15 ($2 to $31) |
| Average Double Private Room Price (in a hostel) | $50 ($15 to $149) |
Dorm Bed:
$
24.00
Private Room:
$
35.00
Overall Rating:
62%
This hostel is a great option for those traveling in groups. There are more than 400 beds available and rooms range in size and style from single rooms to eight bed dormitories. Each room is comfortable and designed with modern furnishings. The rooms are bright and open, making this a great option for all guests.
The hostel offers guests with a range of amenities including snacks and drinks, organization of tours and sightseeing trips, travel information, and wheelchair accessibility. There are also dinner and lunch packets available for groups, but these must be ordered in advance. Staff is available 24 hours a day to answer your questions or assist with any of your group's needs.
The hostel is conveniently located in the middle of Central Berlin. It's just a short walk from Alexanderplatz and Museuminset, and is conveniently located near many sights and attractions, as well as public transportation.
Gruenberger Strasse 54
,
Berlin
,
Germany
,
Dorm Bed:
$
13.22
Private Room:
$
19.82
Overall Rating:
68%
This hotel is perfectly designed for those traveling in groups. Whether you're a school group, club, youth group, or a group ofbackpackers, there are rooms that will meet your needs. There are 100 standard rooms that are open and brightly decorated. Each room has either two or three single beds or bunk beds. Two rooms may share a common entrance area with a corridor and shared bathrooms, making a great layout for a small group of travelers.
This hotel offers travelers many amenities including a restaurant and bar that seats 70 and is open daily until 6 pm. There is free parking nearby and a public kitchen for guests.
The hotel is conveniently located in a quiet but convenient area. Located in the northeast part of the city in the district of Lichtenberg, this hotel is about 6 kilometers from the center of town. Public transportation is easily accessible as well.
Genslerstraße 18
,
Berlin
,
Germany
,
Dorm Bed:
$
11.40
Private Room:
$
19.20
Overall Rating:
91%
PLUS Berlin is a larger hostel that accommodates many guests. With a bit of a party and social reputation (which may or may not be of interest to your large group), this hostel has a lot of amenities and conveniences for travelers. They have a pool, restaurant, bar, laundry, kitchen, outdoor courtyard, ensuite rooms, and a multilingual staff to help you plan your stay in Berlin and the rest of Germany.
Located in Friedrichshain, they are right in the middle of the action and a short trip away from anywhere else in the city. Surrounded by cafes, restaurants, and nightlife, this hostel is in an ideal location.
The hostel also offers free WiFi, a game room (pool tables and a Wii), lockers, bike rental, parking, and hot showers.
Warschauerplatz 6-8
,
Berlin
,
Germany
,
Dorm Bed:
$
18.80
Private Room:
$
50.24
Overall Rating:
89%
A non-profit organization promoting integration and providing jobs for the disabled, the Pfefferbett is located in a historic area (Prenzlauer Berg) surrounded by art galleries, bars, shops, restaurants, and other great places that any traveler would need or want when visiting Germany.
With an impressive interior of vaulted ceilings and a large fireplace, the modern yet comfortable setting of this hostel will make any traveler feel at home. They also offer WiFi and computers for guests' use. And with a terrace and garden, summers are just as relaxed. With a restaurant and BBQ, guests can grab a meal before heading out to the sights or nearby nightlife. Laundry, hot showers, and a mini-mart add to the long list of great amenities that any single or group traveler would need.
Also, take advantage of their free walking tours!
Schoenhauser Allee 176
,
Berlin
,
Germany
,
Share This Article