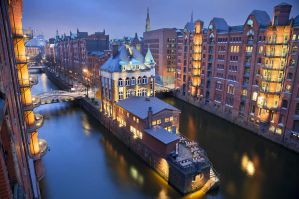 As darkness encloses around the city, like some bioluminescent creature, Hamburg glows with the golds and yellows of the day's sun, making it an urban beacon of northern Germany. The second largest city in Germany with a population of more than 1.7 million people, Hamburg is a major tourist destination of the nation, catering to more youthful populations with its excess of shopping centers, bars, restaurants, and clubs. Its name originally comes from its history as being a fellow member of the Hanseatic League and free imperial city during medieval times, with its full name literally translated as, "Free and Hanseatic City of Hamburg." Nestled on the winding river of Elbe, Hamburg works as a major port city as well as an international hub for media, logistics, and industry. Besides this, Hamburg was ranked 18th in the world for its livability and also become an UNESCO World Heritage Site in 2015.
Though it acquires plenty of modern amenities, Hamburg is filled with a rich and complex history. This can be seen from its preservation of castles, town or city halls, dungeons, and churches. This makes it a hotspot for history buffs and cultural lovers alike. However, Hamburg has seamlessly merged the ancient and modern worlds together, allowing for a myriad of old and new tourist attractions to appear. Some of these attractions include Speicherstadt, Elbphilharmonie, Miniatur Wunderland, Heide Park, Elbe Tunnel, and Tierpark Hagenbeck. However, with so much to do in such a specified location, you may find yourself looking for a place to stay that is both affordable and fun. Rather than stay at expensive hotels or dingy motels, try something new and visit Hamburg's party hostels. If you love meeting new people, sharing new experiences, and truly immersing yourself in the culture of Hamburg, reserve a bed now at one of the many party hostels in the city.
How much do hostels in Hamburg cost?
You can find our comprehensive analysis of all hostel prices in Hamburg here. We've found the average prices of dorms and private rooms, as well as the typical prices of hostels with various amenities, too.