Best Hostels for Couples, Families, and Solo Travellers in Puno, Peru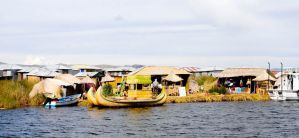 Puno is a port city that is located on the edge of Lake Titicaca on the Altiplano of Peru. It's a quaint town that has a lot of character. Perhaps the most popular tourist attraction in the area is the Uros Floating Islands. Many visitors also stop here on their way to the nearby Bolivian boarder. This town is a popular stop on the South American backpacker circuit.
The city has a mix of the Aymara and Quechua cultures. It is a unique and interesting place to spend a few days, and there are several great hostels and hotels in the area. Prices are reasonable and most places are comfortable and clean.
How much do hostels in Lake Titicaca (Puno) cost?
| | |
| --- | --- |
| Average Dorm Price | $8 ($6 to $16) |
| Average Double Private Room Price (in a hostel) | $30 ($10 to $67) |
A quiet family run hostel that is a good option for couples.
Dorm Bed:
$
16.13
Private Room:
$
11.61
Overall Rating:
90%
Joya Andina Puno Inn is an affordable and comfortable place to stay in Puno, Peru. It has modern facilities and a welcoming environment. Guests can enjoy cable television, free internet access, laundry facilities, and all types of travel information. There is also free drop off and pick up from the train and bus stations.
The hostel is located in a quiet but convenient neighborhood that is close to the city and many of the top tourist attractions. There's a family atmosphere and you'll quickly feel right at home here.
The hostel has dorms that sleep up to four people and are perfect to individuals who are traveling alone and don't want to spend a lot of money. There are also single, twin, and double private rooms as well as two bed, three bed, and four bed family rooms.
jr. Ancach N.- 333
,
Puno
,
Peru
,
A fun and social hostel for backpackers and solo travellers.
Dorm Bed:
$
7.59
Private Room:
$
9.63
Overall Rating:
80%
Kantaya Hostel is a fun and social hostel that is popular with young travellers who want to meet others. It's one of the most popular hostels in Puno and it is a lively and active place to stay. The staff keep the hostel clean and the rooms are modern and comfortable. If you're traveling alone or want to meet other backpackers while you're in the area, then this is the best hostel to stay at. It's located right in the heart of the city and is about two minutes from the main plaza. It's convenient to anything that you might want to see or do.
The hostel has both private rooms and dorms available. Private rooms include twin, double, and three bed rooms. Dorms sleep four, six, or ten people. All rooms have their own private bathroom.
Santiago Giraldo # 220
,
Puno
,
Peru
,
A good hostel for solo travellers, couples, and small groups.
Dorm Bed:
$
8.00
Private Room:
$
11.88
Overall Rating:
86%
Cozy Hostel is another popular hostel in Puno. It's located about three blocks from the main square and is near many supermarkets, bars, nightclubs, and anything else that you might need. The hostel is a comfortable and affordable place to stay. It includes a nice breakfast buffet and there is tea available throughout the day.
The hostel has a total of 42 beds that are spread between a range of room types. Guests can choose between singles, doubles, triples, and dorm rooms. Most rooms have an attached private bathroom with hot water and towels. Guests can also enjoy a wide variety of amenities including cable television, free wi-fi, laundry service, luggage storage, and a wide selection of movies. There's also a shared kitchen that everyone can use.
Av. Titicaca 144 - B
,
Puno
,
Peru
,
A good option for couples and families.
Private Room:
$
33.33
Overall Rating:
91%
Conde de Lemos Inn is a comfortable and nice hotel in Puno, Peru. It's located in a colonial style building that is right in the historic area next to the Cathedral. It's just a block from the main square and is near many museums and interesting sights around town. There is also plenty of parking available if you arrive with your own car.
The hotel has 34 rooms available in total and each room has basic furnishings and nice decorations. Private singles, doubles, and three bed rooms are available. The rooms are split across six floors and an elevator is available. The hotel has some great amenities available for guests including a buffet breakfast, an on-site restaurant, wi-fi, laundry service, and more. There's even a ballroom on-site.
This is one of the nicer places to stay in Puno. It's a little more expensive than many other places, but it is money well spent if you're looking to live it up for a little bit.
Jr Puno 675
,
Puno
,
Peru
,
Share This Article