Cheap Alternative Cruise Shore Excursions in Nassau (On Your Own)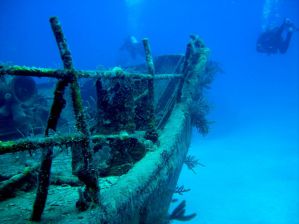 With Nassau's warm weather and great beaches, it's obvious why people visit this town. But when you throw in the historical and cultural importance of the town, as well as all of the shopping and restaurants found here, then you've got a world-class destination.
If you're arriving on a cruise ship, so many options are available to you right out of the gate. Shopping, dining, historical sites, nearby beaches, and so forth. And you could also take the opportunity to see the amazing scuba diving or snorkeling options here, too. There's something for everyone, so check out all of these potential activities and do your research before making your reservation to get the best value.
This adventure combines two of the Bahamas best activities: sailing and snorkeling. You'll hop on board a catamaran sailboat with a small group of other travelers and venture out into the clear blue Caribbean sea and provided with a complimentary rum punch. With terrific views of the island, sit back and relax, because you're on a boat!
After cruising for a bit, the boat will stop at the Sea Garden, a coral reef conservation area. Here you will have a chance to snorkel in the clear waters overlooking the natural underwater environment. Snorkeling gear will be provided, and you can see plenty of fish and coral as you drift through the water. Ahhhh, paradise!
Approximate Price:
$
108.90
Be honest with yourself, you came to drink! Why not take a tour that takes you through a variety of bars and shops that feature some of the Caribbean's best rum. Nassau has a new distillery which you'll visit to taste the rum and see how it's made. You'll also visit some local bakeries to taste chocolates and pastries infused with rum. Several local bars are also included on the tour where you can try even more variations of the local rum recipes. Your expert guide will also give you an overview of why rum is so important to the islands, how the pirates made their homes here, and where all of the rum was stored during the U.S. Prohibition periods. This tour is highly rated and recommended and gets rave reviews from previous customers.
Approximate Price:
$
89.00
This fun trip around some of the best areas of Nassau also includes a delicious lunch. In order to see more of this dynamic town, you need a vehicle. Why not make it a fun trip in a buggy? Your guide will take you (and yes, you can drive it yourself if you're 25 or older) to various historical and cultural sites around Nassau such as the forts, the Queen's staircase, the distillery, and the caves. You will then enjoy a meal at a local Bahamian restaurant. What's not to like?
Approximate Price:
$
129.00
This tour is a great choice for anyone interested in food and history, as it combines three food and drink pairings with a fantastic historical overview of Nassau and the islands. As a walking tour, you will see the local community first hand and up close. Visiting artisan shops as well as restaurants will give you a chance to see how many local arts, crafts, and foods are made, too. At the end of the tour, you will also be given a recipe guide for some of the local dishes so that you can make them at home!
Approximate Price:
$
116.00
If you're interested in food AND history, this the tour for you! An experienced guide will give you a cultural and historical overview of the islands while you stroll through some of the most interesting parts of Nassau. The best part is that you'll get to taste some amazing foods such as conch, ethnic soul food recipes, rum cocktails, local chocolates, and more! You'll be on foot, but the tour only covers about a mile of walking, which is perfect for anyone. Kids are welcome, too!
Approximate Price:
$
91.64
Share This Article