This was the absolute best hostel I've ever stayed at. The rooms are huge with really big storage space for luggage. The staff are incredibly friendly and helpful. The nightly dinners and the walking tours are a great way to meet fellow travellers. As a solo traveller, there's always a bit of hesitation with staying at a new hostel - but I made a lot of new friends and absolutely loved my stay in Barcelona thanks to this hostel. - Meagan
What sets them apart?
This hostel offers a great combination of a social environment with quiet rooms. The hostel staff goes above and beyond to make sure your stay is comfortable, and they host a variety of activities for guests, with one of the most popular being the group dinners. You can also take advantage of the warm Mediterranean evenings by hanging out on the rooftop terrace and taking a plunge in the pool or watching a spectacular sunset. This is one of the few hostels in central Barcelona with its own pool, which is much appreciated during the warmer summer months.
Hostel Personality
Who's staying here?
This hostel offers a great atmosphere for a diverse group of travelers. It attracts an international crowd, with many guests being a bit younger, which it typical for most backpacker hostels. The hostel encourages socializing and meeting other guests, so if you're traveling alone it's easy to meet others, but they also ensure the dorms stay quiet at night, so you can be confident you'll get a good night's sleep. The small dorm sizes (4 or 6 beds) and the attached private bathrooms make this a great option for small groups of friends traveling together, too.
Insider Tip
Request a bottom bunk as the top bunks are a bit shaky.
Yeah Hostel Barcelona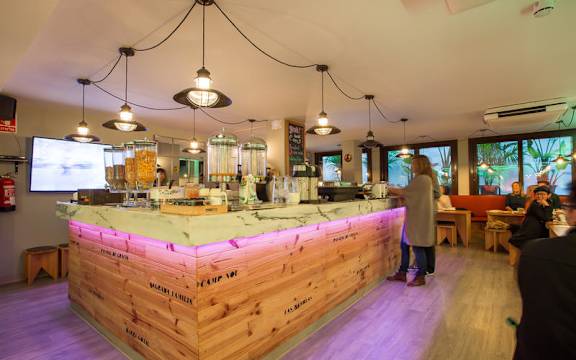 If you're looking for a social vibe, but not an over the top party hostel, then this is a great option. It's perfect for people traveling alone who want to meet others as there are a number a fun activities hosted by the hostel. The rooms have more space than the average dorm rooms in Barcelona. There's even a small pool on the rooftop terrace which is the perfect way to cool off after a hot day exploring the city. This hostel is reliably clean and comfortable, so it makes a perfect budget-friendly option for many types of travelers.
The Facilities
Dorms
This hostel has surprisingly large rooms with plenty of storage space, particularly when compared to other dorms around Barcelona. The beds have comfortable mattresses and everything feels very clean. Air conditioning can be found throughout the hostel to keep the rooms cool during the warm summer months. The hostel staff makes sure everyone respects quiet time, so even though this is a social hostel, you likely won't hear people partying late into the night. Each bed has a curtain and the rooms themselves are quite dark at night so it's easy to have a solid night's sleep here. The top bunk can feel a bit wobbly so if possible request a bottom bunk for the best night's sleep.
The dorm rooms all have either four or six bunks, and the small number of people helps to keep things personal and quiet. You also have the option to choose between a co-ed for female only room. Every room has its own ensuite bathroom and some have doors that open to a balcony. The housekeeper has the keys to these doors.
Private Rooms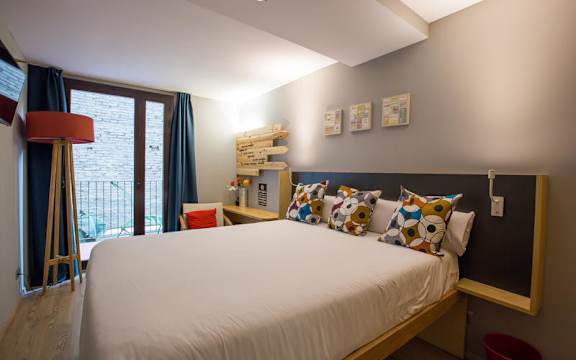 The hostel has double private rooms for couples or anyone else who wants a little more space to themselves. The beds are very comfortable and the rooms have plenty of storage space as well as many great furnishings. They have a modern and clean style, and everything feels updated and trendy. Many rooms have a door that leads to a small balcony.
Bathrooms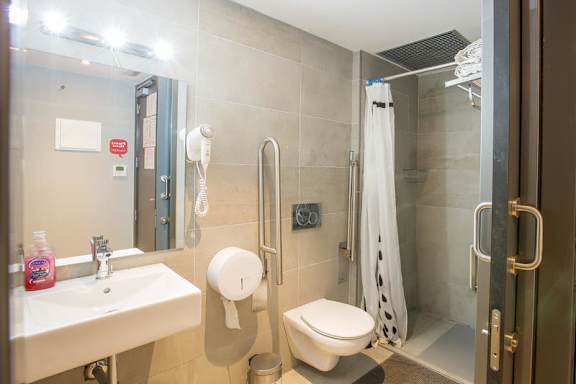 Every room has its own ensuite bathroom with a shower, sink, and toilet.
Common Areas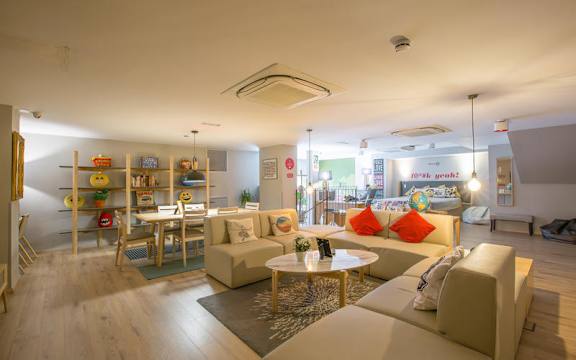 This hostel is all about meeting other guests. From the rooftop pool and terrace to the on-site bar or lounge area there are tons of places to hang out in comfort and style. The lounge area even has it's own bed where you can relax with a book if you arrive early. They have no shortage of comfortable sofas, too. Many guests grab a drink or bite in the bar or spend some time cooling off in the pool. If you want to catch up with friends and family back home, there are public computers available as well.
Pool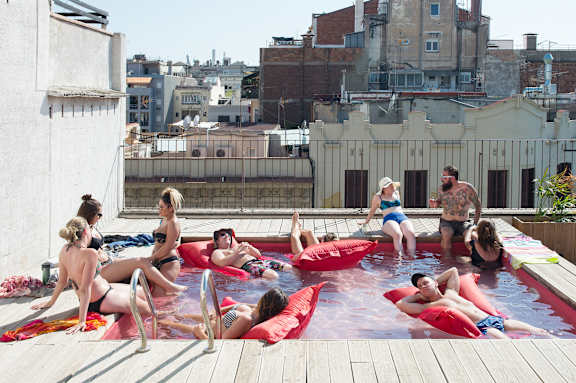 Don't forget to pack your swimsuit as this is one of the few hostels in central Barcelona that has a pool! Located on the rooftop terrace, this small pool offers great views and a refreshing place to cool off after a busy day exploring the city. It serves as a popular gathering spot for guests who want to relax and hang out before heading out on the town for the night. There's a deck around the pool where you can lounge if you don't want to get wet, but in the warm weather it's pretty guaranteed you'll want to go for a swim.
The Location
Eixample
The Eixample neighborhood is where the old world charms of the Gothic Quarter merge into modern Barcelona. Here, many famous museums and attractions can be found, as well as plenty of restaurants, bars, shops, churches, and other sights. Public transportation in this part of town is very common, and the streets are laid out in an orderly fashion, so it's hard to get lost.
What's Nearby?
This hostel is on the border between Eixample and Gracia and it's walking distance to many of the city's most popular attractions. It's just a five minute walk from Casa Mila "La Pedrera" and Casa Batllo. It's also a short walk to Sagrada Familia and a ten minute walk from several other works by Gaudi.
The surrounding neighborhood is lively and active. Just outside the hostel's door you'll find plenty of restaurants, bars, shops, and supermarkets. There are public squares nearby that make a perfect spot to grab a drink and take in the local culture. To the north of the hostel you can wander through the Gracia District and to the south you can explore Eixample. The popular Placa Catalunya is about a mile away and Tivoli Theatre is just under a mile.
Nearby Transportation
The closet metro station is Verdaguer, which is about one block away and a three minute walk. It's on line 4 and line 5 of the metro.
The hostel is also about a mile away from Placa Catalunya which serves as a major transportation hub for the city and offers many connections. From here you can get out of the city on day trips or make connections to any other spot in Barcelona.
Activities
The Yeah hostel offers great group dinners and pub crawls that encourage guests to meet and socialize. The meals aren't too expensive and they're actually very delicious with a starter, entree, and dessert. You can have free beer and Sangria for the first hour, too, which is a nice bonus. Many guests take advantage of the opportunity to enjoy some good and inexpensive food and hang out with other guests. Then everyone heads out on the town for the pub crawl, which most people think is well worth the adventure.
During the day the hostel also runs organized walking tours, which are a great introduction to the city before exploring a bit more in depth on your own.
Amenities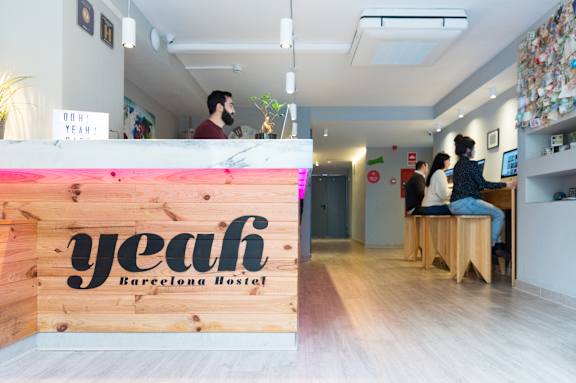 This hostel has all of the standard amenities you'd expect of a hostel such as Wi-Fi, luggage storage, security lockers, and travel information. It also has standard security with keycard access to the rooms and 24 hour reception service. There's a buffet breakfast available for a small price and dinners are served for an small fee, too. There are games and a PlayStation in the lounge, and a book exchange if you need to swap out your latest read.
Staff
The staff here is terrific and really go out of their way to make sure your stay is fun and comfortable. They take the quiet hours seriously, so you're ensured a good night's sleep. The staff members who lead the walking tours and pub crawls are fun and energetic, so you're sure to have a good time.
Heads Up
This is one of those rare hostels where it's hard to find anything to complain about. Some guests think the price is a bit high, but you really do get what you pay for. Some say that the breakfast could be a bit more substantial for the cost, but there are plenty of cafes nearby where you can grab a heartier meal. Otherwise, enjoy your stay as this really is a great hostel!
Yeah Hostel Barcelona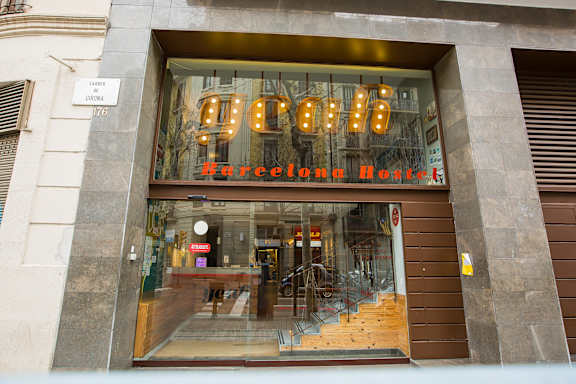 Do you have a favorite hostel that you would like to review? Let us know!