What sets them apart?
The Rock Palace is part of the Sant Jordi chain of hostels which is known for their party atmosphere and comfortable, modern amenities. With each floor dedicated to a different era of Rock music, along with plenty of action in the evenings, guests here will have plenty of great times. After all, the hostel claims to not just be a hostel, but also "an experience". Party-goers won't be disappointed!
Hostel Personality
Who's staying here?
The Sant Jordi Rock Palace is full of younger backpackers and budget travelers looking to have a good time in Barcelona. With a typical age range from 20 to 30, most of the guests here participate in the group dinners and nightly pub crawls so that they can get to know each other and the nightlife.
Insider Tip
The evening "tours" to Barcelona's best bars and clubs are a great way to meet up with other travelers, hook up with new friends, and experience the best of Barcelona after dark.
Sant Jordi Hostels Rock Palace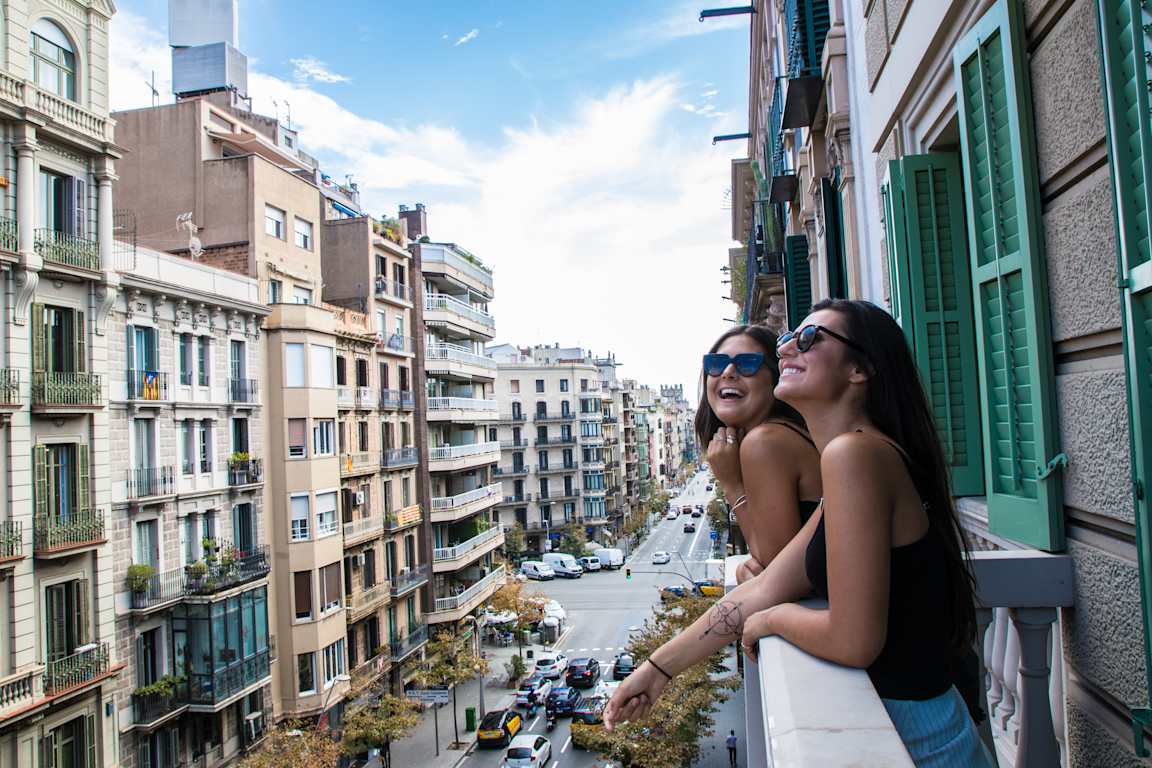 This posh and "boutique style" hostel has plenty of luxurious amenities and a fun party-oriented vibe. It's usually full of younger travelers looking for a great time at any time of the day. With Rock music themed decor, modern dorms and bathrooms, a perfect location, and a rooftop terrace with a small pool, this hostel provides so many great benefits for guests.
A variety of activities are offered to help everyone socialize at all times of the day. The breakfast is terrific, and is served in the shared kitchen. The kitchen itself is very nice and makes for a social area in and of itself for those that want to cook meals to save some money. Dinners are offered in the evenings, and the previously mentioned pub and club tours are very popular. All of this, combined with the social atmosphere in the dorms, make this hostel comfortable, clean, exciting, and adventurous for any traveler looking to have a great time in Barcelona.
The Facilities
Dorms
Dorms at the Rock Palace are modern and clean, and have keycard access. Some have balconies overlooking the street with nice urban views. Dorms are offered in a variety of sizes from 4 beds all the way up to 12 beds. The larger rooms are cheaper, but you will obviously have to sacrifice some privacy. However, the larger rooms can be very social, too, so they're not without their perks. All bunk beds have their own small shelf with a plug and a light, which is convenient. Beds also include linens and blankets.
Some of the dorm rooms have ensuite bathrooms, while others use the shared hallway bathrooms. The bathroom in the 12-bed dorm is actually quite large.
Lockers are provided in the rooms, and they are large enough for most backpacks
Private Rooms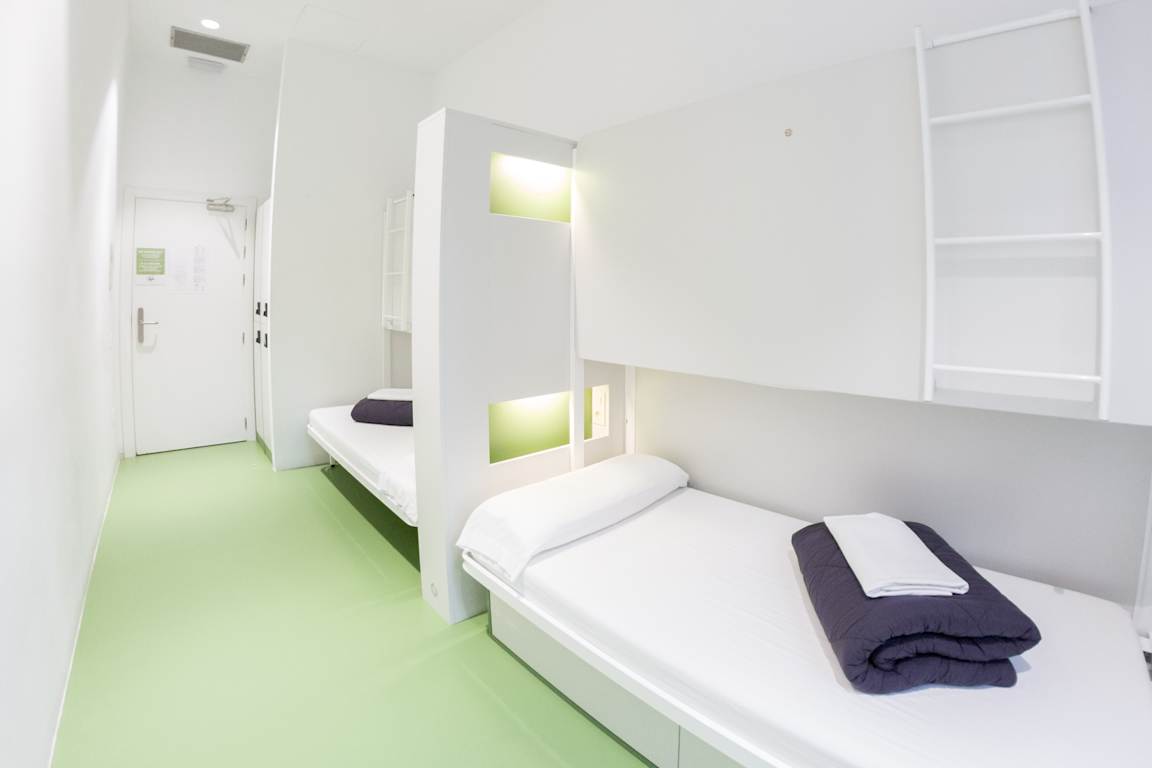 Private rooms are offered at the Rock Palace as well. However, these rooms are essentially just dorm bunk rooms that you have all to yourself. They come with twin beds only, and can sleep up to 3 people. These are a good option for those looking for some quiet space, or for couples or private groups of friends that are booking all together. Some have ensuite bathrooms, but some don't.
Bathrooms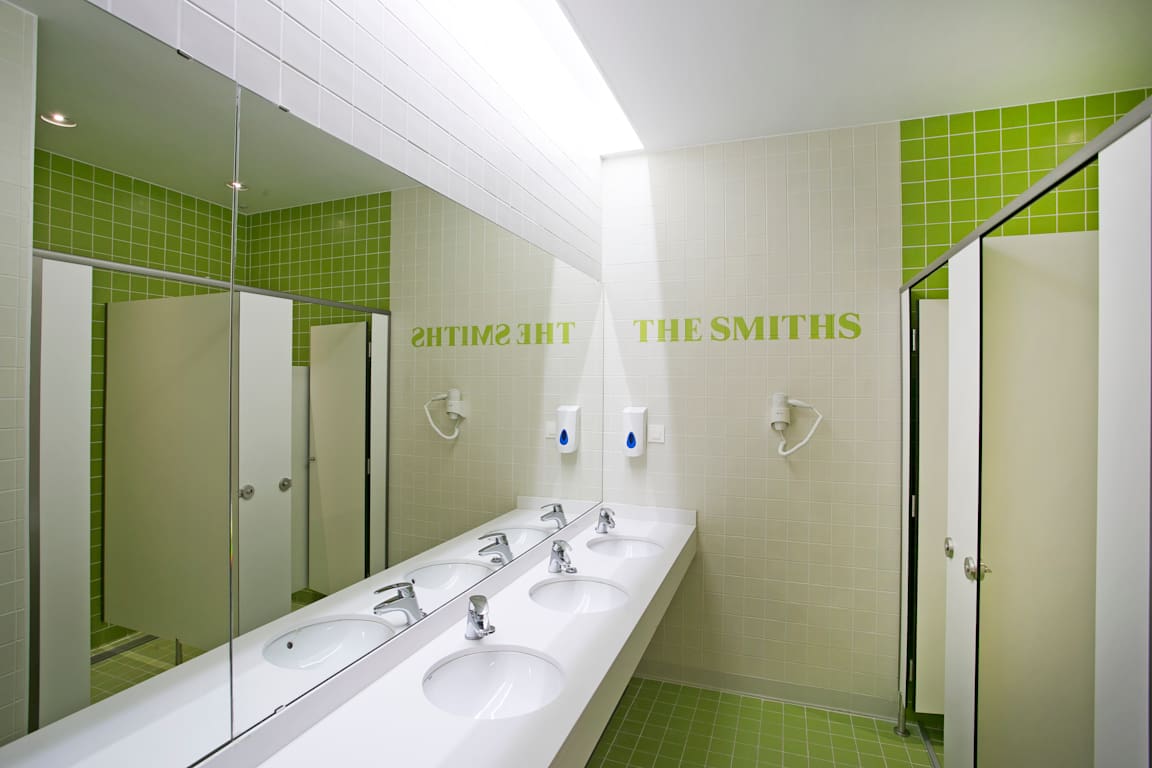 As modern cleanliness is found everywhere else in this hostel, the bathrooms are no exception. You will find modern fixtures, plenty of hot water, hairdryers, and stall doors for toilets and showers. Many rooms have their own ensuite bathrooms, while others use shared bathrooms.
If you need a towel, you can rent one for a few Euros.
Common Areas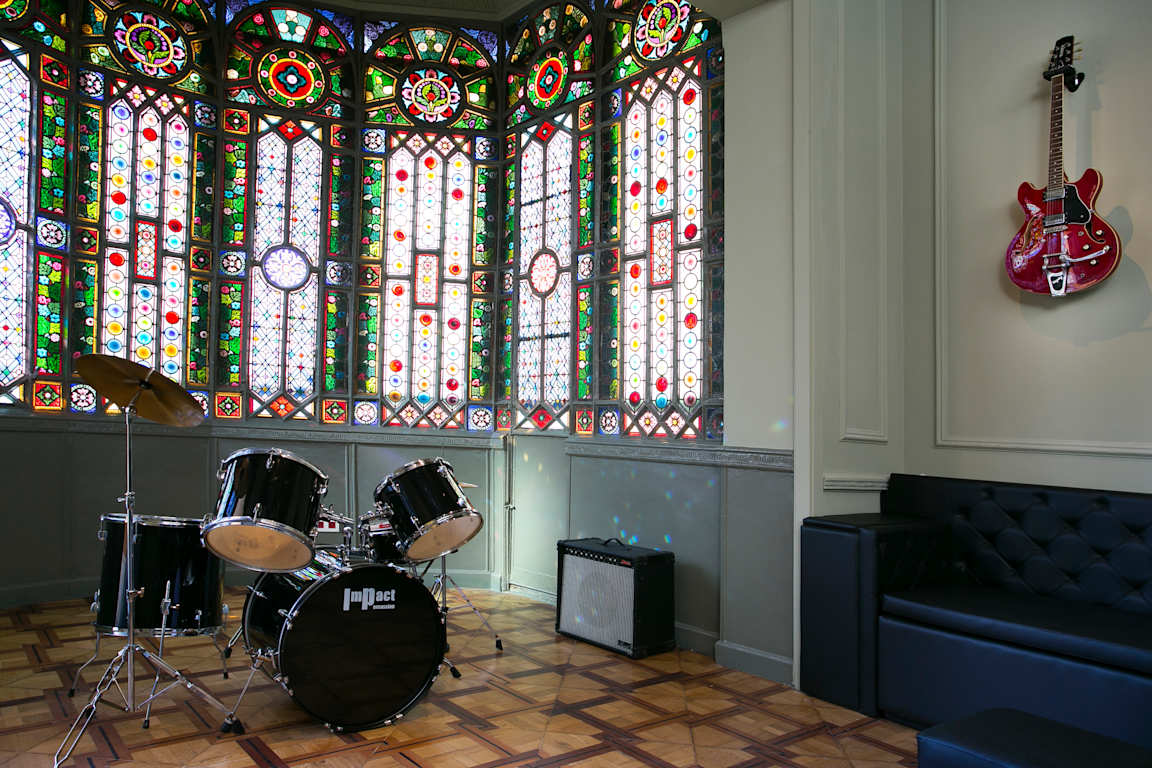 Several relaxation, party, and chill out areas are located in the hostel, such as the Beatles-themed lounge and the spacious kitchen and dining area. In the lounge are plenty of seating areas for guests to hang out and meet up. The kitchen tables are also a popular spot for socializing, especially at breakfast and dinner.
Pool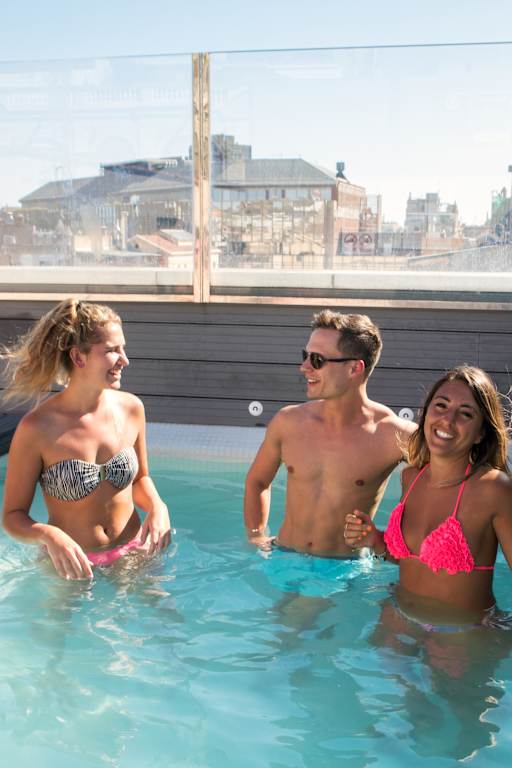 The roof of the building has a terrace with a seating area on one side and a small pool on the other. All of this overlooks some of the surrounding city skyline. The pool itself is not large (it's more like an oversized hot tub with cool water), but it makes for a great spot to party and relax in the warm weather.
The Location
Eixample
The Eixample neighborhood is where the old world charms of the Gothic Quarter merge into modern Barcelona. Here, many famous museums and attractions can be found, as well as plenty of restaurants, bars, shops, churches, and other sights. Public transportation in this part of town is very common, and the streets are laid out in an orderly fashion, so it's hard to get lost.
What's Nearby?
This hostel sits in an amazing location just 2 blocks from Passeig de Gracia and 5 blocks from Plaza Catalunya. This area is full of traditional Barcelona architecture with bars, clubs, shops, restaurants, museums, and tourist attractions. You'll be right in the heart of the city here with everything at your doorstep. And if you don't want to walk, the metro can take you anywhere in the city in a matter of minutes due to the convenient central location.
Nearby Transportation
The metro system in Barcelona is terrific, and the Sant Jordi Rock Palace sits only 2 blocks away from the Passeig de Gracia regional rail station and 4 blocks from the Passeig de Gracia metro station (lines 2, 3, and 4). The regional rail station can whisk you out of the center of Barcelona for a
day trip to Costa Brava
, while the metro lines can take you down to Las Ramblas, the Gothic Quarter, or anywhere else in the city in a matter of minutes.
Activities
The Rock Palace organizes several daily events for guests. First and foremost is the nightly pub and club tour, where you will be taken to some of Barcelona's hottest nightlife locations, for free. This is a great opportunity to meet up with other guests and make some new friends.
Dinners are also organized for a small fee, and are held in the kitchen area. Have some food and meet up with other travelers to share stories or make plans for the evening.
Free walking tours are also offered, although they don't leave from the actual hostel, but instead a different location. This can be a great way to get an overview of Barcelona before setting out on your own.
Amenities
This hostel provides plenty of amenities from the typical list of modern European conveniences. Free wi-fi, laundry services, a modern kitchen, a pool, luggage storage, TVs, lockers, and keycard access just to name a few. Here you will find every modern comfort you could need at a hostel.
Staff
The friendly staff is available 24/7, and makes an effort to help the guests socialize. They also work hard to keep the entire hostel clean (which can be a real challenge when the parties get going). They are happy to help and can make sure you are taken care of, even with random problems related to your travels.
Heads Up
This is a party hostel, so if you're looking for a quiet evening then perhaps you should look elsewhere or get a private room. But if that's what you're looking for, this is the place for you. Also, some guests have said that the hostel is not always as clean as it could be, as the staff has some trouble keeping up with all of the action sometimes. Security is also very tight, and this can cause some inconveniences because the doors will be locked at night and require the staff to let you in.
Sant Jordi Hostels Rock Palace
Do you have a favorite hostel that you would like to review? Let us know!