Bulgaria On a Budget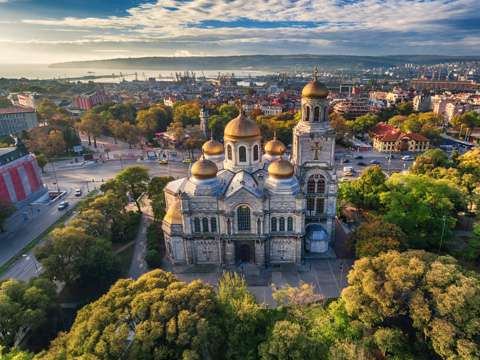 Bulgaria is a Balkan country along the Black Sea. It is one of the more frequently overlooked countries in Europe, but it actually has a lot to offer. Bulgaria is a surprisingly diverse country with winter sports, nice beaches, as well as churches and culture that you can immerse yourself in. Because it is less popular than most European countries, you truly feel like you've found an untouched, undiscovered, exotic destination when you travel here. Although the winter can be quite cold, the summer is very pleasant. The area's countryside can also be quite beautiful. There are mountains sprinkled with villages, beaches lined with resorts, and an old world rural setting you won't find elsewhere in Europe.
Bulgaria is divided into five different geographic regions. You're most likely to visit the northwest area, as this is where you will find the country's capital of Sofia. Southwest Bulgaria is very mountainous in nature and is also the country's haven for winter sports. The Northern Thrace is in the plains and has many ancient cities including the most popular, Plovdiv. The Bulgarian Black Sea Coast has many resort towns that see only a few tourists. There are also some larger port cities including Varna and Burgas. In Central Northern Bulgaria you will find many villages and forests lining the Danube River.
It's easiest to travel around the country by bus. This is the most common means of transportation and also the fastest. Trains are slightly less expensive than buses, but they are also slower and not as far reaching. Some destinations in the countryside or further into the mountains require access to a private vehicle. This can be arranged in most of the larger cities such as Sofia, but it can be somewhat expensive.
In general, costs in Bulgaria are quite low. Restaurants are generally cheap and pizza is available almost everywhere as an affordable option. Hotels are more affordable than they are in many Eastern European countries and most of the larger cities have at least a handful of hostels for those who are on a particularly tight budget.
Related:
Traveling alone to
Prague
or
Budapest
?
Looking for a party and need a
hostel in Prague
or
Budapest
?
Find a
Contiki tour
to Europe.
Top Tourist Attractions
Nessebar:
This is a 2500 year old city and World Heritage Site. Located in the Burgas Province, it is a major seaside resort along the Bulgarian Black Sea Coast.
Plovdiv:
This is the second largest city in Bulgaria and often referred to as the "heart of Bulgaria" do to its central location and historical importance. The old town of Plovdiv is fun to wander around and get lost in.
Rila Monastery:
The Rila Monastery is the largest and most famous Eastern Orthodox monastery in Bulgaria. It is located in the southwestern Rila Mountains and is considered one of the most important religious, cultural and architectural sights in Bulgaria. It was built during the tenth century and was named after its found, the hermit Ivan of Rila.
Popular Foods
Shopska Salads:
Bulgarian salads are incredibly fresh. They include cucumbers, tomatoes, feta cheese, and a variety of other vegetables, but rarely have lettuce. The dressing is usually made from either sunflower or olive oil and flavored slightly with vinegar. Although somewhat comparable to Greek salads, Shopska salads typically have a subtly different flavor.
Bob Chorba:
This is a mint and herb soup that is usually served warm. It's considered a Bulgarian national dish although it comes in a variety of different styles throughout the country. Most often it is made with beans and onions.
Tarator:
This is a cucumber and yogurt soup often served cold. It often combines walnuts, dill, garlic and vegetable oil and is most frequently served during the warmer summer months.