Should you visit France or Estonia?
France is one of the most popular and expensive countries to visit in Europe. It has some very impressive sights and attractions and you likely won't be disappointed with any trip to the area. If you're looking for a less popular and more affordable European destination, then Estonia offers many great surprises. It's a less well known destination, but it does offer many interesting things to see for a fraction of what you'd pay in France.
Most visitors to France choose to spend a significant amount of time in Paris. Paris is a truly impressive city with a diverse range of attractions. If you plan to explore other parts of the country, France is also an efficient country to travel around. It has an extensive transportation network that is reliable and comfortable. France also has a wide variety of hostels and budget accommodation options throughout and there is no shortage of independent travelers that you can connect with. France is also popular study abroad destination, so if you're a student, there are likely to be a diverse group of other students around.
Estonia is in the Baltics, which is a fascinating and affordable part of Europe to visit. Estonia's most famous tourist destination is Tallinn, which is a beautiful and quaint city. Tallinn is a charming place to spend some time and it has a unique history and an impressive and well-preserved old town. The area around the hill of Toompea is covered with cobblestone streets and charming medieval houses. The lower town spreads out from the foot of the hill. This area is surrounded by a city wall and there are several nice parks outside the wall. Tallinn also has many churches and historical sights that you can visit, as well as budget restaurants and a relatively vibrant nightlife scene.
Saaremaa is another popular destination in Estonia. It's the largest Estonian island and it has a rural and "frozen in time" kind of feel. The capital of the island is Kuressaare and there are several charming villages spread throughout. The villages are known for their stone fences, houses with thatched roofs, and windmills.
When is the best time to visit France and Estonia?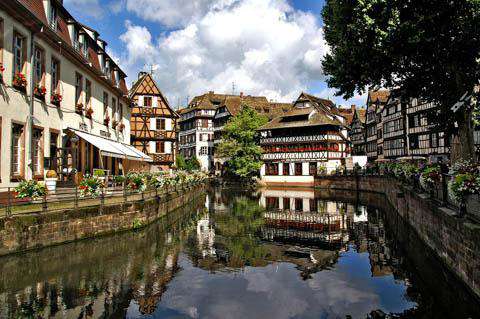 France is a beautiful country to visit year around. Temperatures are most comfortable and crowds a bit less intense during the spring and fall seasons. These shoulder seasons are good options if you don't want to pay peak prices and wish to avoid the most intense crowds.
Winter is a beautiful time to visit France. In general, prices tend to be a bit cheaper during this season but in larger cities many hotels stay popular with business travelers, making discount rates harder to come by. Deals on airline tickets can still be found during these low times. The holiday season around Christmas can also be a more expensive time to visit as vacationers head to the area.
Estonia best visited during the warmer months from late spring through summer. This is when the weather is most pleasant and it's a nice time to be outside. The summers are short though, with temperatures starting to cool off as early as the beginning of September. Fall can be a beautiful time of year but expect colder temperatures. Snow can fall as early as mid November and as winter progresses it can become quite frigid. Many tourist facilities close in the fall months and don't reopen again until April or sometimes May.
Why is France more expensive than Estonia?
France is a significantly more expensive place to visit than Estonia. This is particularly true in cities like Paris or along the coast. France's accommodation is more expensive and even for the most basic hostels and restaurants are pricier. France's higher cost of living mean that almost everything you pay for will cost a bit more. It's also a larger country to visit, so transportation costs are even higher.
Estonia has a much lower cost of living than France, and this can help keep costs affordable for visitors. You can expect to pay a fraction of the cost in Estonia for meals, accommodation, and transportation compared to what you might pay in France.
What are the most expensive and cheapest cities and regions in France and Estonia?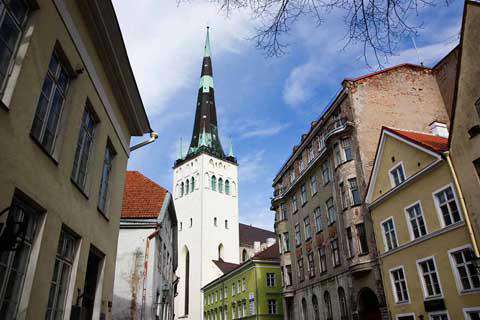 In general, the larger cities and most popular destinations are the most expensive places to visit in France. Paris is usually more expensive than the countryside, but coastal areas are also quite expensive, particularly during peak travel months.
Although Estonia is more affordable than France, Tallinn is probably the most expensive place to visit in the country. It is the most popular destination and prices generally reflect that. That being said, prices might be a bit more than you expected in some smaller towns and villages. These more rural areas have limited number of accommodation options and the places that are available may not be budget friendly. During the low season the availability is even less, so you may find yourself paying more than you would in the larger cities. Saaremaa can also be a bit more expensive than you expect if you decide to hire a rental car.
How you can save money when visiting France and Estonia?
Travel during the shoulder season. Prices inevitably climb during the peak summer months so make sure you visit when the crowds are less.
Stay flexible. If you don't like the city you're in, or find better accommodation for a lower price, but willing to change your plans a little.
Eat in restaurants for lunch and grab a picnic dinner. In both countries, lunch prices are almost always cheaper than dinner prices.
Buses are almost always cheaper than trains, so look into all of your transportation options before buying tickets.
Eat at local eateries, particularly near universities. Restaurants that cater to students are usually quite cheap and fast. They offer a local flavor for a fraction of the price you would pay in more touristy areas.
Buy locally. Whether you're renting a car or looking for accommodation, find a locally owned place. The prices are usually better and then your money stays in the local economy.