Denmark On a Budget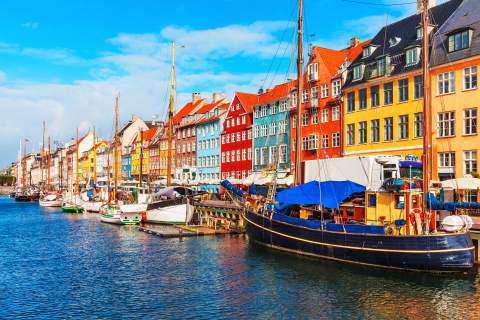 Many people visit Denmark with plans of seeing the Little Mermaid statue, Legoland, or just to enjoy the beautiful landscapes and interact with the friendly Natives. This Scandinavian country is north of Germany and south of Norway and Sweden. The mainland of Denmark, also known as Jutland, is attached to Germany; however, there are also a number of Danish islands. The two major islands are Zealand, home to Copenhagen (the capital), and Funen. These islands sit upon the ostersoen Sea.
While Denmark is part of the European Union, it has opted out of the European monetary system, maintaining its own currency, the krone. Denmark is also part of the Schengen Area, making it less of a hassle to cross its borders from within other countries that are part of this area.
Denmark is a socially, economically and politically progressive country. The country ranks highly with regard to health care, education, democratic governance, human development, and income equality. Not to mention, it is one of the least corrupt countries in the world. On top of all this, Denmark is rich in culture, natural beauty, and stunning architecture.
Danes are very proud people in a low-key way and seem to all portray their concept of "Hygge", which loosely translates to 'cozy'. This concept is unique to the Danish language so explaining the true meaning to an English-speaker can be troublesome. Another key ingredient to Danish culture is modesty; this trait can be seen in regard to behavior as well as in the Danes famous minimalistic design.
The five main regions of Denmark are Jutland, which is the European mainland, Funen and smaller surrounding islands, Zealand, Lolland-Falster, and Bornholm. About 40% of the countries population resides on the island of Zealand. In the Jutland region, you can find historical towns as well as the birthplace of the popular children's toy, Lego's. In the region of Funen and its surrounding islands, you can visit the home of world-renowned author, H. C. Andersen. Zealand is home to the country's capital, Copenhagen, as well as the Vikings' Roskilde. Who doesn't want to see some Viking memorabilia while traveling in Denmark? For the traveler looking to get into nature and explore the great outdoors of Denmark, you will want to visit the Lolland-Falster region. Bornholm is much more east compared to the other regions and known as the vacation island.
Related:
Traveling alone to
Moscow
,
St Petersburg
,
Stockholm
or
Riga
and need a hostel?
Looking for a
party in Copenhagen
or
Tallinn
?
Looking for
budget hostels in Scandinavia
?
Find a
Contiki tour
to Europe.
Top Tourist Attractions
Tivoli Gardens - The inspiration behind some of the most world-famous Disney theme parks. This recreation space has been around since 1843 and has been featured in multiple movies. Tivoli is a symbol of Denmark's capital, Copenhagen.
Hans Christian Andersen Museum - This author's stories and tales are a crucial piece of the Danish puzzle as a whole. People know his fairy tales across the globe including The Little Mermaid, The Ugly Duckling, and Thumbelina. See displays of the writer's life including his own sketches and art dating back to 1908.
Legoland - The original Legoland is located in Billund, which is in the Jutland region. This park opened back in 1968 and neighbors with the original Lego factory. This is the perfect attraction if you are traveling with children.
The Little Mermaid - This statue depicts a mermaid based on the fairy tale written by Hans Christian Andersen. This sculpture is a major tourist attraction in Copenhagen and symbolizes the city. Think of how the Statue of Liberty symbolizes New York City or how Christ the Redeemer symbolizes Rio de Janeiro.
Popular Foods
Danish cuisine is known to be fresh and is prepared with local ingredients. Open-faced sandwiches are very popular among the Danes for breakfast or lunch and meat and seafood are common dinner items.
Smorrebrod - the English translation of this word is "bread and butter". This is the name of the popular open-faced sandwiches that are popular throughout the country. Usually, this consists of a piece of rye bread with a piece of meat, cheese, and various vegetables.
Polsevogn - this is the name of the popular hot dog stand that you can find in Copenhagen. You can either get a riset hotdog, which comes on a bun with pickles, crispy onions, and classic condiments like ketchup and mustard. These resemble American hot dogs however they are much longer. You can also order a franskdog, which is a baguette that is hollowed out stuffed with a hotdog and sweet mayo.
Frikadeller - Danish meatballs made of ground beef and pan-fried. While these can be found in many other countries, it has been said that the Danes can do it best. The meat is mixed with onions, eggs, milk, and breadcrumbs and seasoned with salt and pepper. Many restaurants and food stands serve this specialty.