Aalborg On a Budget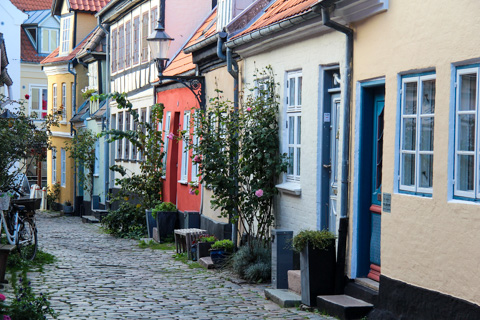 Aalborg is the fourth largest city in Denmark with a population of over 200,000. It is an industrial and university city in the north of Jutland. Aalborg is a cultural hub as it is home to many historical museums, and performance venues.
Sights
Visit the Aalborg Castle (Aalborghus Slot), which was built by King Christian III in 1539. You can go down to the dungeon and the underground passages during the summertime. The Aalborg Zoo is a great place to see as it houses many giraffes, elephants, and big cats. There are several free-ranging African animals as well at the savanna enclosure. The Lille Vildmose is a great wildlife exhibition center as it is the largest raised bog in Western Europe.
Neighborhoods
Aalborg is located in northern Jutland and is part of the north Denmark region. Jutland is the mainland connected to Europe and Aalborg is located near the tip of this region. The Limfjord runs through this city, splitting it from the mainland of Jutland. The landscape around this area is beautiful with white beaches, cliffs, sand dunes, and forests.
Activities
The largest carnival in all of Northern Europe takes place in Aalborg. It is called the Aalborg Karneval. It happens annually and falls during the last week of May every year. The main events that take place during the week are The Grand Parade, Battle of Carnival Bands, and Children's Carnival. This festivity is open to everyone and is a wonderful depiction of the friendly and welcoming Danish people. Another great activity is to rent a bike and ride along the Limfjord on a nice day. The bicycle route is 650 kilometers long however, you can just do bits and pieces if you aren't up for the lengthy commitment.
To get out of the city for the day, you can take a ferry to Egholm, which is a small island in the fjord. You can spend the day on the beach or hike around to find views of the Limfjord and its surrounding landscapes. Biking is a great way to get around the island.
For those who like to gamble, spend the night at Casino Aalborg where you can try your hand at blackjack, poker, roulette, and slot machines.
Food and Dining
There are tons of places to eat in Aalborg and many of the great restaurants are on Jomfru Ane Street. This is a short street packed with restaurants, bars, and clubs. It is known to be the longest continuous stretch of bars and restaurants in Scandinavia. If you are looking for an inexpensive, quick, and delicious meal, Fontænen has the best hot dogs in town. These are most frequented by people who have had a late night exploring the bars of Aalborg.
A popular cuisine in Denmark is called Smørrebrød, which is the Danish name for an open-faced sandwich with meat, cheese, vegetables, and a spread. Utzon Restaurant serves this specialty in a new way with a beautiful view of the waterfront. If you find yourself craving pizza while visiting Aalborg, Emiki Pizza is the place to go. They offer delicious pizza at an affordable cost.
For a light snack or a coffee, Behad din smag is the perfect place to go. They have delicious coffee with small treats to pair it with. The owner of this shop was the Danish Barista champ of 2007. Be sure to try the distilled beverage called Aalborg Taffel Akvavit (Red Aalborg), as it is the product of the famous distillery company, De Danske Spritfabrikker.
Transportation
Norwegian air is the best airline to book with for flights to Aalborg from other European cities. The airport is north of the city and you can take a bus (number 2, 22, 70, 71, or 200) or taxi into town. You can also choose to walk from the airport to the train station (Lindholm) and catch a train into the city from there. Between the airport and the train station, it is about two kilometers.
You can take a bus to Aalborg from Aarhus, Ronbjerg, Nykobing Mors, Lokken, Frederikshavn, and many other towns. You will want to catch a bus to the Aalborg Busterminal, which is located near the John F. Kennedy Plads (square). Of course, you can take a train into Aalborg. It is on the Copenhagen, Roskilde, Odense, and Aarhus line.
Once you arrive in the city, you can get around on foot. If you wish to get a bit further out than just the city center there are public buses where you purchase tickets on board from the driver. Taxis are another option but can be quite pricey. Renting bikes is a great option and they have city bikes that you can pick up and drop off at different locations.
Related:
Traveling alone to
Moscow
,
St Petersburg
,
Stockholm
or
Riga
and need a hostel?
Looking for a
party in Copenhagen
or
Tallinn
?
Looking for
budget hostels in Scandinavia
?
Train and Bus Prices
The best prices for buses and trains in Denmark
can be found on Omio
(formerly
GoEuro
). They let you search across all train, bus, and plane routes throughout the region.