Tbilisi On a Budget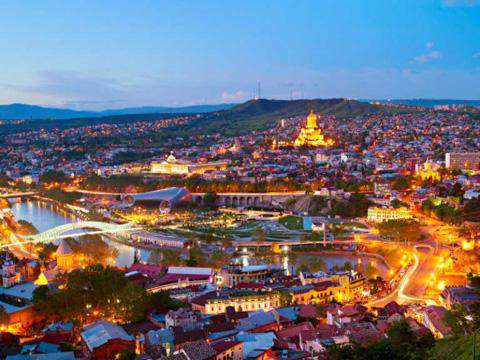 Tbilisi is the capital of the country of Georgia. Its cobblestoned old town reflects a long, complicated history, with periods under Persian and Russian rule. Its diverse architecture encompasses Eastern Orthodox churches, ornate art nouveau buildings and Soviet Modernist structures. Looming over it all are Narikala, a reconstructed 4th-century fortress, and Kartlis Deda, an iconic statue of the "Mother of Georgia." Tbilisi's eternal charms of a dramatic setting in the deep valley of the swift Mtkvari River, picturesque architecture, an ever-lively arts and cultural scene, and the welcoming Georgian lifestyle have been added a whole new 21st-century dimension of inviting cafes and restaurants serving ever better food, up-to-date lodgings from backpacker hostels to international five-stars, interesting bars and clubs, spruced-up museums, galleries, parks, plazas and whole streets, modernized transport and a sprinkling of eye-catching contemporary architecture. The mix of modern and ancient elements makes Tbilisi the beating heart of the South Caucasus and it is well worth a visit.
Sights
The G. Chitaia Ethnographical Open-Air Museum features 70 houses and thrift buildings characteristic for the various parts of Georgia. 8000 household devices and samples of craft are exposed in the museum. Some of the houses are opened to the public and have a guide that can provide information about the house and Georgia in English.
The Numismatic Museum, G. Leonidze features coins dating back to the IV century BC. The Simon Janashia Museum, National Museum houses hundreds of thousands of Georgian and Caucasian artefacts of archaeology and ethnography. A permanent exposition chronologically follows the development of Georgia's material culture from the Bronze Age to the early 20th century. The most valuable exhibits include Homo Ergaster fossils discovered at Dmanisi; the Akhalgori hoard of the 5th century BC which contains unique examples of jewelry, blending Achaemenid and local inspirations; a collection of approximately 80,000 coins, chiefly of Georgian minting; and medieval icons and goldsmith pieces brought here from various archaeological sites in Georgia.
Tiflis Avenue is an art center and a gallery that represents a variety of Georgian artists working in different media. The gallery is located in an old town, on King Erekle II Street, where exhibitions of art are held regularly. Tiflis Avenue also runs an online art store with the largest selection of contemporary Georgian art.
See Old Tbilisi, with its old-style balconies, ancient churches, winding streets, and charming shops. Be prepared to see a number of eclectic sights, from the abandoned streetcar near Erekle Street to the art galleries of Chardini Street to the stunning modern art lining Sioni Street.
The Chronicles of Georgia, located near to Caucasus International University. Here you'll find stunning, big stone architecture to present the chronicles of Georgia, written in Georgian. It can be a good hiking place and you can see the sea from the Top of hill. From there you can swim at Tbilisi lake afterwards.
Neighborhoods
Abanotubani (Bath District)
A beautiful location that keeps the old charm despite of being renovated, and actually it's always good to relax in the bath, especially after hard week or a hard party. This is where you can enjoy a bath experience and see a waterfall in the middle of town.
Avlabari
Avlabari was historically inhabited by the Armenians. It makes this part of city so peculiar: this is another side of multicultural Tbilisi as it is. It is one of the oldest parts of Tbilisi, and now Avlabari is famous because of Metekhi church, Sameba (Trinity) Cathedral, Armenian Theater and Rike Park. Those are definitely places of interest.There are some good wine cellars at so called Wine Rise: a street leading up from Rike park.
G.Akhvlediani Street (Perovskaya)
This street is "hidden" next to Rustaveli avenue in the middle of Tbilisi, here you find yourself on a narrow stylish street full of pubs, bars, and Chinese massage centers, from almost every pub you'll hear live 60's, 70's, and 80's rock'n roll and blues music.
Marjanishvili
Marjanishvili metro, Aghmashenebeli avenue (old name: Plekhanovi) and surroundings is a partly renovated historic neighborhood. There are several theaters, many shops and cafes (mostly Turkish and Arabic) there. Partially built by the Germans, it is inhabited by Georgians and some Arabs and Turks right now. Go there for shopping or halal food, for theatre or football at Dinamo Arena.
Mtatsminda
The history of the modern Georgian capital was created in this area. Named after the mountain Mtatsminda, which is one of the key sights of the city, this neighborhood has a lot of things to offer.
The Old Town
At the narrowest part of the valley, the Old Town is still reminiscent of an ancient Eurasian crossroads, with its winding lanes, balconied houses, leafy squares and handsome churches, all overlooked by the 17-centuries-old Narikala Fortress.
Vake
Located around Chavchavadze and Abashidze avenues, this is one of Tbilisi's posher districts, home to many expats and nouveaux riches. While not quite as atmospheric as Old Tbilisi, Vake is home to some lovely parks, pleasant nineteenth-century architecture, and some of the city's most high-end shopping. There are also plenty of elegant, if understated, bars and restaurants in this area.
Activities
Experience a Sulfur Baths. The bath district is called Abanotubani and is on the south side of the Metekhi bridge. There are several small baths offering different levels of comfort. The baths are relatively small, and you may have to wait for a pool to become available. Massages are available; however, they are more like a washing, but well worth it for the experience. You should bring your own towel and beach sandals or you can purchase them for a small fee. Some travelers have suggested the Royal Baths, located next to the Sulfur Baths, as an alternative option.
Turtle Lake is located in the hilly outskirts of Tbilisi. A popular weekend getaway for families, the lake offers pedal-boat rentals as well as swimming (deckchairs optional) for reasonable prices. A good spot for a hot summer day, and offering views of both the mountains and the city below. Snack bars, restaurants and fruit cocktail shakers are available overlooking the lake.
Climb up to the Narikala Fortress. The crumbling ruins of this once-great fortress, standing alongside the Upper Betelmi Churches and the stunning Botanical gardens, offer panoramic views of the city below. But be warned – it's quite a steep climb – and while the lack of bureaucracy and guard-rails can be liberating for some, you may want to pay extra care to watch your step. Now, the best way to visit is by aerial tramway, an exciting experience with stunning views of the city. There is a working church at the courtyard of the Fortress.
Mtatsminda Park or TV antenna park is a good place to spend a day and take a ride in the Ferris wheel. You can opt to use the funicular to the park, for an exciting view on the way up. There's also a roller coaster which offers not only some adrenaline but great views on a sunny day.
Food and Dining
In Tbilisi, the food is quite appropriately an expression of the Georgian culture. Warm, gooey comfort food like khachapuri (cheese-stuffed bread) finds balance with matsoni (sour yogurt). Herbs like tarragon, flat parsley, dill, and coriander combine with walnuts and garlic for rich fillings and sauces. The Georgian cuisine is unique to the country, but also carries some influences from other Caucasian, Soviet, European, and nearby Middle Eastern culinary traditions. Rich with meat dishes, the Tbilisi cuisine also offers a variety of vegetarian dishes. Popular dishes include: Khinkhali, Georgian dumpling filled with meat, potatoes, mushrooms, etc, but do not eat the doughy pinched part (it's seen as very rude and cheap), but do use it to hold up the khinkali whilst you eat from the bottom, Pkhali, vegetable paste topped with pomegranate seeds, Kachapuri, Georgian circular bread often filled with cheese, Mtsvadi, grilled skewered meat, and Kababi, chopped and seasoned meat which is grilled on a skewer. Often served wrapped in a thin flat bread in Georgia.
Transportation
Tbilisi International Airport is 17km southeast of the city center. George W. Bush Avenue leads from the airport to downtown Tbilisi. Taxis between the airport and the city are available. Standard rates are listed on a board by the taxi rank as you exit the airport, on the right hand side. Trains from the airport to the main train station runs only twice a day in each direction. You can also get into Tbilisi by train.
Domestic trains run between Tbilisi and Batumi, Ozurgeti, Kutaisi, Nikozi, Sadakhlo, Borjomi, Gardabani, Poti, Tbilisi Airport and Zugdidi. International trains run regularly between Tbilisi and Baku and between Tbilisi and Yerevan. You can take a bus to the city from some destinations. The main transport inside and outside Tbilisi city is bus and minibus, marshrutka. Marshrutkas are vans which service the side streets of the city; they are independently owned. Like buses, the route is posted in the front window (often only in Georgian). There is a train route which can be used for some transportation around the city. City buses are yellow, and come in various sizes and are a good way to get around the city. Taxis in Tbilisi are typically privately owned vehicles, and don't run on a meter. Negotiate a price and pay before departing to avoid being over charged later. Taxify, a mobile application with hundreds of verified taxi drivers, offers service in Tbilisi. App calculates taxi ride fare and local support team monitoring the rides and solving potential issues.
And Yandex.taxi, another mobile application that works like Uber, is a much easier way to get around than regular taxis.
Train and Bus Prices
The best prices for buses and trains in Georgia
can be found on Omio
(formerly
GoEuro
). They let you search across all train, bus, and plane routes throughout the region.