Guatemala City On a Budget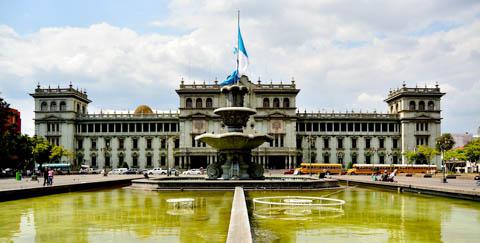 Referred to by the locals as "Guate," Guatemala City is the largest and most modern city in Guatemala, as well as its capital. While the atmosphere of the place is big, dirty, and dangerous with city fumes and skyscrapers, it is the hub of the country. It is the place where travelers first step foot into Guatemala and, though it is a place of modern chaos, it does have some of the best galleries and museums as well as a selection of bars, cafes, and restaurants.
Sights
Two of the most impressive architectural sights of Guatemala City lie at its center in the vicinity of Parque Central. The National Palace of Culture is one of these sights with a history dating back its construction from 1939 to 1943. The second of these sights is the Cathedral of Guatemala City, decorated in baroque and classical elements that have survived several earthquakes since its construction began in 1783. In addition to these grandiose examples of architecture, Guatemala City is also known for its museums. Some of the best include the Ixchel Museum of traditional costumes located at the campus of Universidad Francisco Marroquín, a museum of modern art, and a natural history museum, amongst others. There are also a handful of museums dedicated to the archaeology of the Mayan civilization, some of which include Popol Vuh Museum, Archaeology and Ethnology Museum, and the Museo Miraflores. There is even an early Maya ruin right in the heart of the city called Kaminaljuyu.
Other highlights include La Aurora Zoo (Zone 13) and a relief map of Guatemala (Zone 2) from 1902 that is so extensive it needs to be viewed from an observation tower.
Neighborhoods
Guatemala City's Parque Central marks the central plaza of activity. The square is always bustling with people and vendors going about business beneath the shadows of the imposing National Palace of Culture and the Cathedral of Guatemala City. This area of the city marks Zone 1 out of 22 in all. Also in Zone 1 are a number of museums, the downtown historic district, and many streets and markets to explore. Zone 2 is home to a park and baseball stadium, Zone 3 includes Guatemala City General Cemetery, and Zone 13 is home to the La Aurora Zoo as well as the airport. Each zone has its own defining characteristics, for example, Zone 10 (aka Zona Viva) is known as a more affluent district with a high concentration of bars, restaurants, and hotels as well as shopping malls and office buildings. Beyond zones, there are a number of pedestrian squares and parks scattered throughout the city in addition to Parque Central.
Activities
Guatemala City is a place where you can get lost in a chaotic culture, taking in the sights and sounds and flavors of it all. There are a number of impressive historic structures as well as museums to occupy days of activity. The nightlife in Zona Viva is especially lively, while the daytime center lies at Parque Central. There are also a number of shopping malls and plazas to venture into as well as a handful of markets to explore. If you wish to take a break from the bustle, you can escape to any other Guatemalan destination easily as Guatemala City is a hub for transportation. There are also opportunities to get out and hike the volcanoes of the area, the nearest being Volcan Pacaya.
Food and Dining
Being Guatemala's capital city, Guatemala City has just about every kind of food you could ask for, from international fare to American fast food chains. Sampling street food can be risky, but also is a great way to experience a variety of local flavors. Guatemalan cuisine prominently features corn, chilies, and beans as key ingredients as well as dishes with rice, pork, beef, chicken, cheese, and tortillas. Tamales are a common local favorite. They come in a variety of ways, but basically consist of a dish made of masa (or maize), which is steamed in a corn husk or banana leaf and usually filled with meat, fruits, and/or nuts. Other main dishes include a seafood soup with plantain slices called tapado, a variety of stews made with meat, vegetables, and spices, as well as a kind of stuffed pepper dish called chiles rellenos. Desserts typically consist of banana bread, a Spanish rice pudding called arrroz con leche, and chick peas in syrup, amongst many others.
Transportation
The airport serving Guatemala City is La Aurora International Airport located in the city's southern part in Zone 13. There are daily arrivals from the USA, Mexico, El Salvador, Honduras, Costa Rica, Nicaragua, and Panama. The only flight available within the country is between Guatemala City and
Flores
.
By car, Central American highways CA-1 and CA-9 run through Guatemala City.
By bus, there are "chicken buses" available from almost any place in Guatemala to Guatemala City. Be aware that these buses are poorly maintained recycled school buses with drivers who do not always adhere to speed limits, and sometime carry suspicious passengers. The safest method of travel is to make arrangements with a cab or shuttle company ahead of time.
Related:
Looking for a
party hostel in Costa Rica
or
Cancun
? Looking for a
budget hostel in Mexico
or
Costa Rica
?