Antigua Guatemala On a Budget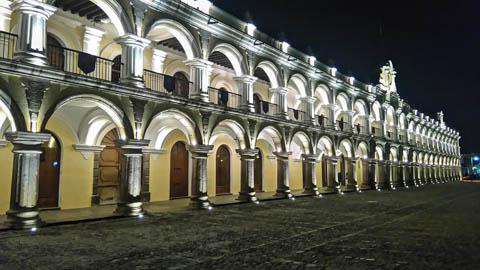 Before a disastrous earthquake in 1773, Antigua was the colonial capital of Guatemala. For 200 years it had reigned as so and today shows remnants of its glorious past with Spanish colonial buildings and other architectural landmarks still standing. Due to this large amount of preserved architecture, Antigua was named a UNESCO World Heritage Site and is now the most touristed city of Guatemala.
Sights
Amongst the world's best conserved colonial cities, Antigua is a destination renowned for its Spanish colonial buildings and monuments. Still intact are buildings like the city hall and the Captain General Palace which now houses the offices of Guatemala Institute of Tourisms, the city National Police headquarters, and the Sacatepequez Governor office, among others. Catholic buildings are also very prominent with structures like the Chapel of the Holy Cross and the Catedral de San Jose which was originally constructed in the mid-1500s, though it has since been rebuilt due to earthquakes. Others include the Church and Convent of Capuchins, San Francisco Church, Le Merced Church, Santo Domingo Monastery, and Nuestra Senora del Carmen Church. The Santa Catalina Arch built in the 17th century is another unforgettable landmark, located on 5th Avenue North.
If you set your sights beyond the city, three large volcanoes loom on the horizon. To the south of the city, Volcan de Agua, or Volcano of Water stands as the most impressive of the three. The other two sit to the west of the city - Acatenango which last erupted in 1972 and Volcan de Fuego or Volcano of Fire.
Neighborhoods
The Parque Central marks the city center, taking up an entire city block of circular walkways amongst trees decked with lights and a central fountain in its midst. On four sides the park is surrounded by the city hall and police office, a cathedral, several banks, and tourist businesses, and from here the cobbled streets branch out into a grid pattern. Since the city was founded by the Spanish in the 17th Century its layout follows the traditional design of a main plaza (Parque Central) surrounded by government and Catholic Church buildings. Beyond this, Antigua is full of historic buildings, monuments, museums, lovely fountains, and fascinating ruins.
Activities
Beyond exploring the city and its sights at your own leisure, you can also arrange a tour with any local agency for a more guided experience. Another activity is to walk up to the Hill of the Cross (El Cerro de la Cruz) for excellent views of Antigua from above. There is a market located a few blocks west of the city center, as well as artisan workshops which specialize in crafts from Jade, metal works, and textiles, amongst others. The ChocoMuseo is another unique place to visit, where you can learn how to make chocolate from cocoa beans in addition to the history of chocolate, cocoa plantations, and the industry of chocolate making.
If its outdoor adventure you seek, look towards the volcanoes. Acatenango is a strenuous hike which can be done in one day or overnight. If you camp overnight, you can watch explosions from the active Volcan de Fuego from the campsite. Guided tours are available for the journey, camping gear included. You can also go without a guide, but be sure to do your research on the trails ahead of time.
The Pacaya Volcano is another popular hike, though it is closer to Guatemala City than Antigua.
Food and Dining
Being the most touristed place in Guatemala, Anitgua has restaurants and cafes for all tastes and budgets, including international fare and internationally-recognized fast food chains. If you seek some authentic flavors of the culture, Guatemalan cuisine prominently features corn, chilies, and beans as key ingredients as well as dishes with rice, pork, beef, chicken, cheese, and tortillas. Tamales are a common local favorite. They come in a variety of ways, but basically consist of a dish made of masa (or maize), which is steamed in a corn husk or banana leaf and usually filled with meat, fruits, and/or nuts. Other main dishes include a seafood soup with plantain slices called tapado, a variety of stews made with meat, vegetables, and spices, as well as a kind of stuffed pepper dish called chiles rellenos. Desserts typically consist of banana bread, a Spanish rice pudding called arrroz con leche, and chick peas in syrup, amongst many others. Be careful of what you eat in the city to avoid food poisoning, some places are not always up to code in cleanliness-watch out for salads and fresh vegetables, undercooked meat, and tap water.
Transportation
The nearest major airport to Antigua is La Aurora Airport in
Guatemala City
. The airport is only 45 km east of Antigua and can be easily reached by Camionetas or "chicken buses," local city bus, taxi, and tuk tuk (auto rickshaw). Be aware that the chicken buses are poorly maintained recycled school buses with drivers who do not always adhere to speed limits, and sometime carry suspicious passengers. For the safest way of travel, make arrangements with a cab or shuttle company ahead of time.
Bus services catering to tourists also run to other cities around the country and region.
Once in Antigua, the city is fairly navigable on foot.
Related:
Looking for a
party hostel in Costa Rica
or
Cancun
? Looking for a
budget hostel in Mexico
or
Costa Rica
?