Flores On a Budget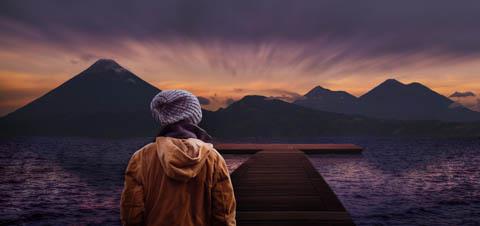 The town of Flores is located in
Peten
, Guatemala. The main hub is located on an island on Lago Peten Itza, which is connected to the mainland by a causeway. On the other side of the causeway are the towns of Santa Elena and San Benito, however, all three are often referred to as
Flores
. Most people visit the area for its proximity to the ancient Mayan ruins of
Tikal
, though the town itself is also charming with colonial buildings and historic churches lining the cobbled streets.
Sights
When you come to Flores, you come to see the
ancient Mayan ruins of Tikal
in the Guatemalan rainforest. In its prime, circa 200 to 900 AD, Tikal was the capital of a conquest state that became one of the most powerful kingdoms of the ancient Maya. The monuments at the ruins of Tikal date back even further to the 4th Century BC. Now designated as a National Park and UNESCO World Heritage Site, the core of the complex includes two major temple pyramids as well as the ruins of royal palaces, residences, smaller pyramids, and stone monuments. The site is a paradise for history buffs and archaeology enthusiasts, and very impressive for the regular tourist as well.
For those interested in geology, there is the
Ak'tun Kan
, or Cave of the Serpent, which has many formations, stalagmites and stalactites, resembling objects like animals and people. The relics are labeled in Spanish, though a tour guide can assist with translations.
As far as wildlife goes,
ARCAS
is a wildlife rescue center dedicated to the prevention of animal trafficking. It has its own boat service from Flores allowing visitors and volunteers if you wish to offer your services. Also nearby is the Petencito Zoo which houses some of the animals rescued by ARCAS as well as a small range of other animals like monkeys and jaguars.
Neighborhoods
As mentioned earlier, Flores is made up of three "towns": Flores Island, Santa Elena, and San Benito. Flores Island is the most attractive of the three with charming cobbled streets lined with colonial red-roofed houses as well as historic churches like the Catedral Nuestra Señora de Los Remedios. Walking along these streets you will find a central park near the church, a number of places to spend the night, and discover many places to enjoy a meal beside the water or surrounded by the charm of the colonial architecture. Across the causeway, Santa Elena and San Bernito off a more authentic experience of a Guatemalan town. While Flores Island is quiet and peaceful, the two on the mainland are busy with traffic, litter, and street food.
Activities
When visiting Flores, there is a wide range of activities for visitors to engage in from volunteering to enjoying the pleasures of the lake or exploring ancient ruins. Volunteer opportunities include helping at an ecological park like with the wildlife of ARCAS as mentioned before, as well as community projects like building schools or assisting with education. Lake activities include hiring a boat to spend the day enjoying the scenery of Lake Peten Itza or renting a canoe to explore at your own leisure. Swimming is also common with public piers located on the north side of the city.
Venturing to the ruins of Tikal are of course a must, while a day trip to Ixpanpajul Natural Park will offer opportunities with a zip-line, sky walk, and horseback riding through the rainforest.
Food and Dining
In the region of Peten, wild animals are common to see on the menu, though consuming them is detrimental to the local ecology as many of them are hunted illegally. In Flores, most restaurants serve your typical Guatemalan fare, though there are a few international options. Guatemalan cuisine prominently features corn, chilies, and beans as key ingredients as well as dishes with rice, pork, beef, chicken, cheese, and tortillas. Tamales are a common local favorite. They come in a variety of ways, but are basically a dish made of masa (or maize), which is steamed in a corn husk or banana leaf and usually filled with meat, fruits, and/or nuts. Other main dishes include a seafood soup with plantain slices called tapado, a variety of stews made with meat, vegetables, and spices, as well as a kind of stuffed pepper dish called chiles rellenos. Desserts typically consist of banana bread, a Spanish rice pudding called arrroz con leche, and chick peas in syrup, amongst many others.
Transportation
By plane, Mundo Maya International Airport is located just outside of Flores and is the only other international airport in Guatemala besides the one in
Guatemala City
. TAG and Avianca both run daily flights from Guatemala City, Tropic Air runs daily flights from
Belize
, and Avianca is also used to fly from
Cancun
. It is only about 2 kilometers from the Flores airport to the causeway. Taxis are available from the airport to Flores, as are shuttles to the ruins of Tikal.
By bus, there are options available from Guatemala City (8 to 10 hours), Coban (5 to 7 hours), and Belize (5 to 6 hours), amongst others which stop at the Fuente del Norte bus station in Santa Elena just across the causeway from Flores Island.
Related:
Looking for a
party hostel in Costa Rica
or
Cancun
? Looking for a
budget hostel in Mexico
or
Costa Rica
?