Roatan On a Budget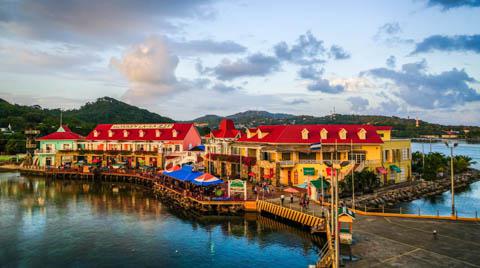 Your next great vacation lies just thirty miles off the north coast of Honduras. Right above the world's largest coral reef is the island of Roatan. As a popular tourist attraction and standard cruise destination, it's not uncommon to see tons of Americans during your trip. In fact, the cruising industry has had huge impact on the island's culture. While ships are in port, traffic will be heavier and prices may go up. Because of the growth of tourism, most locals speak both Spanish and English.
Sights
Roatan is nestled nicely in the heart of a tropical paradise so there is never a shortage of things to see. From beaches to jungles to underwater worlds, your eyes will be in overdrive taking in all the beauty.
The Carambola Botanical Gardens lets visitors walk beautifully maintained trails through 40 acres of protected forest. As you travel the one-kilometer to the summit of Carambola Mountain, you'll pass tons of plants, parrots and even a cliff-full of iguanas.
If you don't have lunch plans, noon is the best time to visit the Roatan Butterfly Garden. Take your time strolling with more than 30 types of butterflies and moths. This 900 square meter garden has a large collection of orchids and other tropical plants. Be sure to take a look to the sky to admire birds like toucans and parrots.
And, of course, there's always the beach. The West Bay has the best stretch of beaches on the island. Walk on up, lay a towel down and let your vacation begin.
Neighborhoods
The city of Roatan is split into nine different villages. You're most likely going to spend most of your time in West Bay. This area is furthest west with the most resorts, beaches and the reek is a quick trip away. The West End area also has good restaurants and places to stay. This is where you'll want to go to find bars, live music and dive shops.
Sandy Bay is mostly residential. Coxen Hole is home to the airport, stores and banks, and French Harbor is likely the furthest east you'll travel. This used to be the secret hot spot of locals, but with such a flood of tourists, they've stumbled upon the secret.
Punta Gorda and Oak Ridge are fishing communities. Camp Bay is probably the furthest you can travel by car, and Port Royal is a small community originally founded by English pirates.
Activities
This area of the Caribbean is famous among scuba divers. Mary's Place on the South Shore attracts divers from all over the world. Most dive shops are located on the west side of the island.
If you're the type to sail out on a boat with a beer in one hand and fishing rod in the other, Roatan can take care of you. The fishing right off the reef is perfectly plentiful. Between marlin, barracuda, tuna, wahoo and mahi mahi, you won't be disappointed with any catch that day.
And if you're truly ready to let loose for the night, you'll have to partake in the West End pub-crawl. Start at Sundowners for the best sunset view on the island, and when the pace closes, just follow the crowd
Food and Dining
There are so many great places to eat in Roatan. The highest concentration of restaurants in West End and West Bay so look here for the most delicious and traditional island dishes. Many "North American" dishes are available, and don't forget about the seafood! A quality lobster dinner can be found for as little as $15 USD.
Transportation
Getting around Roatan is quite simple – it's just a matter of picking how you want to do it. Paved roads connect many of the most popular destinations, so renting a car is definitely a possibility. The buses also run periodically around the island.
If you're going to take a taxi, be sure to ask the price in advance and if it's high, move on. Prices from specific destinations, like the airport, are fixed, and tipping is not expected. To travel between West Bay and West End, you can always flag down a water taxi from any of the docks.
Arguably, the most fun way to get around the island is to rent scooters. Be careful, though, the roads in Roatan don't have shoulders and traffic can be very unpredictable.
Related:
Looking for a
party hostel in Costa Rica
or
Cancun
? Looking for a
budget hostel in Mexico
or
Costa Rica
?