Jamaica On a Budget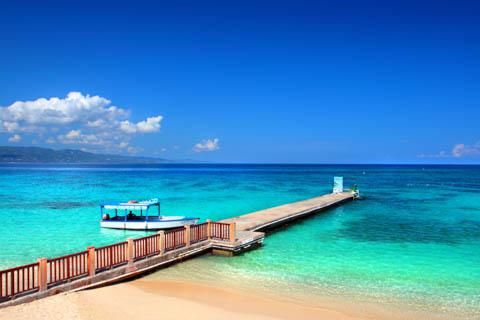 Jamaica is a Caribbean island country that is located just south of Cuba. It's a dramatically mountainous island that is surprisingly affordable when compared to other island countries in the Caribbean. It has a population of about 2.8 million people and its economy is mainly dependent on tourism, coffee, and other exports. The weather in Jamaica is generally hot and humid year around. It's a tropical island although the higher mountain areas can have a surprisingly temperate climate. It's also located in the hurricane belt, so if you plan to take a trip during the fall months, you should plan accordingly.
Visitors to Jamaica arrive by either plane or cruise ship. Several ports of call are popular cruise ship destinations and it's easy to see the influence this level of tourism is having on the area. Local buses are a great option for traveling around Jamaica. They're efficient, cheap and can be a fun experience to have. You'll likely have to tip the baggage handler so come prepared with small change. Trains are another option for some destinations, but generally speaking, buses are a better option. You could also rent a car and drive yourself around the country. Do be prepared as the roads are often in poor condition and traffic in towns and cities can be frustratingly congested.
Jamaica is probably most famous for its stunning beaches as well as its festive and fun culture, and unique food. Jamaica also has many all inclusive resorts if you're interested in a package vacation with the comforts of home and the luxury of a nice getaway. These options are often reasonably priced, but if you travel independently it will be cheaper. You will have a more authentic experience if you travel around on your own, but you also won't have all of the comforts and conveniences that many people enjoy from an all inclusive resort. These resorts also offer tours and excursions that allow you to see the island in a more structured way. They are often comparable to the excursions offered by cruise ships both in style and in price.
At A Glance
Jamaica has both beautiful beaches and dramatically mountain landscape. Do not spend your whole holiday on the beach or you'll miss the beautiful waterfalls and mountain areas that make Jamaica unique. Plan to spend at least a day or two away from the ocean, hiking in the forest. This may actually turn out to be your favorite part of the trip.


There are two international airports in Jamaica. They both receive a good number of international flights. Norman Manley International Airport is located in Kingston in the southeastern part of the island, while Donald Sangster International Airport is in Montego Bay to the northwest. Make sure you understand which airport you're flying into and where it is in relation to your hotel, as this will make your trip a lot smoother.


Consider traveling around in a route taxi instead of a tourist taxi. Route taxis offer an interesting experience as they are typically full of people from all different areas. They generally travel between towns along set routes and they're easy to pick up in any town center. They are also a lot cheaper than tourist taxis.


ATMs are actually referred to a ABMs in Jamaica. They are available almost anywhere throughout the country, and are usually linked to an international network so you should generally not have any problems withdrawing money while you're on the road.


Many people visit Jamaica as part of a cruise, but this is a large island nation and you will really miss large parts of it if you spend only a day or even half a day in the area. Instead, consider Jamaica to be a destination in and of itself and give yourself at least a week to explore the island. After all, Jamaica is a very safe country to visit.
Related
Looking for a
party hostel in Costa Rica
or
Cancun
? Looking for a
budget hostel in Mexico
or
Costa Rica
?
Top Tourist Attractions
Nine Mile:
This is a village town that is most famous as the birth place for the legendary Bob Marley. Today you can visit the Bob Marley Mausoleum where he is buried. You'll also see many guitars, awards, and photographs commemorating him here.
Seven Mile Beach:
This is probably one of the popular and famous beaches in Jamaica. It's a great place to relax, swim and soak up some sun for awhile. It is also the longest stretch of beach in all of Jamaica, and although it can be a little more difficult to travel to, it is well worth the effort once you arrive.
Dunn's River Falls:
This waterfalls is definitely a highlight for many travelers to Jamaica. It's located in Ocho Rios and is a 600 feet waterfalls that is absolutely breathtaking.
Popular Foods
More than most Caribbean cuisines, Jamaican food has claimed international fame. It's not uncommon to find Jamaican restaurants in major cities around the world. The food is typically cooked in a jerk style or seasoned with curry. Chicken and pork are often the meats of choice, and most meals are accompanied by fresh fruits and vegetables.
Ackee and saltfish:
This is the national dish of Jamaica and a must try for any visitor to the island. Ackee is a local fruit that looks a little like scrambled eggs, although its taste is quite different. The fruit is served with dried codfish, onions and tomatoes. The best option for trying this dish is to find a place that prepares it with fresh ackee, as opposed to canned. This is a uniquely Jamaican dish and something you won't find anywhere else.
Bammy:
A traditional Jamaica dish that is thought to have been originally invented by the Arawak or Taino Indians,
bammy is a flat pancake
that is made from floury cassava and eaten most often for breakfast. It's comparable in taste to cornbread.
Jerk Chicken:
Jerk chicken is probably the most famous Jamaican dish and has been exported to restaurants around the world. The chicken is covered in jerk spices and then grilled on a barbeque. While jerk chicken is the most common version, you can also find jerk pork and jerk conch.