Ocho Rios On a Budget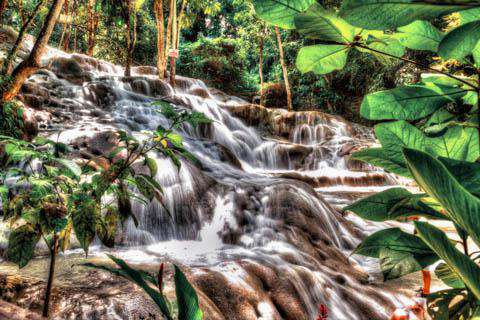 Ocho Rios, or "Ochi" is a town located on the northeastern shore of Jamaica and is a popular hub for cruise ships. It is a great destination for tourists as it has many resorts and beautiful beaches.
Sights
The
Shaw Park Botanical Gardens
are beautiful to see while visiting Ocho Rios. The gardens span over 25 acres of land and have over 600 species of flowers throughout. There is a beautiful waterfall in the gardens that is framed by beautiful flowers and cascades over jagged rocks into a clear pool.
Visit the Coyaba River Garden and Museum in Ocho Rios for a look at the history of Jamaica. It offers a glimpse into Jamaican culture and how the nation came to adopt the motto of "Out of Many, One People". The gardens are just as amazing, spanning over 3 acres with lush landscapes and colorful flowers.
James Bond Beach is located about 10 miles from Ocho Rios and scenes from the film
Dr. No
were filmed here. The beach is surrounded by crystal clear water and cliffs of the St. Mary Mountains. There are often concerts held at this beach, and sometimes you may even spot a celebrity at the Moonraker bar.
Neighborhoods
Ocho Rios is categorized by its five main beaches rather than neighborhoods or regions. The first is Turtle Beach and is visited more by locals who are there for the ideal swimming spot. Puerto Seco Beach is a typical Jamaican beach complete with reggae music, jerk chicken vendors (
try this one
), and white sand leading into the blue water. Mallards Beach is where you will want to go if you are looking for the party scene. It attracts more of a younger crowd but of course all ages are welcome. James Bond Beach is a bit further away, therefore making it a bit less crowded. Lastly,
Dolphin Cove
is a great place to go for a family friendly activity. You can swim with the dolphins and enjoy the beautiful Dunn's River Falls. This beach is located at the west end of Ocho Rios.
Activities
As mentioned above, you can swim with the dolphins at Dolphin Cove! It is about $130 to swim with one, but the experience itself is priceless. Dunn's River Falls are in this area as well. You can climb, photograph, swim and enjoy the private beach at these falls.
And don't miss the Blue Hole, one of the most popular attractions in the area. this natural swimming hole with crystal blue water in the jungle is not only a scenic spot, but offers an enjoyable activity for all ages.
Calypso Rafting Company offers an exhilarating activity where you can tube down a river on inter tubes or bamboo rafts. Rainforest Adventures Mystic Mountain is an amusement park near Ocho Rios. It is one of the main attractions for the cruise ship travelers, so it is smart to figure out which days they won't be there to avoid over crowding. The park has a zipline, chairlift, waterslides, pools, restaurants, and even an observation tower with beautiful views.
For all of these great activites, you'll need to stay somewhere nearby. Here's a guide guide with more things to do and
where to stay in Jamaica
.
Food and Dining
Jamaican jerk chicken is a traditional cuisine that is all over the country. It is basically in the way that they marinade the meat or vegetables that makes is so delicious. There is also amazing steamed fish at Fisherman's Beach Restaurant. Sunday evenings are a lively time to visit this restaurant! Surprisingly Ocho Rios has some great Indian and Italian food as well. Visit Passage to India and Toscanini's.
If you're visiting the Caribbean, you will probably be drawn to visit a bar called Margaritaville. This place is a themed bar with a water slide. Although drinks are more expensive here, it is worth at least checking out. It becomes a great beach party and club at nightfall.
Transportation
There is a local airport in Ocho Rios that has charter planes coming in from Kingston and Montego Bay. There are also airport transfers available by car from the two larger airports. A reliable tour company for this is called Travel Around Jamaica Tours. Ocho Rios is a port town, so you can also reach it by boat. The main pier is downtown and has many options of getting to and from Ocho Rios. You can always take a taxi from larger airports to Ocho Rios.
Once you are in Ocho Rios, there are taxis everywhere, and they are pretty affordable! Make sure you only get into marked taxis, or Red Plate taxis. There are minibuses around town that stop at transportation centers. You can also hire private drivers from companies like El Sol Vida, JUTA, Maxi Tours, and Tourwise.
Related
Looking for a
party hostel in Costa Rica
or
Cancun
? Looking for a
budget hostel in Mexico
or
Costa Rica
?