Kingston On a Budget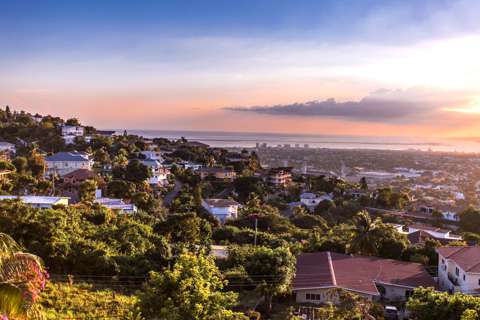 Kingston is Jamaica's capital city with a population of about 579,000. For being located on an island, Kingston is a very large city with several different zip codes. Not only is Kingston the cultural capital of the country, but also the commercial one as well.
Sights
If you are traveling to Jamaica, it is possible that you have at least some interest in the famous reggae singer Bob Marley. There is a museum dedicated to him in Kingston that is definitely worth visiting. The museum itself is actually the former home of Mr. Marley, as well as one of his recording studios. In it, you will find some of the singer's personal belongings and can even see the bullet holes that are still in the walls of his house from his attempted murder. The tour is about one hour long and the museum is open from 9:30 – 4:00.
Port Royal is another sight to see while visiting Kingston. It is a city located in the Kingston Harbor and is notoriously famous for being a haven for pirates in the 17th century. Unfortunately, an earthquake destroyed a lot of this city in 1692, but some of the original buildings still remain like Saint Peter's Church, Fort Rocky, and Fort Charles.
The Hope Botanical Gardens in Kingston are the largest ones in all of the Caribbean and entry is free. The Devon House is a great place to see as it depicts classic Jamaican architecture. It is a mansion that was built by George Stiebel and the interior has 19th century style. You can have a tour of the mansion for a pretty affordable price, but visiting the garden and shops is free.
Neighborhoods
There are basically two neighborhoods of Kingston: downtown and uptown. Downtown is where you will find historic buildings as well as banks, courts, and other municipal buildings. There are many street markets as well. Uptown, or 'New Kingston', is where you will find nice hotels and restaurants. This is where you will find the Bob Marley Museum and the Devon House.
Activities
You can take a boat from Port Royal out to Lime Cay. It is an island off the coast and has beautiful beaches. During the weekend, this is a great place to go if you are looking to find a party, and during the week it is much quieter. If you do intend on staying for the party scene, you can camp overnight on the island!
Emancipation Park in uptown is a serene park with vast amounts of greenery and sunshine. It is a popular venue for concerts and there are even some free shows during the summer and around Christmas time. You can play mini golf in Kingston at a place called Putt and Play. There are also pool tables here if you are looking for that sort of gaming activity.
Food and Dining
'
Jerk
' is a word that you will see on almost every menu in Kingston. It is a common style of cooking in Jamaica. Basically different types of meat (or vegetables) are marinated in a hot mixture of spices before being cooked. It is a must try while in Kingston. There are tons of jerk pans on the street so there is no reason not to try the native flavors of Jamaica!
The national dish of Jamaica is Ackee and Saltfish. Ackee is a type of fruit, and saltfish refers to Codfish. The fish is boiled with the ackee and served with rice and peas.
The Devon House has a famous ice cream shop so make sure to grab a treat while visiting the mansion!
For those of you who don't eat meat, try the Hope Gardens Vegetarian Restaurant located in the middle of the gardens. They have tasty vegetarian dishes and an array of juices. The setting is also very nice, as it is in the botanical gardens.
Of course, if you are trying the native food of Jamaica you must also try the native drinks! Red Stripe is a Jamaican beer that is very refreshing after a long day of exploring around Kingston. Appleton Run is also common in Kingston.
Transportation
To get to Kingston, you will probably fly into Norman Manley International Airport. It is in the southeastern part of the island. From there you can travel by car, bus, or taxi. Renting a car requires a fair amount of bravery, as the streets are pretty crowded and chaotic. However, it is a good way to get around especially if you plan on heading into the countryside at any point. The bus system in Kingston is newly renovated and can get you all around the city. It is called the Jamaica Urban Transit Company and timetables can be found on their website. Taxi's are also a great way of getting around, keep in mind that official taxis have red license plates that begin with the letters PPV.
Related:
Looking for a
party hostel in Costa Rica
or
Cancun
? Looking for a
budget hostel in Mexico
or
Costa Rica
?