Cesis On a Budget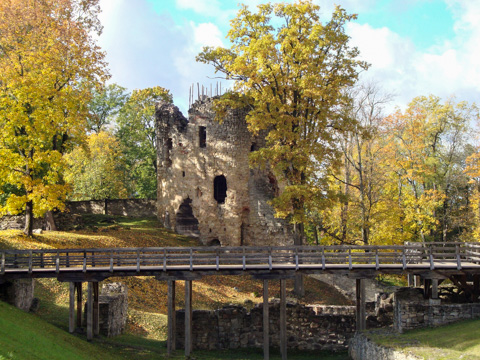 Cesis is the quintessential old world town in Latvia. It is nestled among rolling hills, giving it a beautiful, fantasy world like setting. The small town is sprinkled with old castles, fortresses, and parks that you can leisurely wander through to pass the time. There's a lovely town square that is the perfect place to grab a seat on a bench and people watch. Because of the square's central location, many residents pass through it on their way to and from the market. The town is intertwined with lovely cobblestone streets that are lined with old homes, in various stages of disrepair. Cesis manages to perfectly balance a level of authentic wear and tear with a fairytale ambiance. Outside of town you'll find great hiking trails that you can use to explore the rolling hills and picturesque countryside. The small town is also conveniently located less than 100 kilometers from Riga, making it an easy trip on a bus.
The ideal time to visit Cesis is during the summer months when the weather is at its warmest and the hiking trails are more appealing. Spring and fall can also be nice but weather can change abruptly so don't be surprised if it's cold while you're there. Also understand that during the low season many hotels and restaurants will be closed so your options will be limited. It can be nice to be in the area when the tourist crowds are at a minimum. It offers you a glimpse into true Latvian culture.
Sights
There are some wonderful sights around town, many of which highlight the town's history. Knight's Castle is the Cesis Old Castle. Cesis Castle Park is to the northwest of Knight's Castle. Riekstu kalns, or Hazelnut Hill is an 18 meter high hill fort that is found in Castle Park. The New Cesis Castle dates back to 1777 and has served as a museum since 1949. After reconstruction efforts in 2012, it now also holds the Cesis Tourism Information Centre. If you're interested in shopping then make your way to Rigas Street. Also make sure you visit Saint John?s Church, Victory Monument, the Square of Roses and May Park.
Neighborhoods
Most tourists spend their time in the city's old town. It's a pleasant area to explore on foot and at the center you will find the town square. It is relaxing to sit and take in the town's atmosphere as people pass through this square. Raunas Street runs from the railway station to the old town and it is lined with several important buildings. There are also several health resorts in the surrounding area.
Activities
Many people head outside of Cesis to enjoy the hiking trails in the surrounding area. It's fun to explore the Vidzeme Highlands, but make sure you're in town during the warmer summer months if you hope to go hiking. Any other time of year may have unpleasant weather. Even during the fall and spring you can anticipate sudden temperature drops, so pack accordingly.
Food and Dining
There are some wonderful little restaurants around town that offer traditional Latvian dishes. Several have attached bakeries that sell wonderful fresh breads and desserts that can perfectly round of the meal. In general, prices are less than you might pay in most of Europe, so it is worth splurging a little to get an interesting, local meal. During the winter months many places close down so it may be more difficult to find a place to eat. If you're going to be in town during the off season, then it is best to plan ahead. During the summer months most places are open and offer good quality food.
Transportation
Cesis is located almost 100 kilometers away from Riga. You can easily catch either a direct bus or train from Riga that will take you to Cesis in a short and efficient time. If you have access to your own car then driving there is easy as well. Traveling from the capital city go northeast down the A2 road. Go by Sigulda and you'll reach Cesis. If you're coming from Valga in Estonia or Valmiera in Latvia then simply take the P20 road until you reach the city.
Once you arrive in town, it is easy to walk anywhere. The town itself is quiet small and walking is the most enjoyable way to experience the old world charm and atmosphere.
Related:
Traveling alone to
Moscow
,
St Petersburg
,
Stockholm
or
Riga
and need a hostel?
Looking for a
party in Copenhagen
or
Tallinn
?
Looking for
budget hostels in Scandinavia
?
Train and Bus Prices
The best prices for buses and trains in Latvia
can be found on Omio
(formerly
GoEuro
). They let you search across all train, bus, and plane routes throughout the region.