Latvia On a Budget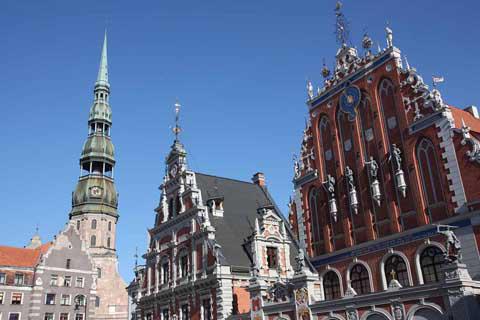 Latvia is one of the three small countries that make up the Baltics. It is bordered to the north by Estonia and to the south by Lithuania and it sits along the Baltic Sea. It is influenced by its maritime culture and you will find seafood prolific in the cuisine. There are some interesting coastal communities that offers a glimpse into small town life in this quaint and beautiful country. Many people head to Riga, the country's vibrant capital city, but if you want to see more of the area, head into the countryside and find some small towns to explore. This is where you'll see daily life and small town culture at its finest.
This area has seen a dramatic increase in popularity among travelers in recent years. It has become a more well known destination both inside and outside of Europe. Thanks to the affordable flights offered by Air Baltic, many travelers find themselves with at least a day layover in Riga when they are traveling elsewhere in Europe. Riga is a very livable city with a lovely old town and a very impressive market. It's a popular destination for young Europeans who are looking to go bar hopping and enjoy some cheap drinks, but it's still second in line to the more popular and famous city of Tallinn to the north. If you find yourself with a few days in Riga and can spare the time, lengthen your stay because this beautiful country has so much to offer outside of its capital.
Outside of Riga, there are many things to see in the form of great beaches, lovely small towns, and beautiful countryside. Churches and crosses dot the landscape, paying tribute to the area's strong religious routes. There are museums and monuments that educate and inform the visitor on country's brutal past, but the lighthearted nature of its citizens give today's Lativa a fun and laid back atmosphere. Whether you choose to hang out in the cosmopolitan capital city, or step back in time to the quaint villages, you're sure to have an eyeopening experience in this great country.
At A Glance
If you're traveling into Latvia from within Europe, your cheapest option is often to catch a flight on Air Baltic. It's the country's national airline and most flights travel through Riga. There are connections available throughout Europe and the prices are usually quite low. It's often cheaper than taking the train or any other form of ground transportation.


Because the country is so small, it is fairly easy to navigate it by public transportation. Trains travel to many different towns, and those that are not accessible by train can be reached by bus. It's not necessary to rent a car, but if you do decide you'd like your own private vehicle, there are plenty of reputable rental agencies around.


Summer is easily the most popular time to visit the country. The weather is the most mild during the summer months and it's a good time to be outdoors and experience the area's nature. Many restaurants and hotels close during the winter months as well, so you may find it challenging to visit during these low times as well. This is particularly true in the small towns and near the national parks. Even in Riga, you will find that some hostels are not open during the coldest winter months.


If you're looking for souvenirs to take home, there are many great local markets throughout the country. In large cities and small towns alike you can find handmade goods that range from hand woven mittens to pottery and jewelry. If you're at an outdoor market you can often barter the price down a little bit.


If you're in a college town, head to the neighborhood around the university to grab a bite to eat. The prices are cheaper than other neighborhoods and the meals are very filling. It's a great option for those who are traveling on a budget. Many of the restaurants are casual in nature and sell everything from piragis to pancakes. You often pay by the weight so you can get as much or as little as you like.
Related:
Traveling alone to
Moscow
,
St Petersburg
,
Stockholm
or
Riga
and need a hostel?
Looking for a
party in Copenhagen
or
Tallinn
?
Looking for
budget hostels in Scandinavia
?
Find a
Contiki tour
to Europe.
Top Tourist Attractions
Riga's Old Town:
Riga's Old Town is a great place to take a walking tour and learn about the fascinating history of this small country. There's some excellent examples of regional architecture, plenty of outdoor cafes, and a nearby market where you can do some shopping.
Sigulda:
This is a great place for those who enjoy outdoor sports and activities or want to see an interesting castle. It's a small, rural community, and it is best visited during the summer months when the hiking trails are at their best and the outdoor entertainment is all open.
Gauja National Park:
This is the largest national park in the country and is a great place to experience the area's natural beauty. The most famous sight is the sandstone cliffs that run along the Gauja River. At their maximum they can reach ninety meters in height.
Popular Foods
Latvian cuisine is comparable to many of its northern neighbors. The dishes are usually hearty and filling. Popular ingredients include bread, sausage, mushrooms, pork, potatoes and beets. It doesn't use much spice so some visitors consider the flavors kind of bland. Seafood is a popular item and you can find smoked salmon in most markets. Outdoor markets are popular throughout the country and you'll find the largest in downtown Riga.
Aukstais galds:
The Latvian form of a Smorgasbord, this is typically served at a wedding or special event. Typical items include, ham, jellied meats, smoked salmon, rye bread, and Latvian potato salad.
Piragis:
These crescent filled pastries are usually made with a bacon or meat and onion filling. They are the Latvian version of a dumpling and are available at cafes and restaurants throughout the country.
Kvass:
This is an alcoholic drink that is made from fermented rye bread. The alcohol content is generally quite low and the drink is sometimes used in the preparation of a soup.