Kaunas On a Budget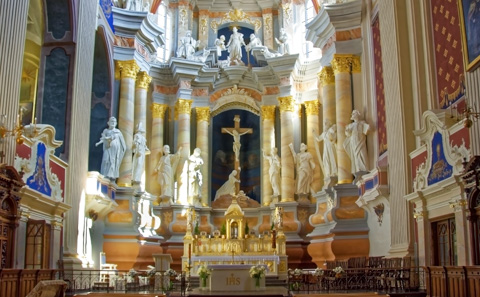 Kaunas is the second biggest city in Lithuania, located at the country's center. It is a city of medieval history as well as modern entertainment with castle ruins, churches, and cathedrals, as well as galleries, museums, theatres, and outdoor recreation.
Sights
The oldest building in the city of Kaunas is Kaunas Castle, built in the fourteenth century. The medieval structure is open to guided tours, often hosts cultural events, and its round tower features art and historical exhibitions. Also historic is the Kaunas City Hall, built in the sixteenth century. Overall a nice example of Renaissance architecture, the hall now houses the Kaunas Ceramics Museum in its cellars. The collection includes archaeological findings from the Old Town and surroundings areas of Kaunas.
Another impressive piece of architecture is the Pazaislis Monastery and Church, which form the largest monastery and church complex in Lithuania. The seventeenth-century Baroque structure offers guided tours and also boasts the oldest church clock tower in Lithuania. Flash forward a few centuries, and Kaunas also features an important historic memorial to the Holocaust at Ninth Fort, which is open for guided tours.
Outside of historical sightseeing, Kaunas also has plenty of things to see outdoors. Azuolynas Park, for example, is the largest in the city and the most popular place for a stroll. On the premises is the Lithuanian Zoo Park, which has opportunities for visitors to interacts with animals. Even on the outskirts, visitors can enjoy a natural escape at the Kaunas Botanical Garden or Kaunas Reservoir Regional Park.
Neighborhoods
The city center, or Centras, of Kaunas is made up of the Old City and the New City, located just to the east of the confluence of the Nemunas and the Neris rivers. Old Town is the oldest part of Kaunas and features many surviving Gothic, Renaissance, and Baroque buildings, built between the fourteenth and seventeenth centuries. Significant features of this area include the town hall, cathedrals and churches, museums, and the pedestrian street known as Laisv?s Aleja, which is lined with many restaurants, cafes, and shops. New Town is located just east of Old Town, and developed later in a rectangular tsar-time structure with parks and open spaces. Features include business centers, hotels, and some shopping centers, as well as a number of universities, museums, theatres, and orchestra. Other surrounding neighborhoods include Zaliakalnis to the north, Sanciai to the east, Aleksotas to the south and Vilijampol? to the west. They are mostly residential with a few attractions.
Activities
As far as activities go, there are plentiful options from historical sight-seeing and museum-going to outdoor recreation and theatre, sport, or musical entertainment. Kaunas evens hosts festivals throughout the year in areas such as jazz, modern dance, music, operetta, and shopping. There are a handful of theatres with entertainment ranging from drama or dance to puppetry, symphony, and musical theatre. There are cinemas for movie enthusiast, as well as sports venues for those hoping to immerse themselves in the local athletic culture. Of course, there is also the usual nightlife entertainment at bars and cafes, as well as casinos and dance clubs.
For those visiting during the summer season, there are some beaches on the banks of Nemunas River, shores of Lampedziai Lake, and Kaunas Reservoir.
Food and Dining
When visiting Lithuania, there are plenty of national dishes to try. Some of these include potato balls boiled in milk (Bulviniu kukuliu sriuba), a sausage made from potato-stuffed pig intestine (vedarai), meat-and-garlic-stuffed pig stomach (skilandis), potato pancake (bulviniai blynai), curd patties (virtinukai), and dumplings filled with lingonberries (Saltnosiukai). Pork is the most frequently used meat, as well as fish, like pike or perch, which is often baked, stuffed, or made into gefilte fish. Herring, salmon, and smoked fish in general are also popular. Additional favorites include soups like hot or cold borscht (beet soup), cucumber soup, juka (blood soup), sauerkraut soup (made with ham, carrots, onions, and bay leaves), and cabbage soup (made with carrots, ham, onions, sauerkraut, etc.). Soup is commonly served with dark rye bread. Overall, ingredients are local, and many dishes feature Lithuanian harvests of barley, potatoes, rye, beets, greens, berries, and mushrooms. As a major city, Kaunas will have all of these options and more, including European, Oriental, French, Italian, Russian, and other cuisines.
Transportation
Kaunas International Airport is the nearest major airport, located about 14 kilometers (8 miles) from downtown Kaunas. Today, Ryanair is the main passenger carrier at the airport, which connects Kaunas with destinations such as Alicante, Bologna (begins October 2018), Bristol, Copenhagen, Dublin, London-Luton, London-Stansted, Milan-Malpensa (also begins October 2018), Naples, Paphos, Shannon, and Tel Aviv–Ben Gurion (October 2018). There are also seasonal flights to places including Burgas, Edinburgh, Eilat-Ovda, Girona, Palma de Mallorca, Rhodes, and Rimini. Additionally, there is an international airport in the capital city of Lithuania, Vilnius, located about 104 kilometers southeast of Kaunas.
Kaunas also has a train station that operates mostly to other cities within Lithuania and Poland, as well as bus services that operate to and from Riga in Latvia, Tallinn in Estonia, Minsk in Belarus, and Warsaw in Poland.
Train and Bus Prices
The best prices for buses and trains in Lithuania
can be found on Omio
(formerly
GoEuro
). They let you search across all train, bus, and plane routes throughout the region.