Bagan On a Budget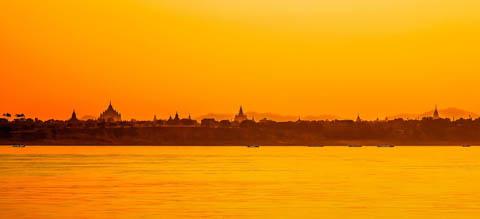 Located in central Myanmar (formerly Burma), Bagan is an ancient city best known as the home to the largest and densest concentration of Buddhist temples, pagodas, stupas, and ruins in the world with many dating from the 11th and 12th centuries.
Sights
The Buddhist temples and ruins at the Bagan Archaeological Area steal the show as the main attractions for those visiting Bagan. More than 2,000 of these monuments tower over lush green plains in a mix of architecture which includes temples made up of stupas, block bases, and vestibules. Bagan's holiest temple is the Ananda Temple, built by the third king, Kyan-zit-tha, in 1091. Also impressive is the Shwesandaw Temple (or "sunset temple) where many people gather each evening to watch the Bagan sunset in the backdrop. Other important structures include the Shwezigon Temple (built in the 11th century), the Thatbyinnyu Temple (tallest of the pagodas at 66 meters, built in the 12th century), and the Shwegugyi Temple (one of the best preserved and also good for the sunset).
With so many temples spread far and wide, Bagan offers an experience to explore with no end. Some of the structures even have colorful murals, however, a flashlight is recommended as the majority of these paintings are located on the dark interiors of the temple.
Other sites beyond the temples include the Bagan Archaeological Museum and the excavations of the ancient royal palace site. Read more about
the Temples of Bagan here
.
Neighborhoods
The city of Bagan is generally divided into two parts - Old Bagan and New Bagan. New Bagan is the busier part of town with plenty of people and day-to-day activity. It is usually the entry point for those traveling from afar. Old Bagan, just to the north, is quieter and located closer to the famous archaeological site. It is a small village with some places to eat as well as a few establishments for overnight accommodation. This area of this city has more charm and is more conveniently located; however, it can be more expensive. Another nearby town is Nyaung-U, just north from Old Bagan, which is larger and provides access to boat transportation.
Activities
One of the best ways to experience the temples of Bagan is to rent a bike, available at most hotels. It is a great way to explore the massive complex of stupas, and serves as an alternative to sightseeing on foot. Other options for visiting the main sites of Bagan include renting a horse cart with a driver or just a regular car with a driver. Many visitors also rent boats to watch the sunset from the Irawaddy River, or even book a ride in a hot air balloon to attain a new perspective on the ancient site from above.
Additional sights and activities include wandering the streets of the villages and watching monks in burgundy robes go about their daily business, or even signing up for a Myanmar cooking class to learn all about Burmese food and ingredients.
Food and Dining
Formerly known as Burma, Myanmar has cuisine that is of the Burmese tradition. It is characterized by an extensive use of fish products like fish sauce and ngapi (a paste made from fermented seafood) as well as rice, fresh vegetables, tropical fruits, and condiments like pickled mango and fermented beans. Some typical dishes include a ginger salad with sesame seeds called gyin thohk, a wheat noodle salad with dried shrimps, shredded cabbage and carrots, dressed with fried peanut oil, fish sauce, and lime (khauk swè thoke), and a plate called mohinga which consists of rice vermicelli in fish broth with onions, garlic, ginger, lemon grass, and sliced tender core of banana-stem, served with boiled eggs, fried fish cake (nga hpe) and fritters (akyaw). Due to its geographic location, Myanmar's cuisine has been also been largely influenced by Chinese cuisine, Indian cuisine, and Thai cuisine. In Old Bagan, traditional Burmese cooking is abundant - one of the more popular items being a noodle soup. Buffets are also favorites with those who enjoy sampling the many flavors of Burmese culture.
Transportation
The best way to reach Bagan by plane is to first fly into Yangon National Airport. From here, flights to Bagan are offered via Asian Wings, Air KBZ, Golden Myanmar Airlines, Mann Yadanarpon Airlines, and Myanmar National Airlines. Asian Wings, Golden Myanmar, Mann Yadanarpon, and Myanmar National Airlines also fly from Mandalay.
By rail, overnight trains run daily from Yangon, and there is a direct train service running from Mandalay to Bagan with two departures daily.
There are also bus links between Bagan and Yangon and Mandalay.