Mandalay On a Budget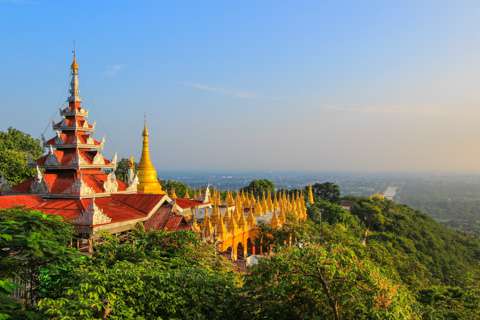 Located in Myanmar (formerly known as Burma) on the banks of the Irawaddy River, Mandalay is the nation's second largest city behind Yangon. It is centered on the restored Royal Palace and has a large population of Buddhist monks who frequent the city's many temples and monasteries.
Sights
Mandalay Palace, a massive walled citadel surrounded by a moat, is situated just north of the downtown, occupying the city center. Most of the complex was destroyed by fire during World War II; however, it has since been rebuilt and renovated to showcase impressive palace walls and gates as well as several pavilions and chambers which can be explored by visitors. At the west end of the complex is the Palace Museum where a collection of palace memorabilia is on display including religious paraphernalia, court ritual implements, court dresses and uniforms, furniture, palanquins and litters, as well as armory.
Another important attraction is the Kuthodaw Pagoda, which houses hundreds of Buddhist-scripture-inscribed marble slabs. It is situated at the base of Mandalay Hill, a holy mount which commands a spectacular view of the city and surrounding countryside. Shwenandaw Monastery, with an entire structure built out of teak, is another popular sight, famous for its intricate wood carvings. Mandalay showcases these landmarks and many more temples as representative to its history and heritage.
Neighborhoods
Mandalay is a fairly new city compared to its ancient neighbors, having been established in 1857 under King Mindon. It covers a large, flat area and is designed on a grid pattern layout. The downtown is roughly located at the south-west corner of Mandalay Palace moat, near Mandalay railway station. This area and its assorted markets, restaurants, and temples can be easily explored on foot, but further ventures to Mandalay Hill, the Shwenandaw or Shwe In Bin monasteries, or the Mahamuni Temple will require a taxi or other car service. One particular center of interest is Zegyo Market, the biggest and oldest market in the city. Though its main building is modern, the surrounding neighborhood that occupies 86th street is always bustling with a rich atmosphere and vendors selling locally produced goods from fresh food to handicrafts.
Activities
Many people visit Mandalay to explore the Royal Palace and sacred temples of the city. Visitors can choose to explore at their own pace or book city tours for a more guided experience with additional insight into Mandalay's history and culture. Beyond touring these landmarks, another popular activity is to stop at the Yadanabon Zoological Gardens which is home to more than 300 species and is famed for its Burmese roofed turtles. Other activities include booking a ride in a hot air balloon, renting a motorbike to tour the area, taking a day trip outside the city to natural getaways like the Dee Doke Waterfall, or seeing a show like the infamous comedy group the Moustache Brother or a traditional theater experience like the Mandalay Marionettes.
Food and Dining
Formerly known as Burma, Myanmar has cuisine that is of the Burmese tradition. It is characterized by an extensive use of fish products like fish sauce and ngapi (a paste made from fermented seafood) as well as rice, fresh vegetables, tropical fruits, and condiments like pickled mango and fermented beans. Some typical dishes include a ginger salad with sesame seeds called gyin thohk, a wheat noodle salad with dried shrimps, shredded cabbage and carrots, dressed with fried peanut oil, fish sauce, and lime (khauk swè thoke), and a plate called mohinga which consists of rice vermicelli in fish broth with onions, garlic, ginger, lemon grass, and sliced tender core of banana-stem, served with boiled eggs, fried fish cake (nga hpe) and fritters (akyaw). Due to its geographic location, Myanmar's cuisine has been also been largely influenced by Chinese cuisine, Indian cuisine, and Thai cuisine. Mandalay in particular specializes in cuisine from the Shan State (usually including fermented pastes, vegetables, and meats), as well as a kind of Muslim Chinese noodle dish with lots of spices, and a traditional Burmese dessert called htou moun which is oily and sweet and unique to the city.
Transportation
By plane, the city is served by Mandalay International Airport, which offers flights to most places in Myanmar as well as some international destinations. It is located about 35 kilometers south of the city and is one of three international airports in Myanmar. Mandalay can also be reached by flying into Yangon International Airport and then taking a train or bus the rest of the way. There are several trains daily from Yangon to Mandalay, as well as bus service with three stations in Mandalay. The biggest one is Kywe Se Kan Highway station (or Chan Mya Shwe Pyi) and is about 8 kilometers from the city center, Pyi Gyi Myat Shin bus station is south east of downtown, and Thiri Mandala bus station is west of downtown and is the closest to city center.