Kathmandu On a Budget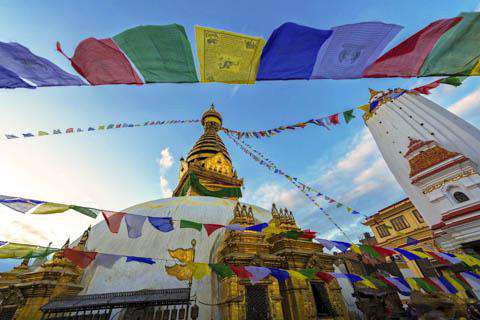 Kathmandu is the capital and largest city in the country of Nepal. Its metropolitan area forms one large urban area that includes the area of Patan to the south. As of 2011 there were 2.5 million residents in the Kathmandu metropolis and over 3 million in the entire metropolitan area. Kathmandu is likely to be your entry point into Nepal and is a great place to pick up supplies and arrange the details for any treks you hope to do. Many travelers rush through Kathmandu, turned off by the pollution and crowds, but to skip Kathmandu is to miss a major cultural, financial, and influential part of what defines the country of Nepal. The city itself is quite fun to explore if you allow it enough time and an open mind.
The city is at an elevation of about 1,400 meters or 4,600 feet. It's located in a bowl shaped valley in the central part of the country and is surrounded by the mountains of Shivapuri, Phulchoki, Nagarjun, and Chandragiri. The city's climate is relatively temperate with a humid subtropical climate in the parts of the city that are at a lower elevation and subtropical highland climate at the higher elevations. The average summer temperature is in the mid 80s Fahrenheit and the average winter temperatures are around 50 degrees Fahrenheit. Rainfall occurs most heavily during the monsoon months of June and August.
Sights
Kathmandu is at the cultural heart of Nepal and there are countless sights to visit while you're in town. Of particular interest is Swayambhu, or the Monkey Temple. It sits on a hill that looks out over the city and is a sacred Buddhist site. It is covered with monkeys that interact with visitors along the 350 steps to the top.
A visit to Durbar Square is a must to see the many temples and palaces. Also visit Boudha Stupa, which is one of the most sacred sites for Tibetan Buddhism. This is a huge stupa and a World Heritage Site. Other sites of interest around town include Narayanhiti Palace Museum, Pashupatinath, the Garden of Dreams, and Budda Neelkanth Temple.
Neighborhoods
As a tourist, you'll likely spend most of your time in the
Thamel Chowk
neighborhood. This is where you'll find plenty of equipment shops, food stores, and hotels. You'll also have no trouble meeting other travelers who are either beginning, or just finishing their treks. If you're hoping to pick up some equipment, keep in mind that most of the supplies are knock offs, and the quality is variable. Negotiate hard, and if you're purchasing an authentic item, you are likely to pay full price for it, a price that is comparable to what you would pay in a western country.
Kathmandu's Durbar Square is also a point of interest. It is filled with palaces and temples and is best visited during the early morning when all of the merchants are open and the devotees are making their offerings to the shrines and temples.
Activities
Most people travel to Nepal to trek or hike in the Himalayan Mountains. Kathmandu offers many facilities to help you organize and coordinate your trek. It's also possible to coordinate activities such as mountain flights or village visits through any of the travel agencies around town.
Popular
festivals in Kathmandu
include the Festival of Lights, Bikram Sambat's New Year's, Indra Jatra, the Himalayan Blues Festival, and Dashain.
Food and Dining
Restaurants in Kathmandu are quite good. You'll find the highest concentration of restaurants that cater to tourists in the Thamel neighborhood. Nepalese food is similar to Indian food with subtle differences and some Chinese influence. The most popular dish is the momo. Momos are a form of dumpling that originated in the Tibetan mountains. You can order them either steamed or fried and they are typically filled with either buffalo, chicken or vegetables. A Nepali set meal usually includes rice, daal, and a vegetable or meat curry. You'll also find plenty of Thai, Chinese, and dessert options throughout the Thamel area.
Transportation
Most people begin or end their trip to Nepal in Kathmandu. The city's Tribhuvan International Airport is the largest in the country, as well as Nepal's only international airport. It's located about five and a half kilometers east of the Thamel neighborhood. You can pick up a free map of Kathmandu Valley at the airport. The city can be challenging to navigate as many streets do not have names. Directions are typically given based on the nearest city square or notable landmark.
If you're planning to go hiking in Nepal, you will likely need a TIMS card, which is a permit to go trekking in the country. For more information, check out
How to get a TIMS card in Kathmandu
.
It is possible to walk around most neighborhoods in Kathmandu, but if the overcrowded nature of the city is frustrating for you, a taxi may be your best option. Both rickshaws and taxis can be found in the Thamel neighborhood. You should insist that the driver use his meter and if you feel the service was decent then a tip is appreciated. If the driver refuses to use the meter then either find a different taxi or negotiate the price in advance (and negotiate hard!). If you're traveling a greater distance to Patan, Bakhtapur, or Boudha then you should consider taking a bus. This is a fun and cost effective way to get around Kathmandu.
To get out of Kathmandu there are a couple of bus stations to choose from. Make sure you fully understand which bus station you need to so that you can catch a a bus headed to your intended destination. The process can be somewhat confusing.
Related:
Looking for a
hostel in Delhi
or
Goa
? Heading to
Kathmandu
or want a
party in Tel Aviv
?