Pokhara On a Budget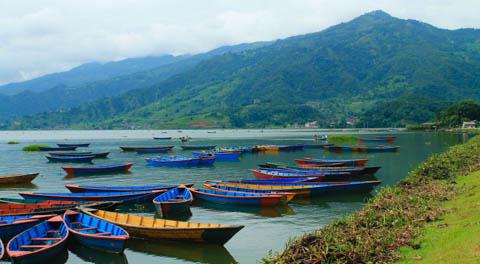 Pokhara is the second largest city in Nepal and is strategically located near the popular
Annapurna Circuit
. The Annapurna Circuit, or the "Apple Pie Trail", is a popular trek through the Annapurna Valley that makes a circular route through stunning mountainous landscapes. Several other trekking options can be found in this region, too. Many people use Pohkara as a place to prepare or recover from their recently completed treks because it is less intimidating than the larger city of Kathmandu.
Much like the Thamel neighborhood in Kathmandu, Pokhara has a high concentration of hotels, shops, and restaurants. It's located on the edge of a lake and is a great town to relax in for a few days after a strenuous multi-week trek. You are also likely to run into some of the friends you made during your trek, as everyone usually lingers for at least a few days.
It is important to realize that Pokhara is a tourist town. It lacks some of the authenticity of Kathmandu, but it does give you some much needed comforts after a long and strenuous hike. You'll have earned it.
Pokhara's climate is sub-tropical but the city's elevation keeps the temperatures moderate. The summer temperatures average between 25 and 33 degrees Celsius and the winters range from freezing to 15 degrees Celsius. Snow does not fall in the valley but the surrounding hills do occasionally have snow. Summers are humid and mild and most precipitation falls during the monsoon season between July and September. Winter and spring are usually sunny and clear.
Sights
There are many sights in and around Pokhara that are worth a visit. Phewa Lake is one of the most beautiful spots in the country. The lake is surrounded by forests and snow covered peaks. You can hire a boat to get out on the water and enjoy the natural beauty Begnas Lake is about 13 kilometers southeast of town. It's a quiet and peaceful spot with a few hotels and shops. Other nearby lakes include Rupa Lake and Dipang Lake.
Other places worth visiting include Devi's Falls, The World Peace Pagoda, and Sarangkot. Interesting caves in the area include Mahendra Cave, Chamare Gufa, and Gupteswar Mahadev Cave. Museums around town include the International Mountain Museum and Gurkha Memorial Museum.
Neighborhoods
Pokhara can be divided into two main sections. There is a local area where you'll find the "authentic" side of Nepal. Then there's the "lakeside" area. This is where you'll find the guesthouses, hotels, shops, restaurants, travel agencies, and tourist facilities. This area has a high concentration of travelers and most visitors linger here and enjoy the comfortable setting either before or after their long trek. It's a great area to meet fellow travelers and exchange travel tips, but if you want to see a more real part of the city, venture into the local areas as well.
Activities
There are some great adventure sports in and around Pokhara. You can try your hand at whitewater rafting, paragliding, or mountain biking. You can also take a boat tour of the lake or enjoy a farmstay with a local family.
If you're looking for a more relaxing activity, consider taking a cooking class or doing a yoga or meditation retreat.
Popular festivals in town include Diwali and the Full Moon Trance Parties.
Food and Dining
Pokhara has many amenities to accommodate tourists, including a wide range of restaurants. There are plenty of western, Asian, and Nepalese restaurants that range in price and style. There are also plenty of bars where you can grab a drink and relax with friends. The cheapest food you'll find is available through street stalls. You can pick up momos, samosas, or fried noodles for a very reasonable price. Local kids sell pastries in the morning that are quite good and cheap. Most of the tourist restaurants are located along the lakeside road. The food at these restaurants is decent but the prices are higher and the atmosphere is tourist friendly.
Transportation
You can travel around Pokhara by either minivan bus, taxi, or rented bicycle. Buses are generally convenient, but if you plan to spend a day seeing the sights, it's best to hire a taxi for the day. They'll take you all over town and to the sights that are out of town and not easily reached by bus. Do arrange a price ahead of time and also make sure you are in complete agreement with driver as to what sights you will be visiting during the day.
In general, Pokhara is a small city that can easily be walked around. Most of the hotels are close to the restaurants, so unless you're traveling to outlying destinations, it is possible to walk most places.
Related:
Looking for a
hostel in Delhi
or
Goa
? Heading to
Kathmandu
or want a
party in Tel Aviv
?