Pakistan On a Budget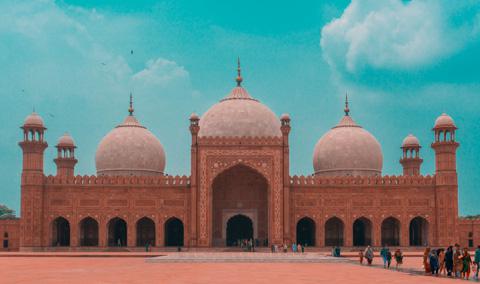 Located in South-Central Asia along the Arabian Sea, Pakistan is a large country characterized by a varied landscape and as the historic home to the ancient Indus Valley Civilization, which is among the oldest in the world. It is bordered by Iran, Afghanistan, China, and India on the west, north, and east with the Arabian Sea on its southern boundary.
At a Glance
Pakistan is divided into eight distinct regions: Azad Kashmir, Balochistan, Federally Administered Tribal Areas, Gilgit-Baltistan, Islamabad Capital Territory, Khyber Pakhtunkhwa, Punjab, and Sindh. Azad Kashmir and Gilgit-Baltistan are both Pakistani-controlled parts of the former princely state of Jammu and Kashmir. Both are located in a highly disputed territory and are self-governing. They are, however, home to some of the most beautiful scenery, especially Gilgit-Baltistan which features some of the world's highest mountain ranges: the Karakoram, the Himalaya, and the Hindu Kush. These mountain landscapes make the region particularly attractive to mountaineers, trekkers, and tourists.
Balochistan is the largest and most remote region with Quetta as the main stopping point for travelers passing through, while the Federally Administered Tribal Areas is mostly off-limits to foreigners as authorities have little control over the area. Visitors should also be careful if visiting Khyber Pakhtunkhwa (formerly known as the North-West Frontier Province). A safer place to visit is Islamabad Capital Territory, which encompasses the capital city Islamabad, the Margalla Hills, and the ancient ruins of Taxila. Punjab is also well-frequented, the most populous and agriculturally fertile region in the country and home to many historical shrines and mosques. And finally, there is Sindh, where most people flock to the city of Karachi or the ancient ruins of Moenjodaro.
With a vast range of landscapes from deserts, mountains, and beaches to both ancient and modern cities, Pakistan has a variety of activities to match. It is a world class destination for trekking and hiking, while opportunities for horseback riding and cycling are a big draw as well. In the more populated areas, visitors can also explore historic monuments to their heart's content or shop in a massive range of markets and bazaars.
Read more:
Is it safe for women to travel in Pakistan?
Check out this terrific advice from a blogger who traveled all around the country.
Top Tourist Attractions
Natural Scenery: With so many different landscapes, Pakistan is a treasure trove for stunning scenery. While the mountain peaks and glaciers offer incredible views and trekking opportunities. There are also a number of valleys just as beautiful. Hunza Valley, for example, is supposedly the setting for James Hilton's Shangri-La, and the valley lives up to that reputation. Other unique spots for natural scenery include the Thar desert in Sindh and the Cholistan desert in the Punjab, as well as many beautiful beaches located between Karachi and Gwadar along Makran coastal highway.
Historical Sites: Due to its ancient history, Pakistan is also home to many important historic locations. Some of the most famous include the archaeological sites of Taxila, Moenjodaro, Thatta, and Harappa - some of which are also UNESCO World Heritage Sites.
Cultural Landmarks: Many visitors are also drawn to Pakistan's important cultural sites, some of which include of the
Badshahi Mosque in Lahore
and the Shah Faisal Masjid Mosque in Islamabad. A strict dress code must be adhered to when entering the Badshahi Mosque, while the Faisal Mosque with its white minarets can only be viewed by visitors from the outside. The Lahore Fort is also very popular, a massive structure and UNESCO site where the Mughals built their imperial quarters, followed by the Sikhs. It also houses a museum dedicated to the Sikh period of the 18th century.
Popular Foods
Cuisine of Pakistan largely revolves around kebabs served with rice or flatbreads. Kebabs are cooked meat dishes that can vary with different kinds of beef, lamb, and chicken all seasoned with herbs and spices. There are also a variety of flatbreads, usually referred to as naan, which are commonly used to pick up and eat liquid foods as utensils are not commonly used during meals in Pakistan. Other popular Pakistani specialties include a whole roasted chicken called charga, a seasoned chicken and rice dish called biryani, a spicy barbequed chicken called chicken tikka, a thick stew-like mix of meat, lentils, and wheat grains called haleem, and a thick gravy made from local spices and either chicken or beef called nihari. A vegetarian soup called daal is also common as are black and green teas. Flavored with cardamom and a lot of sugar, tea is referred to as chai in Pakistan.
Transportation
A visit to Pakistan requires a visa for most nationalities. Some can be obtained on arrival; however, to be safe it is best to apply for a visa in advance.
By air, Karachi, Lahore, and Islamabad are the main gateways into Pakistan. Jinnah International Airport in Karachi is served by many international airlines, including Air Arabia, Air China, Biman Bangladesh Airlines, Cathy Pacific, Etihad, Emirates, Flydubai, GMG Airlines, Gulf, Qatar Airways, Saudi Arabian Airlines, SriLankan Airlines, Iran Air, Iraqi Airways, Malaysia Airlines, Oman Air, Thai Airways, and Turkish Airlines. Allama Iqbal International Airport in Lahore also operates a large number of airlines as does Benazir Bhutto International Airport, which serves the cities of Islamabad and Rawalpindi in the province of Punjab.
There are also train links from Pakistan to India and Iran, as well as roadways like the Grand Trunk Road and the Silk Road, which are widely used for traveling long distance.