Lahore On a Budget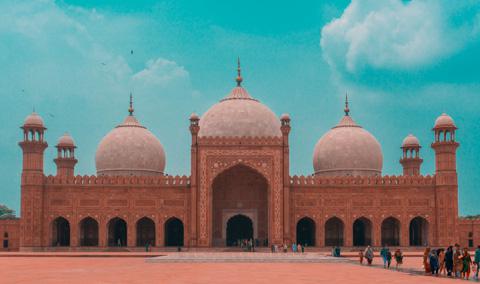 As Pakistan's second largest city and the capital of the north-eastern Punjab province, Lahore is widely considered the country's cultural capital. Some of its best-known features include the Lahore Fort, Badshahi Mosque and Gurdwara, a mall surrounded by buildings from the British Raj, and many unique markets and neighborhoods.
Sights
Lahore is the showcase for Mughal architecture in Pakistan—since for more than 200 years, Lahore was a thriving cultural center of the great Mughal Empire. Mughal Emperors beautified Lahore with palaces, gardens, and mosques. One of the most famous examples is the Lahore Fort, a massive structure and UNESCO site where the Mughals built their imperial quarters, followed by the Sikhs. It also houses a museum dedicated to the Sikh period of the 18th century. Another iconic Mughal landmark is the Badshahi Masjid (or Royal Mosque) and the Alamgiri gateway to the fort. The mosque was built by the Mughal emperor Aurangzeb and was long the largest mosque in the world. Visitors must adhere to strict dress code upon entering. The Shalimar Gardens, a three-tiered formal garden built in the 1600s by the Mughals, is also a popular attraction and UNESCO World Heritage Site. It is located to the east of the Fort and Mosque, which are both located within the old Walled City.
Neighborhoods
The heart of Lahore is the Walled or Inner City, a very densely populated area of about one square kilometer. The Walled city is one of oldest in the world, featuring most of Lahore's landmarks such as the Lahore Fort, the Badshahi Mosque, the Minar-e-Pakistan or the Eiffel Tower of Pakistan, the beautifully tiled Wazir Khan Mosque, and a number of small shrines and palaces. Around the Inner city, there are many gates surviving from the original brick wall that once protected it. Once of the most famous is the Raushnai Gate, or the "Gate of Light," located between the royal mosque and the citadels. Mall Road, south of the Walled City, is another part of Lahore that features most of the city's museums and galleries as well as a zoo, stadium, gardens, and library. The suburbs of Gulberg and Defence, further from the city center, feature palatial mansions and trendy shopping districts.
Activities
As a cultural hub, Lahore has plenty of historical sites, landmarks, museums, and galleries dedicated to showcasing the history, art, and culture of the city. Many days can be spent visiting these places and absorbing the richness of all there is to see and do. Sample the best of the local food on the street of Gowal Mandi, or discover all kinds of treasures at some of Lahore's markets and bazaars such as the Anarkali and Ichra Bazaars.
Food and Dining
Cuisine of Pakistan largely revolves around kebabs served with rice or flatbreads. Kebabs are cooked meat dishes that can vary with different kinds of beef, lamb, and chicken all seasoned with herbs and spices. There are also a variety of flatbreads, usually referred to as naan, which are commonly used to pick up and eat liquid foods as utensils are not commonly used during meals in Pakistan. Other popular Pakistani specialties include a whole roasted chicken called charga, a seasoned chicken and rice dish called biryani, a spicy barbequed chicken called chicken tikka, a thick stew-like mix of meat, lentils, and wheat grains called haleem, and a thick gravy made from local spices and either chicken or beef called nihari. A vegetarian soup called daal is also common as are black and green teas. Flavored with cardamom and a lot of sugar, tea is referred to as chai in Pakistan. In Lahore, the "food street" of Gowal Mandi is a must-visit for dinner. The street is full of shops selling fine Lahori fare from kebab to sweets in an atmosphere amidst traditional architecture.
Transportation
Pakistan Bus and Train Prices
The best prices for buses and trains in Pakistan
can be found on 12Go
. They let you search across all bus, train, and airline routes throughout Asia.
A visit to Pakistan requires a visa for most nationalities. Some can be obtained on arrival; however, to be safe it is best to apply for a visa in advance.
Allama Iqbal International Airport is located about 20-30 minutes from the city center of Lahore. Taxis and shuttles are available to take passengers from the city to the airport. The airport is a major hub for Pakistan International Airlines, which offers flights to the rest of Pakistan, as well as Qatar, Dubai, Bangkok, Europe, North America, and South-East Asia. Other airlines operating in and out of Lahore include Thai Airways, Emirates, Gulf Air, Qatar Airways, Etihad Airways, Shaheen Airlines, Air Blue, Saudi Airlines, and more.
There is also a railway station near Lahore's city center for travel within Pakistan. Buses are also commonly used.