Islamabad On a Budget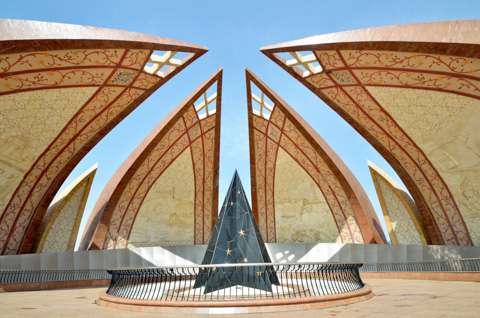 Islamabad is the capital of Pakistan, specially built in the 1960's to replace the former capital, Karachi. Most of the city's population are employees of the government, though many people come from all over Pakistan to enjoy the city's peaceful atmosphere and green spaces, museums, and monuments.
Sights
The best of Islamabad is to be had looking out to the beautiful scenery and green spaces that are abundant in and around the city. Serving as the backdrop to the north, for example, are the Margalla Hills within Margalla Hills National Park. Foothills to the Himalayas, these tree-covered mountains provide access to waterfalls, hiking trails, and plenty of wildlife. Also in these hills is Daman-e-Koh, a viewing point and hilltop garden with sweeping views of the city, Faisal Mosque, and Rawal Lake.
The Mosque is an iconic landmark of the city, featuring a contemporary design inspired by a Bedouin tent, built in 1987. The lake is another opportunity to experience Islamabad's plentiful green space, supplying water to Islamabad and neighboring Rawalpindi, while also providing a scenic location for picnics, boating, fishing, wildlife viewing.
At the very center of the city, Shakarparian National Park offers additional respite. Not only is it a lush green hill, but it is also site to the National Star and Crescent Monument, representing Pakistan's flag. Nearby, visitors can also see the Lok Virsa Museum, which preserves the folk and traditional cultural legacies of Pakistan with displays of embroidered costumes, jewelry, musical instruments, woodwork, utensils and many more artifacts of folkloric significance.
Neighborhoods
Greater Islamabad is generally divided into eight zones: Administrative Zone, Commercial District, Educational Sector, Industrial Sector, Diplomatic Enclave, Residential Areas, Rural Areas, and Green Area. The city itself, however, consists of five zones all named by number. Zones I and II are both residential sectors - I is developed, and II is under-developed. Zone III encompasses the Margalla Hills and Margalla Hills National Park, as well as Rawal Lake. Zones IV and V consist of Islamabad Park and rural areas of the city, with Zone V being the largest of the sectors. The hub of activity is concentrated largely in Zone I, radiating outwards into Zone III. To the south of Islamabad is the sister city of Rawalpindi, which operates independently. Islamabad is the center of all governmental activities, while Rawalpindi is the hub for industrial, commercial, and military activities.
Activities
Islamabad's many green spaces and unique scenery make it a great location to enjoy the outdoors. The wide range of activities includes things like hiking, rock climbing, cycling, horseback riding, fishing, boating, paragliding, and much more. Visitors can also stop at the Islamabad Zoo, which houses more than 300 animals. There are many parks and overlooks worth exploring, as well as mosques, shrines, and monuments to admire throughout the city.
While the Lok Virsa Museum is the most popular museum as far as local history goes, other popular museums of Islamabad include Golra Pakistan Railways Heritage Museum, the Pakistan Museum of Natural History, National Art Museum, and many additional privately owned galleries.
Food and Dining
Cuisine of Pakistan largely revolves around kebabs served with rice or flatbreads. Kebabs are cooked meat dishes that can vary with different kinds of beef, lamb, and chicken all seasoned with herbs and spices. There are also a variety of flatbreads, usually referred to as naan, which are commonly used to pick up and eat liquid foods as utensils are not commonly used with meals in Pakistan. Other popular Pakistani specialties include a whole roasted chicken called charga, a seasoned chicken and rice dish called biryani, a spicy barbequed chicken called chicken tikka, a thick stew-like mix of meat, lentils, and wheat grains called haleem, and a thick gravy made from local spices and either chicken or beef called nihari. A vegetarian soup called daal is also common as are black and green teas. Flavored with cardamom and a lot of sugar, tea is referred to as chai in Pakistan. As a metropolitan city, Islamabad will have a full range of these traditional dishes as well as a variety of American, European, and British restaurants.
Transportation
Islamabad International Airport is the main international airport of the Islamabad-Rawalpindi metropolitan area and suburbs, and the largest airport in Pakistan by passenger capacity. It is served by many airlines including Pakistan International Airlines, Qatar Airways, British Airways, Airblue, Emirates, and many others.
The city is also served by two major railway stations: Islamabad Railway Station (also called Margala) and Rawalpindi Railway Station in the neighboring city of Rawalpindi.