Arequipa On a Budget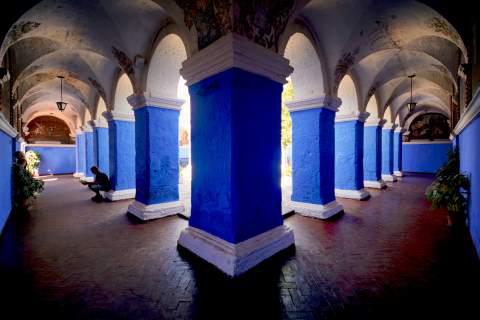 Sitting in the middle of the Misti, Chachani and PichuPichu volcanoes of Peru is the enchanting city of Arequipa. With 468 years of history, the city is full of Spanish colonial architecture. Known to locals as the "white city," the city center, Plaza de Armas, is quite the sight with buildings of sillar white stone made from the rocks of the surrounding volcanoes.
Sights
Architectural buffs will love a quick visit to the Puente Fierro. This iron bridge was designed by the famous architect Gustav Eiffel and is still operational today. Located just outside the main square, this area will give you some of the most stunning sunset pictures you'll ever see of the volcanoes and the city.
One spectacular, colonial-inspired site is the Monasterio de Santa Catalina. Taking up an entire block, this convent is surrounded by intimidating walls – making it more like a citadel than a convent. Hire a guide, as they can tell you everything you need to know, and how to get around. However, you're also welcome to wander the grounds on your own and enjoy the meditative environment.
For a peek into how the wealthy Peruvians live, take a trip to the colonial La Mansion del Fundador. This 17th-century formerly belonged to the founder of Arequipa, Garci Manuel de Carbajal. Today, it has been restored with original furniture and paintings. Wander the halls and even light a candle at the home's very own chapel.
Not far from the Fundador Mansion is the Molino de Sabandia. Set in Arequipa's old countryside, this three hundred year old water mill is a sight for any history lover.
Activities
When a city is surrounded by volcanoes, you know adventure isn't far off. One activity to look into is downhill volcano biking. This half-day adventure is offered at multiple levels of difficulty. The guides provide all the equipment you need to see the amazing countryside views.
If biking by these living mountains isn't enough, you can hop on a two-day tour of either Misti of Chachani. When choosing your adventure, note that Misti is the less difficult of the two. If you choose Chachani, keep in mind the 6,000-meter altitude is usually the biggest challenge for visitors.
But if it's the call of the water you just can't get out of your head, Arequipa is home to some of the best rivers in the world – perfect for a little white water rafting excursion.
Food and Dining
Local restaurants in Arequipa are known as picanterias. If you visit the Arancota neighborhood, you'll find plenty of these. If you can get in past the locals, you'll want to try the chicharron, or fried pork with corn.
You'll find that most dishes in Arequipa, and Peru in general, are heavy and often very hot. Locals often use rocoto to spice up their foods. This is very different from the spicy flavor you've had in Mexican and Indian foods. Approach with caution as the elevation of the city may be effecting your digestion, as well. One way the locals cope with the indigestion is to have a coca-leaf tea after meals.
If you're an adventurous foodie, ask for the rocoto relleno con pastel de papa. This stuffed pepper with potato pie is generally made for tourists, but you can ask for its original hot style. Be careful because this hot pepper is no joke.
Some more dishes to sample include alpaca steaks, ceviche and the chupe de camarones soup made from river shrimp.
Transportation
The Arequipa city center can certainly be explored by foot, as it is really only five blocks around and relatively easy to navigate. Grab a map from your hotel or an information office. Walking around, even at night is generally considered safe, but pay attention to where the locals say not to go.
If you're looking for the convenience of a taxi, try to use cabs straight from the dispatch companies. Your hotel can call for you, but for your own safety you should avoid taking taxis that are waiting on the street for passengers.
It's not generally recommended to rent your own car in Arequipa. The traffic can be insane and you're likely not used to the roads of the city. If you do rent a car, leave it at the hotel and walk through the city centers.
Related:
Looking for a
party hostel in Rio
,
Sao Paulo
,
Lima
, or
Buenos Aires
?
Traveling alone through
Argentina
?