Vieques Island On a Budget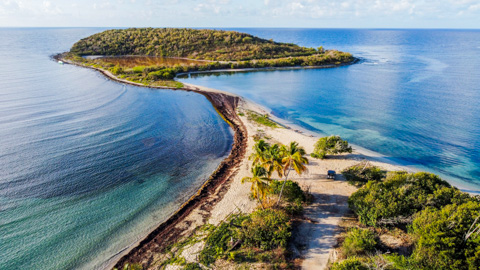 Amidst the melodious chorus of coqui frogs and gentle whispers of palm trees blowing in an evening breeze, you will find that the waters around you glow just as brightly as the stars above. This tropical paradise is none other than Vieques, Puerto Rico. Tropical forests, bioluminescent bays, coral reefs--this island attracts visitors from all around the world who seek to see the wonders and beauties of the tropics. This island suits those from all walks of life, from history buffs seeking to learn about its unique past to nature-lovers wanting to admire its untouched wilderness. Vieques is the place for a perfect vacation!
Sights
The bioluminescent bays of Puerto Rico are probably what the island is most well known for, being given three astoundingly glowing bays. However, the brightest lays on the southern shores of Vieques, Puerto Mosquito, or Mosquito Bay. In 2008, Mosquito Bay was named the brightest recorded bioluminescent bay in the world by the Guinness Book of World Records. The glow that radiates from this bay is caused by thousands of microscopic organisms called Pyrodinium bahamense, Dinoflagellates. When these organisms come in contact with another organism, such as your hand, they produce a blue glow. There are a wide variety of friendly tour guides available who will help you experience the bay by kayak or boat.
However, if yearn for a place much more tranquil and private, why not have your own private beach? Thanks to the Vieques National Wildlife Refuge, there are hundreds of miles of untouched forests, lagoons, wetlands, and beaches that can be explored. Snorkel along the dazzling coral reefs beside rare species of sea turtle. Hike amidst the ecologically diverse forests of Vieques. Birdwatch along the coastline for the famed brown pelican and othe tropical birds. No matter what you decide, you will find that this refuge is one of the most splendid examples of Carribbean wildlife preservation.
Nevertheless, if your tastes cater more towards the historical and cultural aspects of the Carribbean, Vieques holds innumerable landmarks and buildings that give insight on its rich Spanish heritage. Take a look at El Hombre de Puerto Ferro (or Puerto Ferro Man), a major stop by tourists for years. Between four big boulders laid the skeletal remains of a 4000-year-old man. Though the skeleton has been moved to El Museo de Historia, Antropología y Arte, the historic background of the site is still exciting to many. The Faro de Puerto Ferro, or Puerto Ferro Light, is also a wonderful stop for history buffs. Originally lit in 1896, Puerto Ferro Light was crucial in maintaing maritime travelers safety upon the Vieques Passage. If this interests you, feel free to take a tour of the Punta Mulas Lighthouse, first lit in 1896, which is a lighthouse of equal importance to the Puerto Ferro Light in guiding sailors.
As well, Vieques has a plethora of shops for all purposes from souvenirs to fresh food. If you are looking to commemorate your stay in Puerto Rico with a gift for yourself or others, look no further than Carolyn's Gift Shop that is located downtown and is open from 8 AM to 5 PM. However, if you are looking for wine and spirits, check out Colmado Mambo, a mini-market and bar that welcomes fun-loving, party-seeking tourists. For a taste of Puerto Rico, stop by the Vieques Farmer's Market, located at the entrance of Barrio Florida and sells artisan breads, fruits and vegetables, and sweet confectionaries and crafts. Plan your time right though as the market is only open Tuesdays and Wednesdays!
Food and Dining
If you are looking for a fine dining experience, El Quenepo offers just that and more. Opened in 2007 by owners Scott and Kate Cole, the focus of the restaurant is to capture the taste of Vieques' culture by using fresh ingredients from the island. Located on the Malecon in the village of Esperanza, El Quenepo offers a wide range of food types, including vegan, vegetarian, and gluten-free options. Entrees like the sugarcane-skewered pork belly or the yellowfin "tuna" poke have caused the restaurant to be featured in Food & Wine Magazine as well as New York Times. With live music and an event always around the corner, be sure you make your reservation ahead of time!
Transportation
As far as getting around in Vieques is concerned, the island makes it relatively easy for you. If you are looking to rent a car, be sure to do so in advance. Island Car Rental, Acevedo's Car Rental, Coqui's Car Rental - these are some of the many choices you have, but the price range is at an average of $80 per day. If you are looking for a more inexpensive method, look no further than public vans. These vans are known for cruising all over Vieques, looking for fare, but especially around main beach entrances. For the entire ride, it costs no more than $3 per person. Not a bad way to go in the glorious Vieques!
Related:
Looking for a
party hostel in Costa Rica
or
Cancun
? Looking for a
budget hostel in Mexico
or
Costa Rica
?