We stayed here 2 nights and everything is great. The receptionists are very nice and the hostel has everything you need. We definitely stay here again. - Thanh
What sets them apart?
This hostel is part of the Meininger chain, which is found throughout Europe. It's reliable and modern, but as with most branches, it feels more like a hotel than a hostel. For many, this is a plus as the quality of the facilities is great, but some travelers miss the social environment that you find with a more typical hostel.
Hostel Personality
Who's staying here?
Meininger Hostels operate more like hotels than hostels, so there are diverse groups staying here. You'll find families, couples, backpackers, students, and older travelers, all taking advantage the quality and affordability.
Insider Tip
Skip the breakfast which you have to pay for, and grab some food at one of the many grocery stores around.
MEININGER Salzburg City Center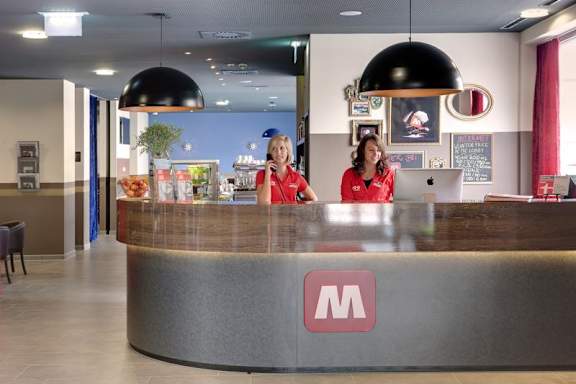 Meininger Salzburg is another branch of the Meininger chain of hostels that is found throughout Europe. It really has the quality and atmosphere of a hostel, as there are three floors of private rooms and one floor of dorms. There's also a bar, small kitchen area, a rooftop terrace, and many games you can play.
This hostel is open to all types of travelers, although you have to be 18 to stay in one of the dorms. The guests come from all over the world and are different ages and personalities. This makes for a fun and unique experience.
The Facilities
Dorms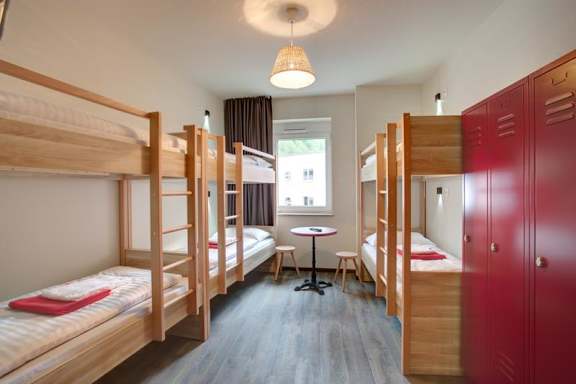 This hostel has three floors of private rooms and one floor of dorm rooms. The dorms are large and clean and each bed has a security locker where you can secure your belongings. (Bring your own lock.)
There are co-ed and female only rooms. The co-ed rooms have no more than 9 beds while the female only rooms sleep up to six people.
Do note that you must be 18 years old to stay in a dorm room.
Private Rooms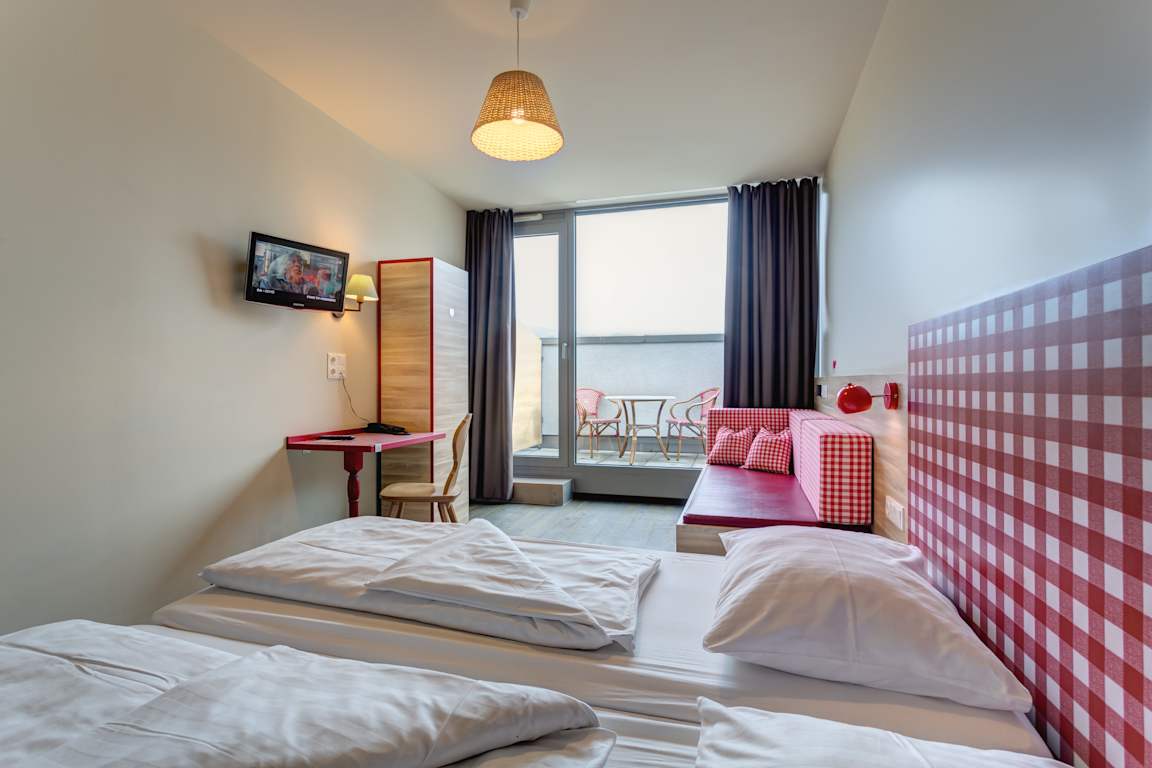 This hostel/hotel has a wide range of private rooms that accommodate small groups, families, school groups, and more. The single and double rooms have comfortable beds and some basic furniture. They also have televisions for guests to enjoy.
There are also multi-bed private rooms that sleep either six or nine people. These are perfect for groups of friends. Depending on the room, there are either bunk beds or single bunks. The rooms also have televisions.
Finally, there are family rooms that sleep up to six people. There are usually a combination of single beds and/or bunk beds. There's also a space for a cot in these rooms if you request it. The rooms have all of the standard amenities including televisions.
Bathrooms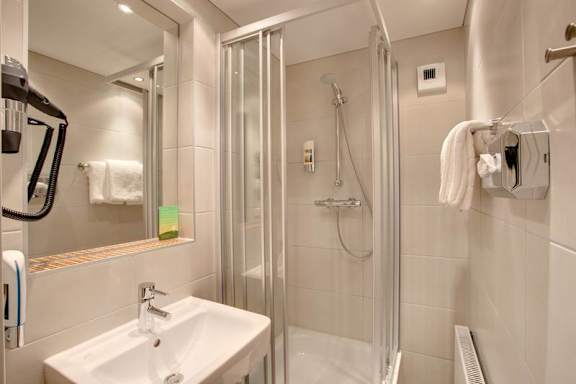 All of the rooms have en-suite bathrooms that are modern and clean. There's also a hairdryer available and towels must be paid for in the dorm rooms. Toiletries and towels are all provided in the private rooms.
Bar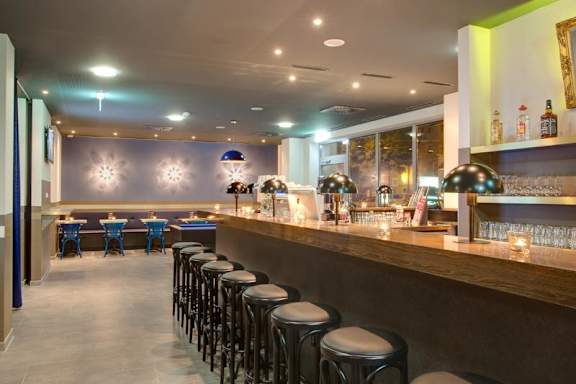 Every Meininger Hotel has a bar, and the one in Salzburg is no exception. It's a fun and relaxing place to unwind and grab a drink after a busy day exploring the city. Because this is more of a hotel than a hostel, the bar has a slightly different vibe than you'd expect from other hostels, but it's still a nice place to check out for a while.
Common Areas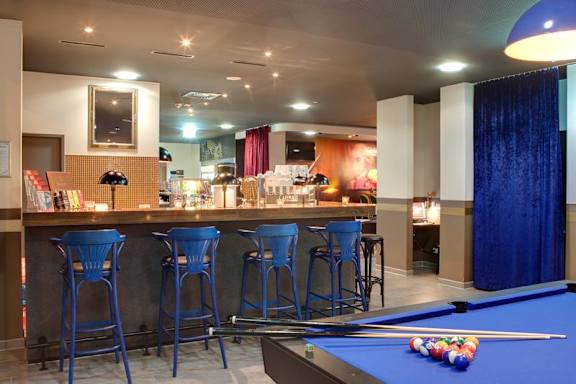 In addition to the bar, there are several common areas available to guests. There's a game room with pool and foosball as well as board games and a book exchange. There's also a lounge area with comfortable sofas and a conference room for any professional needs you might have.
The hostel also has a small kitchen that guests can use to prepare meals. It's a bit small for the large size of the hostel, so it can get crowded at times, but it's still nice to have.
The Location
Schallmoos
What's Nearby?
Despite its name, this hostel is still a bit outside of Salzburg's city center, which is a little over a mile away. It's about a 20 to 30 minute walk to many of the city's most popular sights, but there's also a bus stop nearby so you can get there in 5 to 10 minutes by bus. Buy a day pass for the bus because it'll likely pay for itself.
In the area around the hostel you'll find plenty of great grocery stores, some good restaurants, and excellent shopping. The ZIB shopping center is very close and a nice place to explore.
Nearby Transportation
Because this hostel is set a bit outside of the city center, the bus is a good option for getting around. If you plan to take it a lot, buy a day pass which will easily pay for itself. There are several bus stops within a minute or two of the building, and then a wide variety of buses that travel to the city center.
Amenities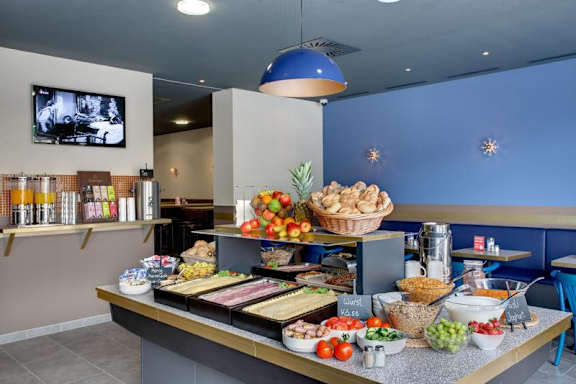 This hostel is really more like a hotel with a variety of amenities to please everyone. There are common areas with games and sofas. There's laundry facilities in case you're running out of clean clothes, and there's an elevator to access the different floors of the building. There's also parking available if you need it as well as bicycle rental. In the morning there's a buffet breakfast for an additional price.
Staff
This hostel/hotel is very professional and the staff maintain a professional but welcoming environment. They're available all hours of the day or night to answer your questions or address any concerns you may have.
Heads Up
This hostel is really more like a hotel, so don't expect the social atmosphere you find at many hostels. They also tend to charge for many little things so make sure you know how much things will cost. The biggest complaint for most people is that the building is further out of the city center than they expect, so make sure you understand where you're staying and how to get around.
MEININGER Salzburg City Center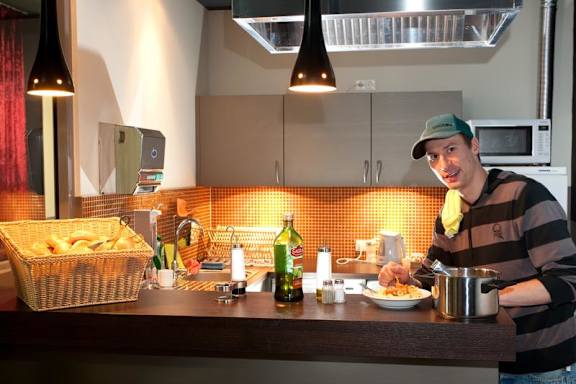 Do you have a favorite hostel that you would like to review? Let us know!