I had a great weekend stay at Yoho! The location was great as it was a short walk from the train station and only a ten minute walk tot he city center. The staff were friendly and welcoming upon arrival. Highly recommend! - Ashley
What sets them apart?
This is a comfortable little hostel that has very clean rooms, a fun bar, and a central location near both the train station and the city center. It is the perfect place to meet people, or hang out alone, depending on what you want.
Hostel Personality
Who's staying here?
This hostel has a welcoming and open atmosphere that is respectful of everyone. The bar is the perfect place to socialize, but if you're more interested in keeping to yourself there's no pressure to hang out. The rooms are quiet and comfortable and the guests are diverse.
Insider Tip
Try to snag a bed with an outlet near it. Otherwise you'll be negotiating with your roommates over the use of the power strip in the room.
Yoho International Youth Hostel Salzburg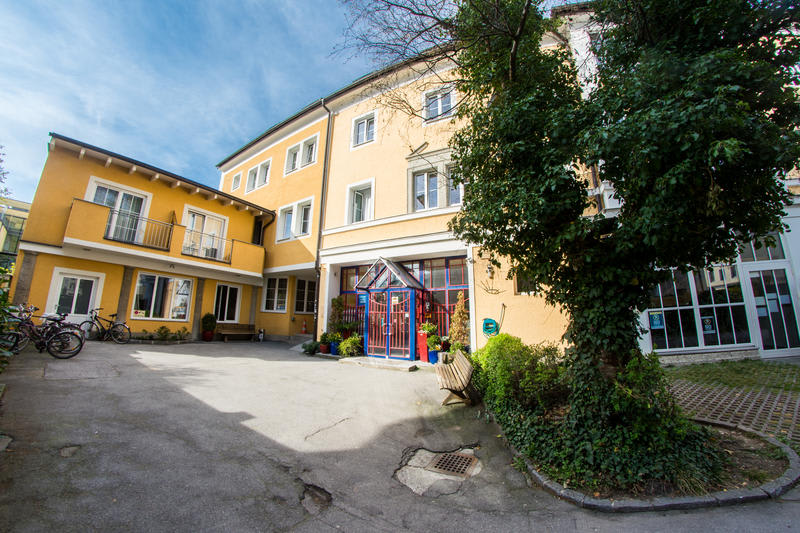 This hostel has been around for a while and it has a good reputation. It's a popular and affordable place to stay. You'll meet guests of all types, from backpackers to students or families, and everyone is welcoming and respectful.
If you want to socialize, head to the bar for happy hour and you're sure to make some friends. If you're in the mood to reminisce about
The Sound of Music
you can enjoy the nightly viewing of the movie.
The Facilities
Dorms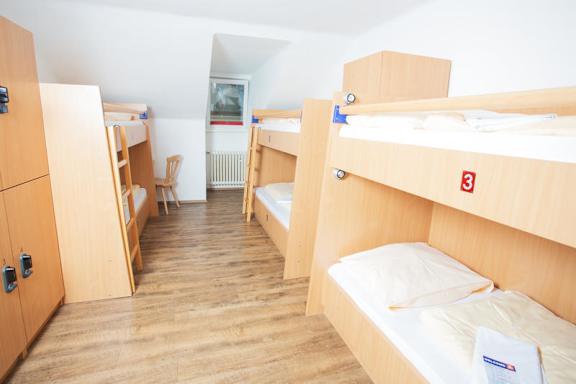 This hostel has comfortable dorm rooms that are spread out over three floors. They range in size and sleep either four, six, or eight people. Both co-ed and female only rooms are available as are rooms with en-suite bathrooms or shared bathrooms. Rooms are priced according to size and style.
The beds are comfortable and the rooms stay fairly quiet at night. Each bed has a large locker nearby that can be opened with your keycard. The lockers are surprisingly large and can usually fit most of your belongings.
Private Rooms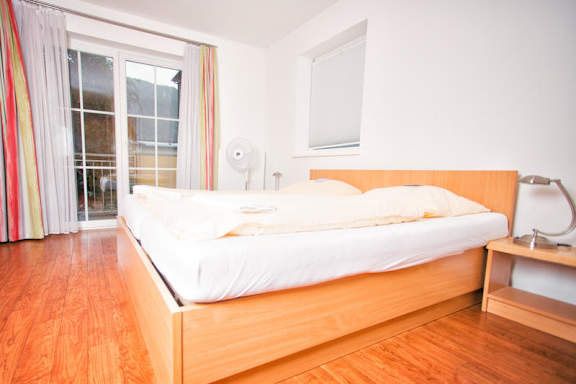 If you want some space to yourself, there are private rooms available that are either twins, doubles, or rooms that sleep three. The three person room has a bunk bed with a single bunk on top and a double bed below. Some rooms have en-suite bathrooms or showers. The rooms are basic but comfortable. They have simple furnishings and good lighting.
Bathrooms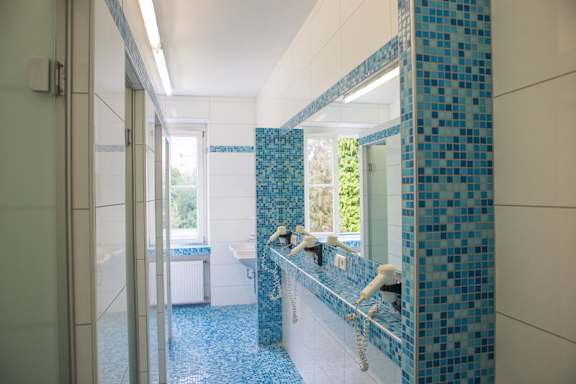 This hostel has rooms that are either en-suite or shared bathrooms. The rooms are spread out over three floors and there is a small bathroom that's shared by each floor. The showers are modern and nice and the bathrooms are kept clean. Like any hostel, it's a good idea to bring shower shoes. Conveniently, each shower also has its own hair dryer.
Bar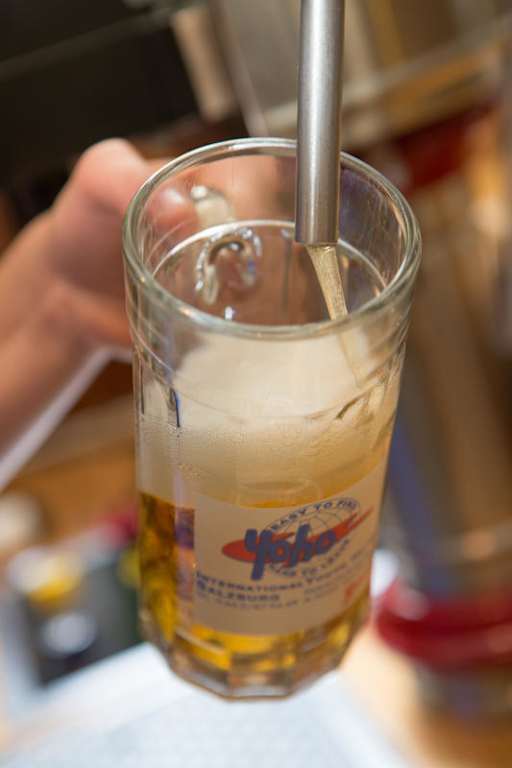 The Yoho Bar and Restaurant is open in the morning for breakfast and then opens again at six for dinner and happy hour. It usually stays open and lively fairly for a while. Happy hour at the bar is the best place to socialize and meet other travelers. The dinner options they serve are simple but good and reasonably priced and they usually include a complimentary salad..
The Location
Schallmoos
What's Nearby?
This hostel is in a convenient location in Salzburg, accessible from both the train station and Altstadt. If you've come to Salzburg to soak up
The Sound of Music
memories, you'll appreciate that it's only a couple minute's walk from the movie's famous steps (think Do-Re-Mi). It's also a few minutes from Mirabell Palace and less than fifteen minutes from Mozarteum. You can also reach Kapuzinerberg & Capuchin Monastery in less than a ten minute walk. The surrounding neighborhood has a few good restaurants if you'd like to grab something to eat.
Nearby Transportation
This hostel is conveniently just a ten minute walk from the city's main train station. It's also about 2.5 miles from the nearest airport, which is Salzburg W. A. Mozart Airport.
Activities
If you want to fully immerse yourself in
The Sound of Music
, make sure you catch a viewing of the movie, which the hostel shows every day. It's a popular activity, and you definitely won't be the only one enjoying the classic.
If you're interested in a slightly less wholesome experience, head to the bar for Happy Hour. This is the best place to meet other travelers and grab some cheap drinks or food. The bar opens every day at six and it's usually a fun place to hang out.
Amenities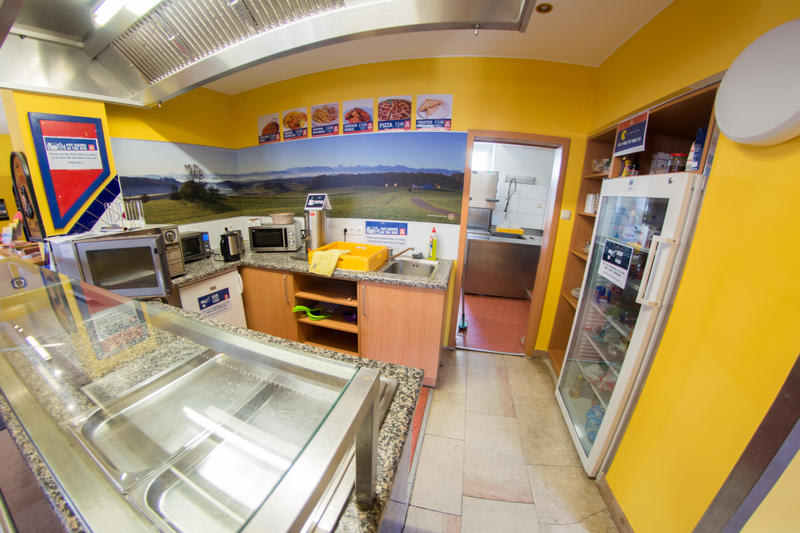 This hostel has some great amenities for guests, including a shared kitchen (but no stove) where you can prepare food, laundry facilities, and bike rental. There's an elevator to access each of the three floors and wi-fi is available throughout the hostel. You can also hang out and watch a movie, or play a game on the Wii. Board games and a book exchange are also available.
There's a free toast breakfast available to all guests, or if you want something more substantial, there's a larger buffet breakfast for an additional price.
Staff
This hostel has 24 hours a day reception service, and the staff here are always around to answer questions. This hostel has a professional atmosphere and there's travel information and maps available, so don't hesitate to ask for any information you might need.
Heads Up
A consistent complaint about this hostel is the lack of outlets in the dorm rooms. This can be a bit annoying. Otherwise, the staff occasionally have bad days, but for the most part, guests are happy with this hostel.
Yoho International Youth Hostel Salzburg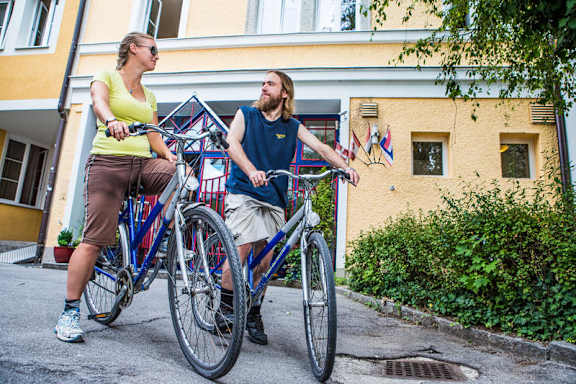 Do you have a favorite hostel that you would like to review? Let us know!