Salzburg On a Budget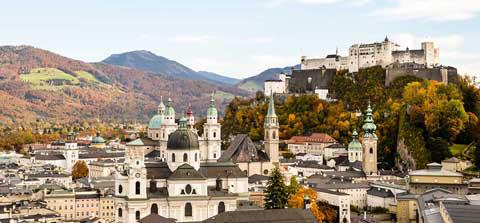 Most people know of Salzburg from its roll in the infamous movie
"The Sound of Music."
Every child who fell in love with this movie knows the gazebo scene in the rain, or could sing "My Favorite Things" as they skip down the Salzach River, but once you get past the obvious cliches, you can see that Salzburg is a city with a lot of depth and culture aside from the movie.
Salzburg is also famed as the birthplace of
Mozart
. It has a wonderfully preserved old town with excellent examples of baroque architecture. There's a handful of museums as well as a zoo and some wonderful restaurants. There's also the popular Salzburg Festival. But if you're still a kid at heart and first fell in love with Salzburg during the Sound of Music, Panorama Tours will take you on a Sound of Music Tour where you'll hit most of the important highlights. It is still a popular favorite for many visitors to Salzburg.
Salzburg is in a temperate zone at the northern rim of the Alps. This location means that the amount of rain the city receives, particularly during the summer months, is high. It can be windy during the winter and spring seasons and summer is probably the best time to visit, although it can be very crowded.
Sights
There are some great sights around Salzburg, and not all of them are related to the Sound of Music. Some of the city's more interesting museums include the Toy Museum, the Museum of Natural History, and the Salzburg Museum of Modern Art. Other famous sights around town include Mozart's birthplace, Hohensalzburg Fortress, Alter Markt Square, the Salzburg Zoo, and Saint Peter's Church.
Neighborhoods
Salzburg has 24 different districts, but only a handful of them attract tourists. The city is split by the Salzach River and Kapuzinerberg is on the left and Monchesberg is on the right. The city's Old Town, Altstadt is where you will find most of the sights including
Mozart's birthplace
, St. Peter's Cemetery and the Cathedral. It also has many concert halls, luxury homes, and interesting architecture. Noonberg is located just south of Old Town. The Sound of Music shot several scenes here but it is also the home of the Hohensalzburg Fortress and Monks' Mountain. North of Old Town are more residential and business areas. Aigen is to the south, and has many wealthy homes and rich residents.
Activities
There are a number of tours that run through Salzburg. The most popular are those related to The Sound of Music, in particular those done by Panorama Tours. Other interesting tours include those of the Salt Mines. Check out Salzwelten Salzburg in Bad Durrnberg. It's an hour and a half tour that is fun for adults and kids alike. For an entertaining look at the city of Salzburg, check out Rikschatours Salzburg. The tours run from May through October every day at 10:30 AM. They start at Residenzplatz Square.
Read more:
Salzburg Insider Tips
Food and Dining
There are some great restaurants and outdoor beer gardens around town. The options range from budget to expensive, and there is something interesting for all travel types, so you should easily find something that strikes your fancy. Many restaurants, particularly near the Old Town, serve traditional Austrian food. In particular, make sure you try the Salzburg Nockerl. This is a delcious but filling dessert that should be shared amongst friends. Cafes and coffeeshops are also popular. Sitting outside, sipping coffee, and people watching is a great way to relax and soak up some of Salzburg's excellent atmosphere.
Transportation
The most enjoyable way to explore the city is on foot. It's a beautiful and easily walkable town, and you will truly soak up most of its atmosphere if you wander around without an agenda. Another fun option is to rent a bicycle and explore that way. There is also a great bus network that is convenient if you're not up for walking or if the weather is not ideal for being outdoors. In general, trips that are late at night are best done by taxi, which are usually easy to find throughout the city. If you fly into Salzburg, there is an electric trolleybus that can take you into the center of town.
Related
Are you a student or backpacker headed to
Switzerland
or
Austria
?
Need a hostel in
Zurich
or
Vienna
?