Senegal On a Budget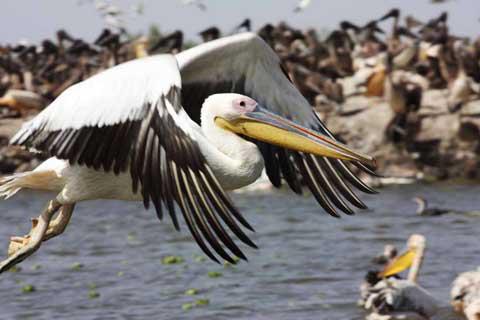 This West African country is a diverse area with some interesting things to offer adventurous travelers. The country's capital city of Dakar is a crowded but culturally rich place. It is a convenient entry point for those who are hoping to travel through West Africa. There are frequent international flights that arrive from many major airports for reasonable prices. Once in the country, many visitors choose to head outside of the capital city to experience a more peaceful setting and see what West African village life is like.
Senegal can be a challenging country to travel around. The local transportation is slow and inefficient. Many of the roads are in poor condition and there are frequent transportation strikes which will freeze public transportation for several days at a time. Most of the vehicles are older in age and are prone to frequent breakdowns. You can be assured that if your bus breaks down, almost without fail the driver is able to get it running again. You may be delayed, but you will eventually be moving again. Despite all of these challenges, a trip to Senegal will give you at least some insight into the challenges and thrills of visiting or living in an African country.
Because Senegal is a former French colony, the predominate second language is French. It can be difficult to find someone who speaks English, so it does help if you know a few French words. In larger cities you may find some English speakers, but in the countryside you will get a little farther if you can speak a little French.
Senegal is an interesting country to visit with a lot to offer travelers. There are some beautiful and interesting national parks, but like elsewhere in West Africa, the culture and the people are the true draw. You won't find the large game animals that you might otherwise see in East Africa, but you will find a rich cultural history that is filled with music, color, and religion. Both dance and music are prominent parts of the culture. There are frequent music festivals that take place throughout the year, and if you find yourself in town for any of them, they're well worth a visit. In the countryside you can visit villages that are filled with hut homes. The people are welcoming and will stop to greet you wherever you go. In places like Saint-Louis you can wander through fish markets or watch children playing in the school courtyard. If you want to escape to a nice beach you can head to the resort town of Palmarin, and if you're looking to do some trekking through villages then you can head over to the community of Kedougou.
At A Glance
Many people are overwhelmed when they first arrive in Senegal, particularly if this is their first experience traveling in Africa. The cities can be chaotic, the bus stations a mess, and the streets are packed full of vendors. If you're a little intimidated when you first arrive then take some time to ease into the experience. If you schedule an airport pickup through your hotel you will have the peace of mind that your ride has been taken care off. Stay a little outside of Dakar and you'll escape some of the overwhelming crowds that are found in the city center.


Saint-Louis is a wonderful city that has a lot of culture with less of the intensity that you find in Dakar. Head up to Saint-Louis if you're looking for great restaurants, good music, and a nice selection of hotels where you can stay. When you're in the town take plenty of time to wander around and chat with the locals. The kids in particular are fun to play with.


Public transportation in Senegal can be one of the most challenging experiences. Dakar's bus station is huge and feels disorganized when you first arrive. Look for the small signs that tell you the destination of each bus. If you find yourself lost, a bus driver can often point you in the right direction.


Buses and shared cars depart for their destination when they are full. Look for the vehicle with the most people in it as it will be the first to leave. You can usually choose between a sept-place, which is a seven seater car, and a bus. Although the buses carry more people they usually fill up quicker because they are cheaper than the sept-places. That being said, the sept-places usually make the trip in a lot less time once they do begin their trip.


Senegal has many different area's which you can see and experience. Try to take the time to head to a village area like Kedougou where you can see what rural life is like in Senegal. Also spend some time in a city like Dakar or Saint-Louis. If time allows, head to the beach near Palmarin where you can relax in a mellow setting for a few days. This may be much needed after your time navigating this country.
Related:
Looking for a
hostel in Marrakesh
,
Cape Town
,
Nairobi
, or
Zanzibar
?
Top Tourist Attractions
Soumbedioune:
This is A fascinating fishing beach and market town that is located near the capital city of Dakar. It is best visited during the late afternoon when boats are returning with the day's catch. It offers a unique and festive feel as the colorful boats return with the day's catch.
Ile de Goree:
This is a peaceful island town that is frequently visited by those who are interested in the Atlantic slave trade. It is a UNESCO World Heritage Site and there are several museums on the island that are worth exploring.
Layen Mausoleum:
This is an interesting mausoleum in the fishing village of Yoff. The area has a strong Islamic religion and it is recommended that you dress conservatively and behave appropriately while you're in the area.
Popular Foods
Senegalese food is similar to cuisine found elsewhere in the region, but has a stronger and richer flavor. You'll find some of the best local restaurant options in the capital city of Dakar and in the city of Saint-Louis on the coast. In the smaller towns it is customary for everyone to greet every customer as they arrive in a restaurant. Don't be surprised if every patron of the restaurant pauses and says hello to each new customer as they arrive.
Yassa Poulet:
This is a delicious mustard and onion based chicken dish that is usually served with rice. The chicken is often grilled and served with the mustard and onion based sauce on top.
Ceebu Jen:
This is the national dish of Senegal. It is a fish and rice dish served that is served with either white or red sauce. It is actually descended from the paella dish and is occasionally made with beef, although this is not the norm.
Maafe:
This is a favorite Senegalese dish that is made with a peanut and meat based sauce that is served over rice. It has the consistency of a stew and the flavor that is comparable to peanut butter.