Dakar On a Budget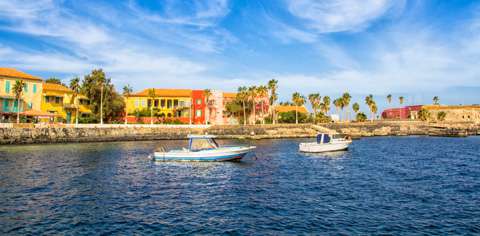 Located in West Africa, Dakar is the capital city of Senegal and an Atlantic port on the Cap-Vert peninsula. Main attractions include the city's markets, the Dakar Grand Mosque, Goree Island, the IFAN Museum, the African Renaissance Monument, beaches, and the Senegal Zoo.
Sights
A few of Dakar's major landmarks include buildings such as the Grand Mosque (built in 1964) and Dakar Cathedral, as well as Africa's tallest statue-the 160-foot-tall bronze African Renaissance Monument, which depicts a young woman, man, and a child pointing out to sea raised in the man's left arm. The IFAN Museum of African Arts (or the l'Institut Fondamental d'Afrique Noire) is also popular, housing some of the most important collections of ancient artifacts from Francophone Africa, as well as serving as a prime location during the Dakar Biennale to promote contemporary African artists.
Goree Island is another interesting location to visit, known as a minor location used for the transport of slaves headed to the Americas. The island showcases colonial architecture, mostly in ruins, including a landmark "House of Slaves" museum that features educational and moving exhibits. Ferries leave from Place de l'Independence several times per day for a 20-minute ride between Dakar and Goree.
Other attractions include clifftop walks and beaches, as well as the Parc Forestier et Zoologique de Hann (Senegal's zoo). The gardens here feature a wide variety of Senegalese plant life and the zoo contains over 180 animal species.
Neighborhoods
Dakar is divided into four arrondissements, or districts, which are further divided into nineteen communes d'arrondissement. The four districts are Almadies, Grand Dakar, Parcelles Assainies (the most populous arrondissement of Dakar), and Plateau/Goree (downtown Dakar). The commune d'arrondissement of Dakar-Plateau in the arrondissement of Plateau/Goree is the historical heart of the city, while the densest and most populous commune d'arrondissement is Medina in the arrondissement of Plateau/Goree. Plateau is a hub for visitors and locals alike with plenty of opportunities for shopping, dining, and nightlife. It is also home to markets, such as Marche Sandaga, which covers a large part of the downtown area and houses hundreds of street vendors and stalls selling fish, produce, clothing (traditional and Western), shoes, prayer mats and beads, household supplies, electronics, and much more. Most of Dakar's Western-style hotels are located either in this downtown area or in the beachfront neighborhoods of Les Almadies and Ngor.
Activities
The Corniche Ouest route is a nice walk or ride that hugs the coast and offers nice views of the water. It goes past a few beaches and the Grand Mosque before ending up downtown.
For a short trip just outside of the main city, visit Lake Retba, also known as "Pink Lake." It is located about 30 kilometers northeast of Dakar, iconic for its striking pink color created by high-salt algae. The color is especially vivid during the dry season (from November to June).
Food and Dining
Throughout Senegal, the cuisine reflects North African, French, and Portuguese influence as well as that of the nation's many ethnic groups. The country's location on the Atlantic coast makes fish in particular very important to Senegalese cooking, especially with Dakar as a port city. Chicken, lamb, and beef are also used, but pork is not due to the nation's largely Muslim population. Peanuts, the primary crop of Senegal, as well as couscous, white rice, sweet potatoes, lentils, black-eyed peas, and various vegetables are also incorporated into many recipes. Meats and vegetables are typically stewed or marinated in herbs and spices, and then poured over rice or couscous, or eaten with bread. One of the most popular meals, known as the national dish of Senegal, is Thieboudienne, which consists of fish that has been marinated with parsley, lemon, garlic, onions (and other herbs), and then later cooked with tomato paste and a variety of vegetables such as lettuce, cabbage, and carrots, to be served with rice. It resembles Spanish paella. Other common ingredients include bissap, ginger, buy (fruit of the baobab tree), and mango.
Transportation
Dakar is a major West African hub, so there are plenty of flights coming from and going to Europe, North America, and other African cities. Blaise Diagne International Airport is the primary airport serving the city, and is located about 50 kilometers from the city center. Transportation from the airport is mainly available via bus or taxi, though there are plans as of January 2018 to construct a railway between Dakar and the airport.
Leopold Sedar Senghor International Airport is located within the city itself, though it is much smaller and thus has fewer options as far as flights go.