Kosice On a Budget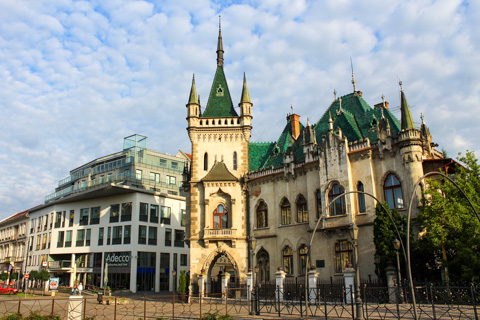 Founded in the 13th century, Kosice today is the second largest city in Slovakia featuring churches, cathedrals, and fortifications which speak to its roots as a center of activity during the Middle Ages. Some of its top attractions include the city's historical center, Singing Fountain, and Cathedral of Saint Elizabeth.
Sights
One medieval monument which steals the show as a centerpiece to the city is St Elizabeth's Cathedral, located at the core of the main pedestrian area at Hlavna. Built in the High Gothic style in the late 14th century, this cathedral is the country's largest with a capacity to hold more than 5,000 people. Near the cathedral, a few other historic landmarks include a 14th century cemetery chapel called St Michael's Chapel and an old bell tower known as St Urban's Tower. Additional sites of interest include the State Theatre which was built in a neo-baroque design during the late 19th century (with a singing fountain located out front), the baroque Immaculata Statue which commemorates the plague from 1710-11, and the palaces of Kosice of which there is the highest number in all of Slovakia.
Some of these palaces include the Former Town Hall, the Andrassy's Palace, The Bishop's Palace, the Hadik-Barkoczy Palace, the Pongracz-Forgacs' Palace, the Csaky - Dessewffy Palace, the Captain's Palace, and Jacob's Palace. Today, each structure houses an assortment of businesses from Kosice's council offices to the largest cafeteria and patisserie, the seat of the Regional State Library to Kosice's biggest bookstore where patrons can find books in a number of different languages, including Slovak, English, Hungarian, German, and others.
There are also a number of museums and galleries which give further insight into the history, art, and culture of the city. One of the most important is the East Slovak Museum, established in 1872, which spans a number of buildings which are architecturally historic and house both permanent and temporary exhibitions.
Neighborhoods
A central hub for activity in Kosice is the main pedestrian street, known as Hlavna ulica (or Main Street). Located at the heart of the city, it is the biggest historical area in Slovakia, where visitors can find most of the sought-after attractions. Historically an old medieval square, this main area is the seed from which the city first blossomed. Today there is still an abundance of medieval architecture. Other popular locations in Kosice include Namestie Maratonu Mieru or Peace Marathon Square at the north end of Hlavna and Namestie Osloboditel'ov or Square of the liberators at the southern end of Hlavna.
Activities
One of the most popular activities when visiting Kosice is to explore its historic center on foot to see the most popular medieval landmarks and experience the bustle of the central pedestrian area to the city. For a more guided experience, visitors can also join tours and learn about Kosice's rich history while seeing some of its more important attractions. Within the city there is also a zoo and botanical gardens for a more outdoors experience geared toward the natural features of the region. For another kind of escape, there are also a number of hiking trails in the landscape surrounding the city. The mountains of High Tatras are about an hour and a half train ride for more serious trails, while others a bit closer can be found in Bankov, Jahodna, and Ruzin. Other daytrips include the town of Slanec which has medieval castle ruins and Dargov which was the site of a major World War II battle with tanks and a war museum.
Food and Dining
Slovak food is traditionally hearty due to its roots as a rural country. It is heavy on meat (especially pork), potatoes, dumplings, thick sauces, and cheeses. As far as vegetables go, cabbage is abundant, often in the form of sauerkraut. Potatoes, wheat flour, cow and sheep cheese, cabbage, onions, and garlic are all central to cooking in Slovakia. Lunch is typically the heaviest meal of the day, with dinner being rather light. A few traditional Slovak dishes include item like:
bryndzove halushky: potato dumplings with sheep cheese (bryndza) and roasted bacon
zemiakove placky: potato pancakes fried in oil with garlic and flour
granadir: pasta with potato
fried cheese: cheese fried in bread crumbs
schnitzel: Wiener schnitzel (usually a flat piece of veal, breaded and fried)
lokse: potato pancake
In Kosice there are plenty of restaurants serving traditional fare, especially in the city center and main squares.
Transportation
Flights are available to Kosice from Bratislava (Bratislava Milan Rastislav Stefanik Airport), Vienna (Vienna International Airport), or Prague (Vaclav Havel Airport Prague). There are also direct flights from Istanbul to Kosice operated by Turkish Airlines as of 2016.
The city can also be reached via train from Prague (8 hrs), Bratislava (5-7 hrs), Budapest (3.5 hrs), and Kiev (21.5 hrs).
Eurolines operates long distance buses from other European cities.
Related:
Traveling alone to
Prague
or
Budapest
?
Looking for a party and need a
hostel in Prague
or
Budapest
?
Train and Bus Prices
The best prices for buses and trains in Slovakia
can be found on Omio
(formerly
GoEuro
). They let you search across all train, bus, and plane routes throughout the region.