Slovakia On a Budget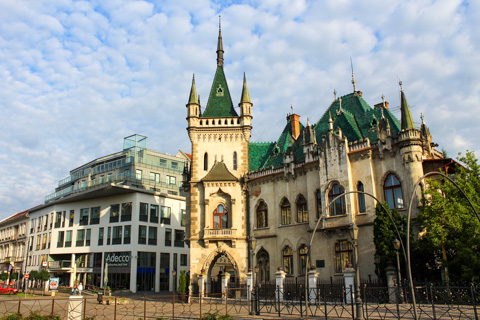 Slovakia is fully landlocked and located in Central Europe. It is a modern democratic country that belongs to the European Union. Most people travel to Slovakia for the natural beauty and interesting history. There are nine national parks in the country, which is an impressive number given its relatively small size. Much of Slovakia is made up of limestone so there are many impressive caves worth exploring. Skiing in the Carpathian Mountains is a popular activity as well.
If you're interested in history, Slovakia also has a good number of castles and chateaux. Some are basic ruins while others are still in good condition and are habitable. Slovakia's cities often have a gothic and baroque atmosphere that is interesting to experience.
Slovakia's geography is predominantly mountainous in the central and northern parts. The highest peak is Gerlachovsky stit, which rises to 2,655 meters in the High Tatras. Southern Slovakia has lowlands with very fertile soil and a lot of agriculture.
Slovakia's climate is temperate with hot summers and cold, snowy winters. There are four seasons with dramatic temperature variations. The southern part of the country is the warmest and less likely to get snow during the summer months. The mountainous north has a much colder climate and snow is quite common during winter months.
At A Glance
The train is a great option for traveling around Slovakia. The country is served by an excellent train system that connects most larger cities with frequent trips. Local trips can be a little more difficult to come by on trains, and a bus is likely your best option. Buses and trains are comparable in cost and very reasonable in price by western standards. Delays may occur so do not plan on close connections as you may miss your second train.


Slovak is the official language of Slovakia. It is also the most commonly spoken languag. Some of the older generation does speak Russian, and some of the younger generation may speak English. Outside of the tourist areas, you likely won't find many signs in English so it is worth learning a few phrases in Slovak. All efforts to speak the local language are much appreciated.


Local festivals are a great way to experience the local culture in Slovakia. There are many you can choose from, you just have to be in town at the right time. Fasiangy, or Mardi Gras is in the early spring. This is popular in the countryside and rural areas. The early fall is a great time to be in the wine making areas as that is the harvest period and there is plenty to see and do. In larger cities, Christmas is a great time to visit as there are many Christmas markets held in town. These are usually open for the month of December.


Many people head to Slovakia specifically to relax. There are many great spas and water parks in the country. The most famous is in Piestany. This is also the most expensive. Other good options are in Trencianske Teplice, Rajecke Teplice, Bardejov, Dudince and Podhajska. Water parks are found in Besenova, Liptovsky Mikulas, Poprad, Turcianske Teplice, Oravice, Senec and Dunajska Streda.
Related:
Traveling alone to
Prague
or
Budapest
?
Looking for a party and need a
hostel in Prague
or
Budapest
?
Find a
Contiki tour
to Europe.
Top Tourist Attractions
Spis Castle:
The ruins of this castle, one of the largest in Central Europe, are found in eastern Slovakia. It sits above the town of Spisske Podhradie and the village of Zehra. It dates back to the 12th century and was listed as a UNESCO World Heritage Site in 1993.
Vlkolinec:
This hamlet is located high in the mountains and feels like at town where time stood still. There is no public transportation to the town so you must have a car, but the village itself is actually closed to vehicles. You can park outside and walk into town. The town is listed on the UNESCO World Heritage List and has interesting folk architecture, a church, cemetery and art gallery.
Slovak Paradise National Park :
This national park is a smaller range than the famous High Tatras, but it offers visitors plenty of beautiful canyons, ravines and waterfalls. There are plenty of places to hike and explore.
Popular Foods
Slovak food is very basic but filling. Despite the use of simple ingredients, it is actually quite flavorful. Traditional dishes are flavored with herbs and often involve smoked meat, cheese, potatoes and flour. Many dishes are regional in nature so ask around town for what the local specialty is that your should try. Vegetarian dishes are generally available in cities, but in more rural areas you may struggle to find true vegetarian options. Even those listed in the vegetarian section of the menu may actually contain some form of meat.
Bryndzove Halusky:
This is a national dish of Slovakia. It is a form of potato dumplings that are made with a specific type of unpasteurized fermented sheep cheese called bryndza. It is usually served with fried bacon on top. This is one dish you must try before you leave the country.
Pirohy:
These large dumplings are found throughout Slovakia. They can be either salty or sweet based on their filling. Popular fillings include sauerkraut, cheese, meats, fruits, or jam. They are very similar to Polish pirogis.
Goulash:
This regional dish is available at different festivals, markets and outdoor barbecues. It is made with beef, onions, vegetables and squashed potatoes. It is a very filling dish that is served on top of bread or dumplings.